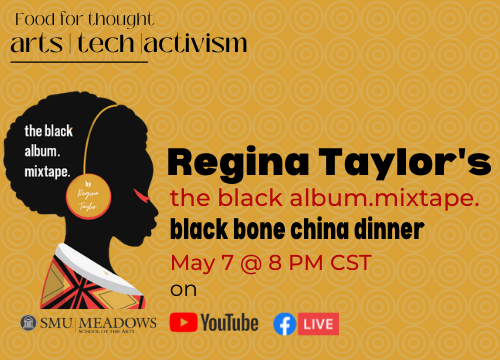 The Rep Presents Regina Taylor's St. Louis Black Album Mixtape Dinner 
Wednesday |

May

5

, 2021
The Black Album. Mixtape Discusses Intersectionality of Blackness, Change and Identity
ST. LOUIS (May 4, 2021) – On Friday, The Repertory Theatre of St. Louis launches a worldwide premiere of award-winning playwright and actress Regina Taylor's The Black Album.Mixtape Dinner. Taylor leads a conversation with Black leaders from across the St. Louis region focused on arts, activism, technology and business.
The dinner, hosted by Taylor, is moderated by Rebeccah Bennett, founder of Emerging Wisdom. Attendees include Jamilah Nasheed, former Missouri state senator; Shay Gillespie, diversity business development manager of World Wide Technology and founder of Color Coded Kids; Kayla Reed, co-founder and executive director of Action St. Louis; Tef Poe, rapper and activist; and Hana S. Sharif, Augustin Family Artistic Director at The Repertory Theatre of St. Louis. Attendees share a meal prepared by Chef David Kirkland of Turn.
The dinner features a dynamic discussion on current events, living in St. Louis, the pandemic's effect on themselves and what it means to be Black.
"In this time of isolation and social distancing, this dinner finds connectivity and common ground between St. Louis trailblazers, both homegrown and transplants, of the arts, technology and activism," said Regina Taylor, The Repertory Theatre of St. Louis' Andrew W. Mellon Playwright in Residence. "The question placed on the table [over dinner] is how do we, as a community, continue to pass down our legacies while reshaping our current narrative and creating a better future."
The dinner premiers on The Rep's YouTube channel and Facebook page at 8 p.m. CST on Friday, May 7. In addition to this dinner, Taylor's residency at The Rep will include a series of events, plays, programs and performances focused around the idea of cultivating and growing artistic expression and culture in and within the St. Louis community.
"Regina Taylor's Black Album Mixtape dinners are a powerful way for us to dissect the intersectionality of being Black in St. Louis," said Hana S. Sharif, Augustin Family Artistic Director at The Repertory Theatre of St. Louis. "Over the black bone China, we can get to the meat of how identity, business, politics, art and liberation overlap and intersect. Through interaction like this, we find the threads that connect each of us, in the most beautiful way."
the black album. mixtape is part of a larger platform designed by Taylor as an
invitation to think, create and activate. the black album. mixtape. provides a platform to hear and reckon with each other. The first event in the series was a collaboration through SMU in which participants submitted their own works including multimedia art, video, audio, written work and discussion content to delve into, celebrate and recognize Black experiences and impressions. This collection is part of an ongoing project to bring light to the historic significance of 2020, COVID-19 and social progress and protests of the recent past.
A Golden Globe-winning actress, Taylor's credits include television, movies and theatre, performing on Broadway in As You Like It (Celia), Macbeth (First Witch) and Romeo and Juliet (Juliet). Taylor's play Drowning Crow also ran on Broadway in 2004. She won her academy award for her role in I'll Fly Away, is known for her starring role in CBS's The Unit, Lean on Me and Clockers and recently appeared in an episode of HBO's Lovecraft Country.
Taylor's work has also been seen on the Rep's stage, with her play Crowns during the 2004-05 season. Taylor's first piece for this residency will be Love and Kindness in the Time of Quarantine.
For more information, visit the webpage, or call the box office at 314-968-4925.