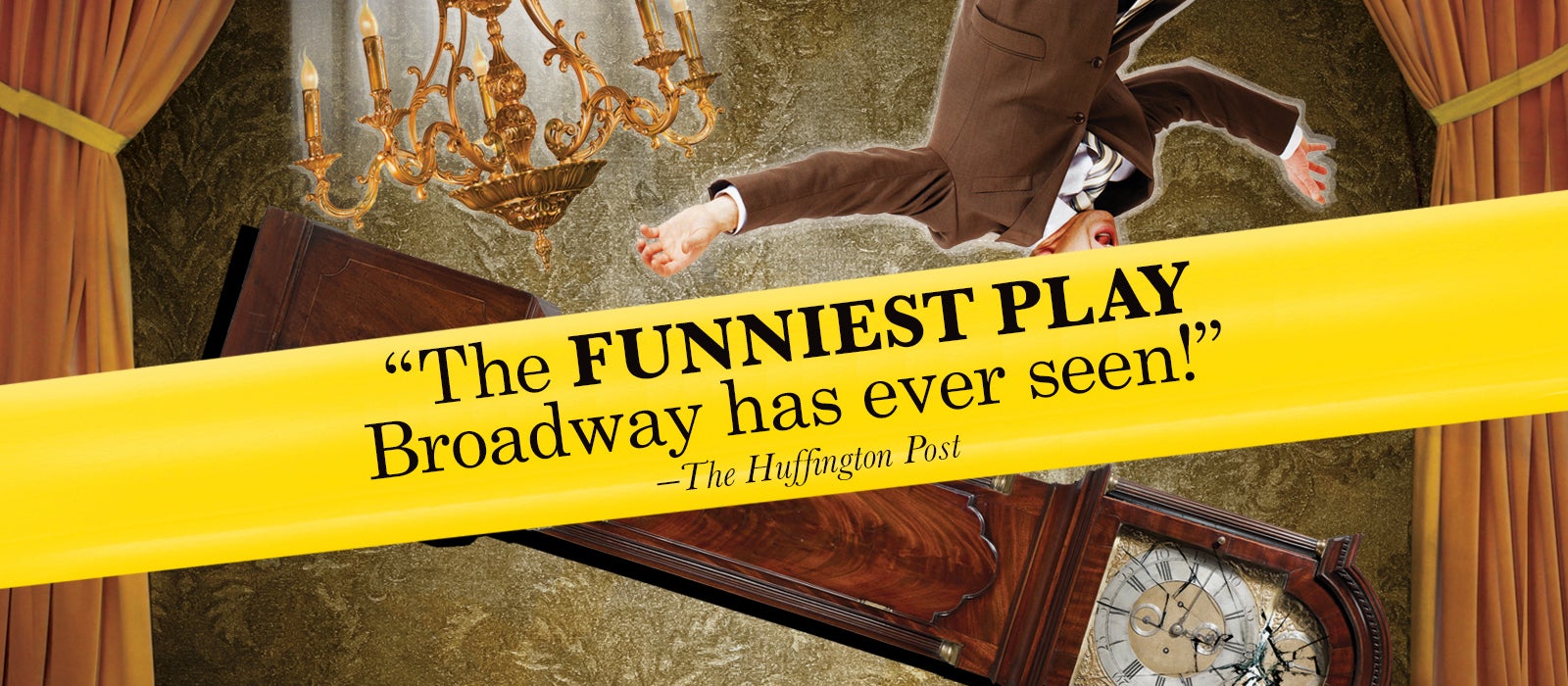 THE PLAY THAT GOES WRONG closes The Rep's season in disastrous fashion
Friday |

Mar.

1

, 2019
A full-scale calamity is about to ensue at The Repertory Theatre of St. Louis. The Play That Goes Wrong – a masterpiece of theatrical mass-destruction, has thrilled audiences on Broadway and London's West End. Now it makes its American regional theatre debut, as The Rep becomes the first U.S. theatre to self-produce the show outside of New York City.
Written by the Mischief Theatre Company's Henry Lewis, Jonathan Sayer and Henry Shields, The Rep's production runs March 13 – April 7 and is directed by Melissa Rain Anderson.

A play-within-a-play, the show features all the myriad ways in which the opening night performance of The Murder at Haversham Manor goes horrifically wrong. A maelstrom of madcap madness ensues, complete with collapsing scenery, unconscious actors and a stage crew pushed to the brink. Will The Rep survive this train wreck of a play? Come find out!

The Rep has assembled an incredible team of comedic performers to bring this inspired mayhem to our stage. Portraying members of the show's ill-fated acting troupe are Benjamin Curns, Michael Keyloun (Mothers and Sons, 2016), Matthew McGloin, Ruth Pferdehirt (Born Yesterday, 2018), John Rapson and Evan Zes (One Man, Two Guvnors, 2014).

Ka-Ling Cheung (The Curious Incident of the Dog in the Night-Time, 2017) appears as stage manager Annie, while Ryan George plays the show's Duran Duran-obsessed lighting and sound operator, Trevor.

The Rep's casting director is McCorkle Casting Ltd.

Anderson steps in for her third Rep production, following this season's acclaimed Studio run of The Wolves. Her design team includes the local scenic design duo of Margery and Peter Spack (Heisenberg, 2017), costume designer Lauren T. Roark (Million Dollar Quartet, 2017), lighting designer Kirk Bookman (Million Dollar Quartet, 2017) and The Rep's resident sound designer, Rusty Wandall.

The Play That Goes Wrong is sponsored by The Berges Family Foundation.

Tickets for the play are now on sale at repstl.org, by phone at 314-968-4925 or in-person at The Rep box office, located at 130 Edgar Road on the campus of Webster University. Ticket prices range from $19 to $92.

Show times are Tuesdays, selected Wednesdays and selected Sundays at 7 p.m.; Thursdays, Fridays and selected Saturdays at 8 p.m. Matinee performances are selected Wednesdays at 1:30 p.m., Saturdays at 4 p.m. and Sundays at 2 p.m.

For more information on the production, click below.
April 7, 2019
by Henry Lewis, Jonathan Sayer and Henry Shields |
Directed by Melissa Rain Anderson