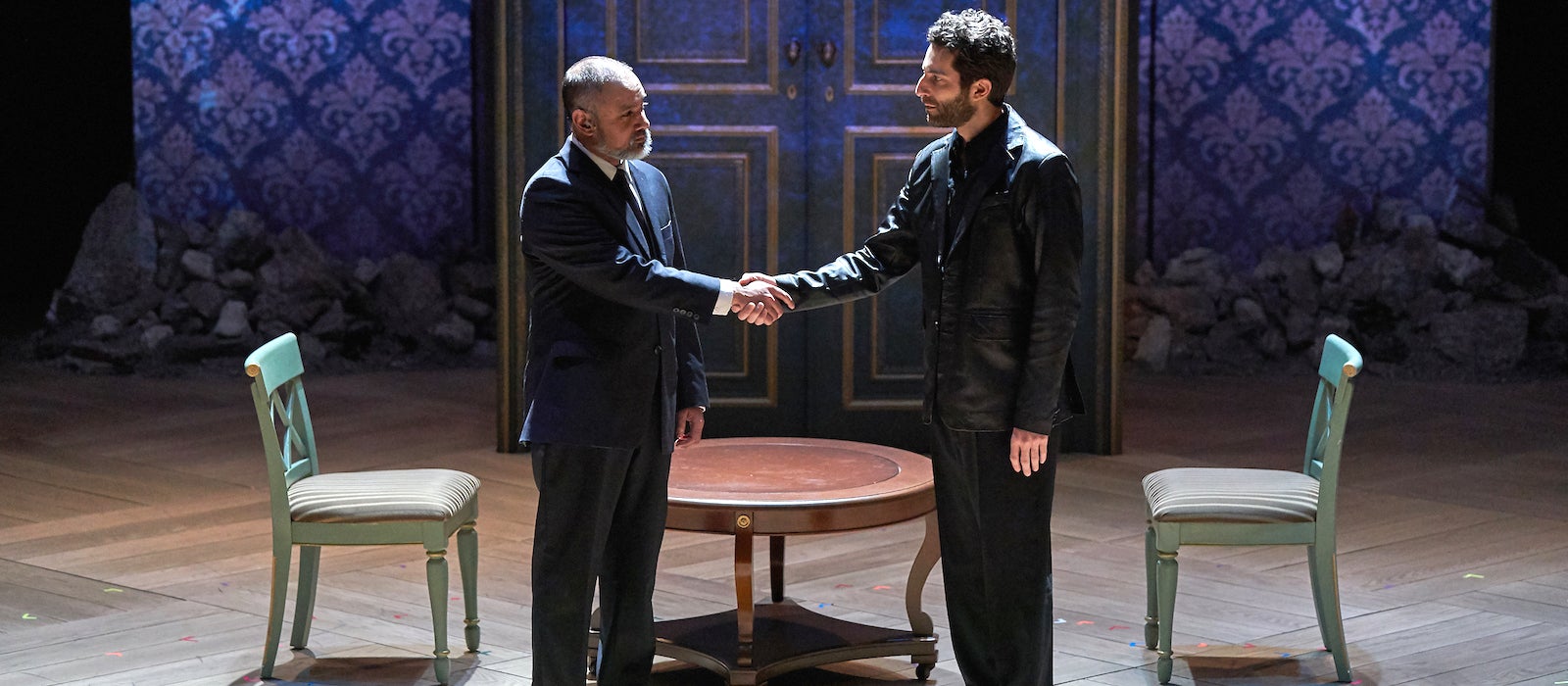 Review Roundup: OSLO brings history to thrilling life
Thursday |

Feb.

14

, 2019
The Rep's production of Oslo has more than lived up to the show's Tony Award-winning pedigree. It's Steven Woolf's final directing project before he retires as our Augustin Family Artistic Director, and it's sending him off with a bang. Audiences and critics are raving about this political thriller with a strong sense of humor.
We're compiling all of the local critical reactions in this space, so be sure to keep checking back as the reviews continue to roll in! The show continues through March 3.
Calvin Wilson, St. Louis Post-Dispatch:

"The fact-based play is vast in scope yet intimate in spirit. No particular background in geopolitics is required to get caught up in its wry humor, rare insight and rich theatricality. And despite our knowledge that the Israeli government and the Palestinian Liberation Army will indeed come to an understanding, however short-lived, the play generates palpable suspense."
"Steven Woolf, The Rep's Augustin artistic director, makes his final directorial effort at the helm of The Rep a smashing success with this riveting, superbly acted and beautifully modulated production."
Judith Newmark, St. Louis Jewish Light:

"As everybody knows, (the Oslo Accords) did not bring peace. Today, some might even say that they were pointless. But Rogers is not among them. In his drama — lively and absorbing, with surprisingly comic notes — the secret talks stand paramount for their hopeful attitude and their practical approach to seemingly intractable problems."
Richard T. Green, Talkin' Broadway:

"Oslo has lots of laughs, at very regular intervals. The other funny thing is, it gives us hope, that by playing on the weakness of men, we might strengthen all mankind."
Connie Bollinger, St. Louis Limelight:

"Oslo crackles and pops with personality, sharp dialogue, and breathtaking twists and turns."
"The Rep's fascinating production of J.T. Rogers 'Oslo' puts audiences 'in the room where it happened' in a high energy show that bristles with carefully guarded, albeit sometimes giddy, excitement."
Andrea Torrence, St. Louis Theatre Snob:

"Under Steven Woolf's tight direction of a dynamic cast, the Rep's production of playwright J.T. Rogers' partially fictionalized retelling is a thriller that takes you underneath what was happening on the surface -- to back-channel diplomacy and sky-high stakes, with a perfect measure of humor."
Michelle Kenyon, Snoop's Theatre Thoughts:

"The play is a fascinating lesson in history, character development and the careful balancing act that diplomacy can be. It's an insightful and thoroughly human drama, expertly staged at the Rep."
Ann Pollack, St. Louis Eats and Drinks:

"A very successful show, with fine acting and a good story line."