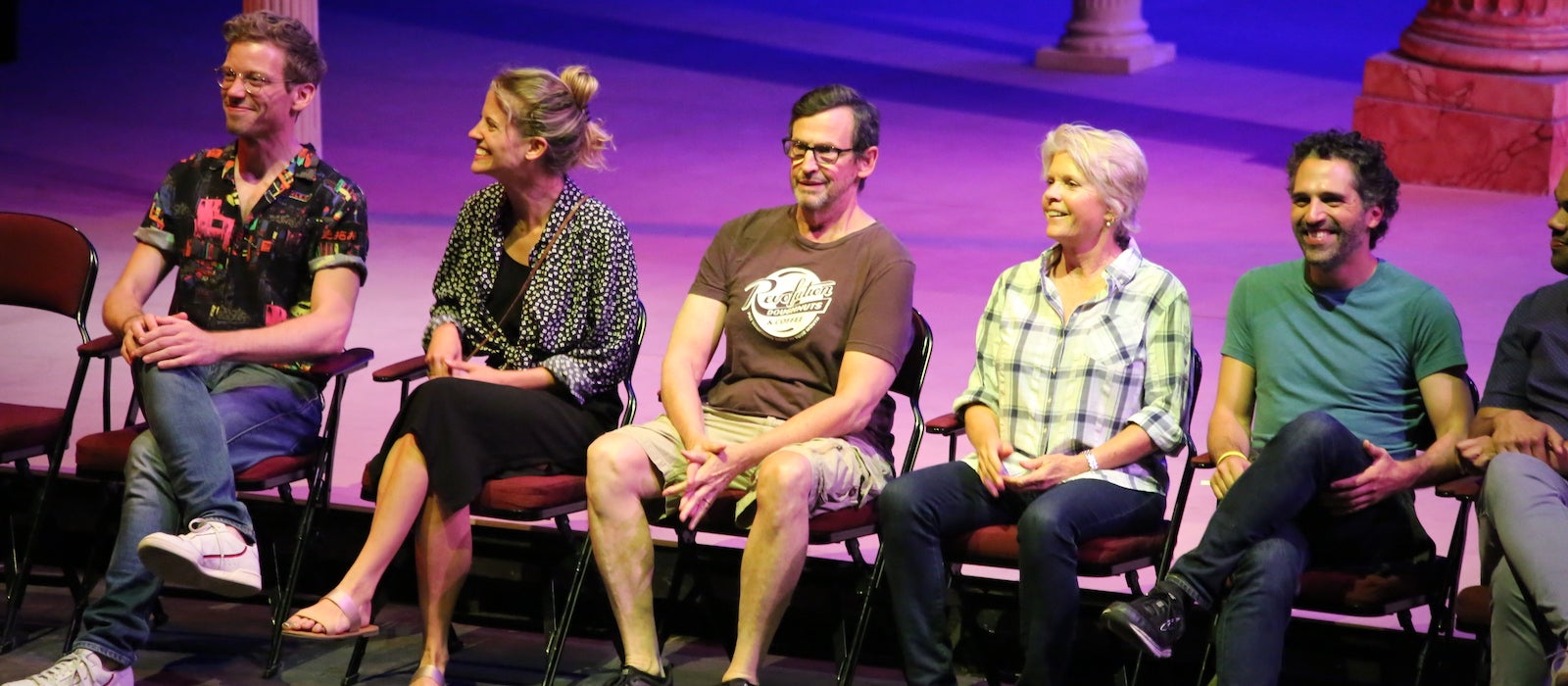 Our ANGELS IN AMERICA cast is just excited about this show as you are
Tuesday |

July

30

, 2019
When actor Ben Cherry was attending high school in Michigan, Angels in America only existed as a tantalizing rumor.
There were "rumblings" that Tony Kushner's future Tony- and Pulitzer Prize-winning set of plays existed, that they were tackling the AIDS epidemic with incredibly poetic language and imagery – and that they were about to conquer the theatre world.
"We invited someone who had seen it in L.A. to talk to the class about the play. Just an audience member!" said Cherry, who will play Louis Ironson in The Rep's season-opening production of the plays. "I remember how seismic it felt that this play was about to be released to the world."
Cherry recalled those memories last week during a special panel at The Rep's Summer Block Party, joined by his Angels castmates and director Tony Speciale. In discussing the show, a couple of themes came up again and again: how monumentally influential these twin plays were and how excited this group is to tackle them.
"It was my first time seeing a queer story on that sort of scale," said Jayson Speters, who will portray Joe Pitt at The Rep. Like his character, he was raised Mormon in Utah before embracing his queer identity. "I was struck with actually seeing myself on stage for the first time."
None of the cast members or Speciale have worked on a production of Angels before, and so there's still a degree of reverence around Kushner's work as they embark on rehearsals.
"It's our true American classic," Speciale said of Angels.
Even for an accomplished actor like Barrett Foa (The Rep's Prior Walter), working on Angels in America feels like an impossible dream realized.
"I felt like I would never be a good enough actor to do this play," Foa said. "It couldn't happen to me. Angels in America was like a golden palace that only happened to people who had MFAs."
Diving into these richly layered plays takes an incredible amount of preparation and work – our production's dramaturg Gad Guterman has curated three immense tomes filled with background on AIDS in the '80s, the development of Angels and its continuing political relevance. But there's a clear sense of joy among the cast about getting to embark on this epic journey with one another.
"The first day of rehearsal for me is always like Christmas," said Gina Daniels, who will play The Angel at The Rep. "When you're reading the script by yourself, you're playing all the voices in your head. But then when you get around the table, you get to hear everyone else's voices. I was so happy on Tuesday (at The Rep's first rehearsal)."
Meredith Baxter (who plays Hannah) echoed those sentiments.
"It's fantastic to be able to add my voice to all your voices," Baxter said.
Find your tickets to the show below: