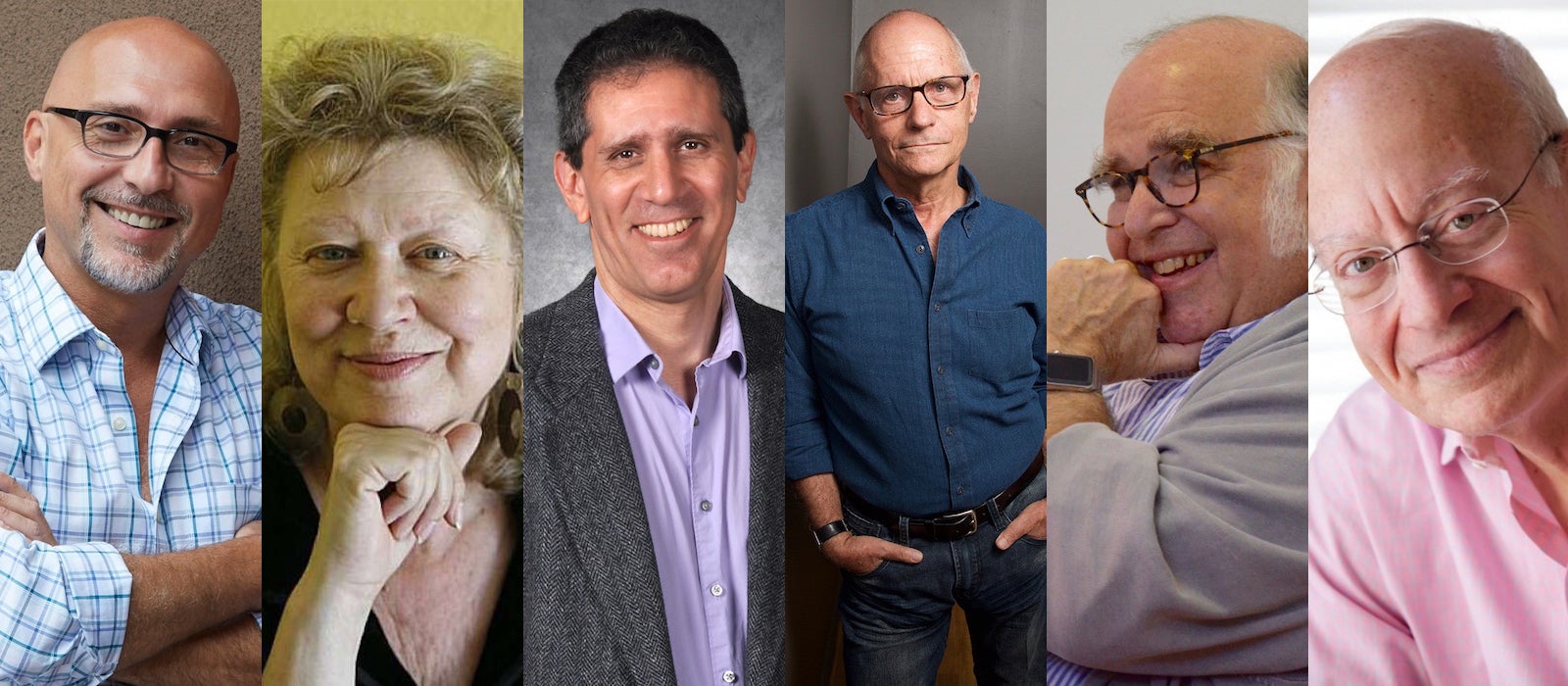 Meet our 2018-2019 Mainstage directors!
Tuesday |

Apr.

17

, 2018
The 2018-2019 Mainstage season marks a big moment of transition for The Rep: as you may have heard, our Augustin Family Artistic Director Steven Woolf is retiring at its end.
So it's no surprise that, for his final season at the helm, Steve has brought in a veritable all-star team of past Rep directors. These are some top theatre leaders who have all led numerous Rep productions to the stage, including some of the most iconic shows in our theatre's history.
Learn more about this fabulous group below:
Rob Ruggiero
Directing Evita (September 5 – 30)
Previous Rep directing credits: Follies (2016), Sunday in the Park with George (2012), High (2010) and several more.
The Rep's Ruggiero-led take on Follies set a new bar for spectacle in our theatre, with all manner of eye-popping visuals and sequences that electrified the stage. Now Ruggiero, also a regular director with our friends at The Muny, will have the chance to top that with the first-ever Tim Rice/Andrew Lloyd Webber musical ever produced at our theatre. (Crazy, right?) Given his track record (which also includes Off-Ramp favorites Take Me Out and Urinetown), we just can't wait to see what Ruggiero and his team bring to the stage.
Timothy Near
Directing A Doll's House, Part 2 (October 10 – November 4)
Previous Rep directing credits: Clybourne Park (2012), Race (2012), The Glass Menagerie (1983 & 1997) and several more.
One of The Rep's all-time favorite directors, Near will direct her first show here since 2012's Clybourne Park, which won five St. Louis Theater Circle Awards – including an Outstanding Director nod for Near. The former artistic director of San Jose Repertory Theatre, Near has directed extensively at companies throughout California and beyond.
Seth Gordon
Directing A Christmas Story (November 28 – December 23)
Previous Rep directing credits: Caught (2018), All My Sons (2017), Disgraced (2016) and several more.
The Rep's associate artistic director since 2010, Gordon is the man responsible for efforts like The Rep's Ignite! Festival of New Plays, which features staged readings of in-development scripts from nationally renowned playwrights. He also has directed his fair share of stunners in our Mainstage and Studio theatres, alternating between classics and newer pieces. Given that Gordon has directed this particular show in the past, we're looking forward to his take on a holiday comedy touchstone.
Paul Mason Barnes
Directing Alabama Story (January 2 – 27)
Previous Rep directing credits: Hamlet (2017), A Midsummer Night's Dream (2014), The Mousetrap (2013) and several more.
Barnes cemented his reputation as one of the preeminent American directors of Shakespeare with last season's acclaimed production of Hamlet. He's a regular director at such prominent companies as Great River Shakespeare Festival, Pioneer Theatre Company, Milwaukee Rep and Utah Shakespeare Festival.
Steven Woolf
Directing Oslo (February 6 – March 3)
Previous Rep directing credits: The Humans (2018), Constellations (2017), A Christmas Carol (2016) and dozens more.
This will be the final directing project that Steve completes as our Augustin Family Artistic Director, and we couldn't think of a better close to this chapter of his career. The epic 2017 Tony Award winner for Best Play will be a fantastic showcase for Steve's staging smarts and vision. He's directed more than 40 shows at The Rep, starting with 1981's ever-so-appropriately titled A Life in the Theatre.
Edward Stern
Directing The Play That Goes Wrong (March 13 – April 7)
Previous Rep directing credits: The Lion in Winter (2016), One Man, Two Guvnors (2014), Noises Off (2014) and several more.
If you want to stage a rip-roaring farce, Stern is the man to call. His wickedly hilarious takes on standards like Noises Off and The Foreigner have delighted Rep audiences. Now he gets to put his stamp on the biggest comedy hit that Broadway and London have seen in years.