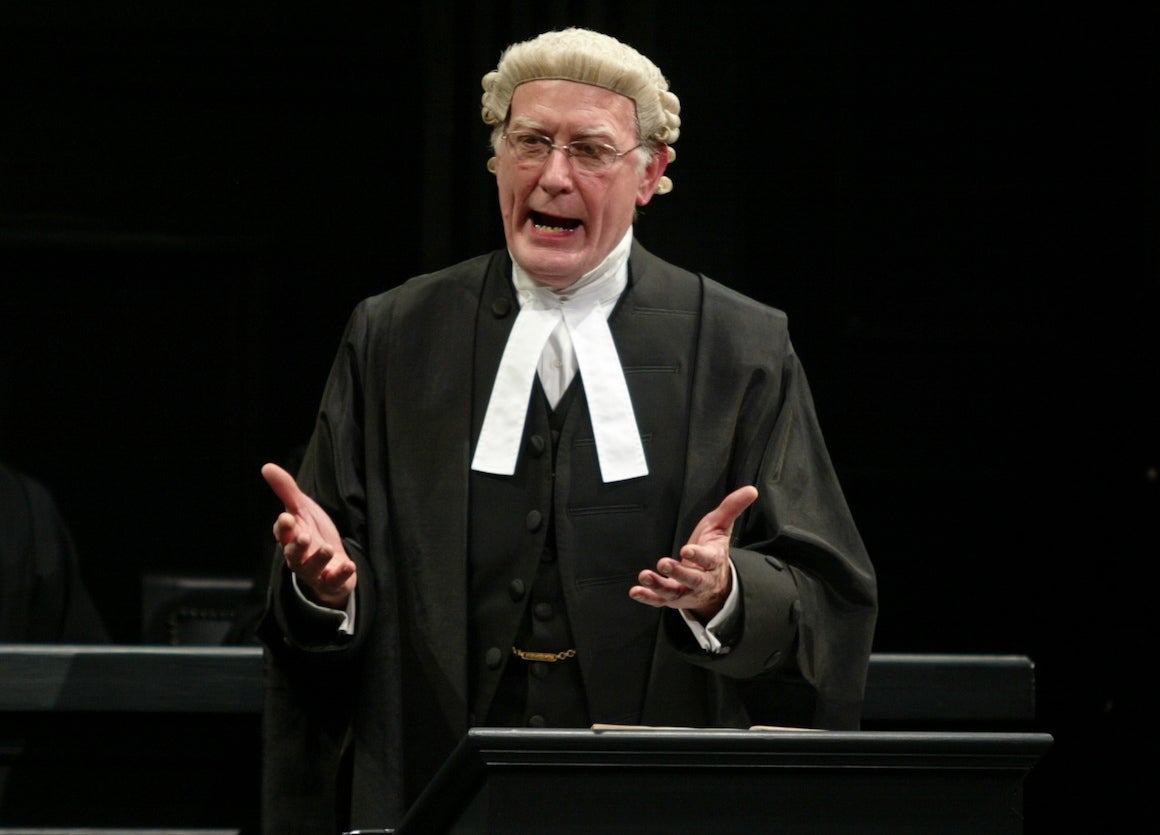 Witness for the Prosecution
By Agatha Christie
Directed by Michael Evan Haney
March
15
-
April
14
, 2006
2005-2006 Mainstage Season
The Story
From the grand dame of mystery comes her most ingenious thriller! A shiftless drifter stands accused of murdering an elderly woman who had willed him her entire fortune, but his wife assures the authorities he was at home when the deed was done. On the witness stand, however, she drops a bombshell, and that's just the first twist in a courtroom drama like no other. Passion and greed, lust and lies mix for a potent plot that'll keep you riveted right through the heart-stopping final revelation.
Creative & Production Staff
Scenic Designer: Paul Shortt
Costume Designer: Elizabeth Covey
Lighting Designer: Phil Monat
Stage Manager: Glenn Dunn
Assistant Stage Manager: Tony Dearing
Casting: Rich Cole
Cast
Richert Easley (Carter)
Tarah Flanagan (Greta)
Robert Langdon Lloyd (Mr. Mayhew)
Christopher Kelly (Leonard Vole)
Joneal Joplin (Sir Wilfrid Robarts, Q.C.)
Mark Leydorf (Inspector Hearne)
Deanne Lorette (Romaine)
Whit Reichert (Clerk)
Julian Gamble (Mr. Myers, Q.C.)
Michael Rothhaar (Mr. Justice Wainwright)
Erin Anderson (The Stenographer)
Christopher Harris (Warder)
Chuck Lavazzi (Barrister)
Dan McGee (Barrister)
Richert Easley (Dr. Wyatt)
Dale Hodges (Janet MacKenzie)
Alaine Pierre (Policeman)
Charles Heuvelman (Clegg)
Kelslan Scarbrough (The Other Woman)
Sponsorship & Support
Foundation Sponsor: Mary Ranken Jordan and Ettie A. Jordan Charitable Foundation
Corporate Sponsor: Centene Corporation

Additional support was provided by Guest Producers Mr. and Mrs. L.L. Browning Jr.
Production Notes
Witness for the Prosecution was a co-production with Cincinnati Playhouse in the Park.
Kevin Kline Awards
Nominations
Outstanding Supporting Actress in a Play: Dale Hodges, Witness for the Prosecution