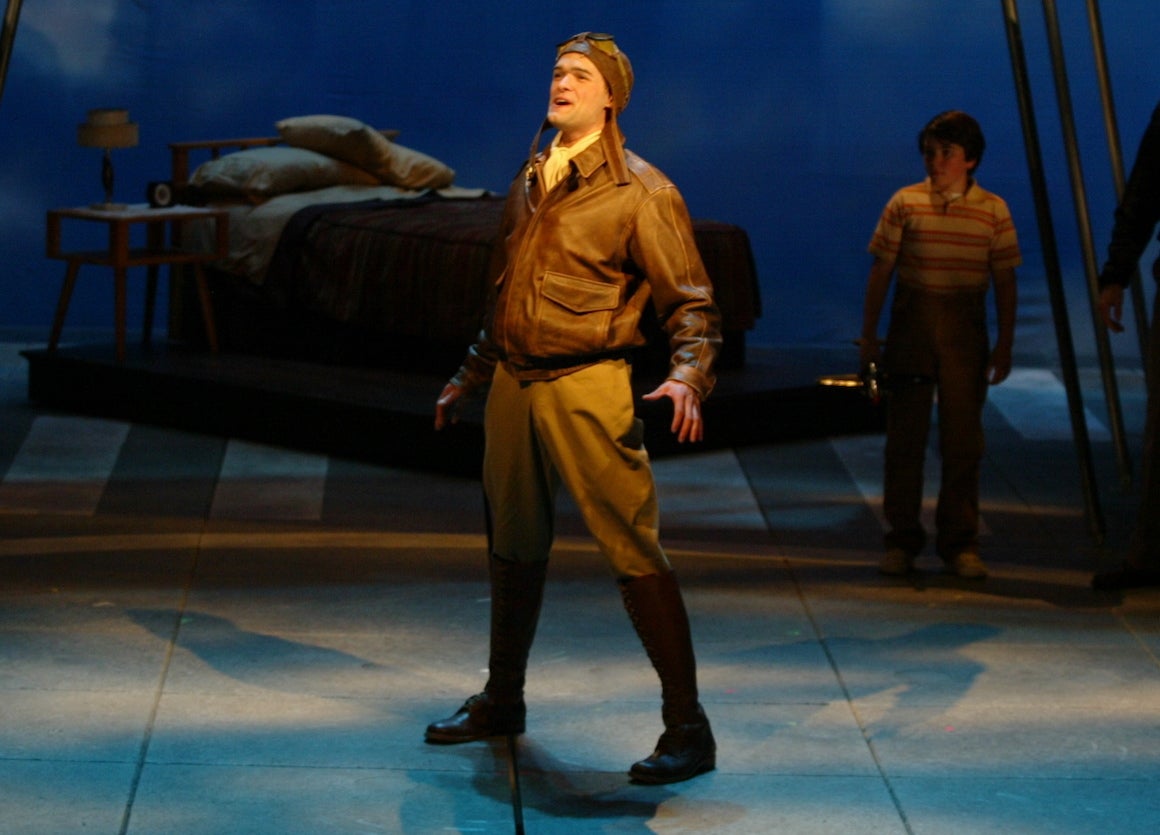 Ace
Book & Lyrics by Robert Taylor and Richard Oberacker
Music by Richard Oberacker
Directed by Stafford Arima
September
06
-
October
01
, 2006
2006-2007 Mainstage Season
The Story
A high-flying, world premiere musical, filled with humor, heart and a dazzling new score! An unexpected gift and visits from a mysterious Army aviator named Ace send troubled 10-year-old Billy Lucas soaring from 1950s St. Louis on a journey around the world. Billy takes flight in his dreams, embarking on a series of heroic and haunting World War I and World War II adventures and discovering that the secrets of his past may hold the key to unlock the door to his future.
Creative & Production Staff
Musical Director: David Kreppel
Orchestrator/Arranger: Greg Anthony
Choreographer: Andrew Palermo
Scenic Designer: David Korins
Costume Designer: Marie Anne Chiment
Lighting Designer: Chris Akerlind
Sound Designer: John H. Shivers, David Patridge
Stage Manager: Glenn Dunn
Assistant Stage Manager: Shannon B. Sturgis
Casting: Rich Cole
Cast
Noah Galvin (Billy)
Traci Lyn Thomas (Mrs. Crandall/Clara Whitlow)
Jessica Boevers (Elizabeth)
Amy Bodnar (Louise)
Duke Lafoon (Edward/Stampley)
Matt Bogart (Ace)
Chris Peluso (John Robert)
Jimmy McEvoy (School Bully/Young Charlie/Ensemble)
Ariane Rinehart (Sidekick/Ensemble)
Heather Ayers (Ruth)
Gabrielle Boyadjian (Emily)
Gabrielle Stravelli (Anique/Ensemble)
Susan Kokot Stokes (Teacher/Ensemble)
Kelli Barrett (Nurse/Ensemble)
James Judy (Toy Store Owner/Colonel Whitlow/Chennault/Ensemble)
Richard Barth (Lieutenant Sanders/Sullivan/Ensemble)
Danny Rothman (Cooper/Myron/Ensemble)
Kevin Reed (Tennaman/Stein/Ensemble)

Understudies: Jimmy McEvoy (Billy), Gabrielle Stravelli (Mrs. Crandall, Louise), Susan Kokot Stokes (Elizabeth), Danny Rothman (Edward, Chennault), Kevin Reed (Ace), Richard Barth (John Robert), Kelli Barrett (Ruth), Ariane Rinehart (Emily).
Orchestra
Michael Buerk (Reed 1)
Michael Karpowitz (Reed 2)
Nancy Schick (French Horn)
Bob Ceccarini (Trumpet/Flugelhorn)
Adrian Walker (Violin)
Natasha Rubinstein (Cello)
Jay Hungerford (Bass)
John Brophy (Percussion)
Henry Palkes (Keyboard 1)
Diane Ceccarini (Keyboard 2)
Additional Credits
Dance Captain: Kelli Barrett
Sponsorship & Support
Major Sponsor: A.G. Edwards
Production Notes
This production was the world premiere of Ace.
Ace was a co-production with Cincinnati Playhouse in the Park. The production was subsequently presented at the Old Globe Theatre in San Diego, California.
Kevin Kline Awards
Nominations
Outstanding Production of a Musical: Ace
Outstanding Director of a Musical: Stafford Arima, Ace
Outstanding Musical Direction: David Kreppel, Ace
Outstanding Costume Design: Marie Anne Chiment, Ace
Outstanding Lighting Design: Chris Akerlind, Ace
Outstanding Set Design: David Korins, Ace
Outstanding Sound Design: John H. Shivers, David Patridge, Ace
Outstanding New Play or Musical: Richard Oberacker, Robert Taylor, Ace
Outstanding Ensemble in a Musical: Ace
Outstanding Lead Actor in a Musical: Noah Galvin, Ace
Outstanding Lead Actress in a Musical: Jessica Boevers, Ace
Outstanding Supporting Actress in a Musical: Gabrielle Boyadjian, Ace
Awards
Outstanding Costume Design: Marie Anne Chiment, Ace
Outstanding Lighting Design: Chris Akerlind, Ace
Outstanding Set Design: David Korins, Ace
Outstanding Sound Design: John H. Shivers, David Patridge, Ace
Outstanding New Play or Musical: Richard Oberacker, Robert Taylor, Ace
Outstanding Lead Actor in a Musical: Noah Galvin, Ace