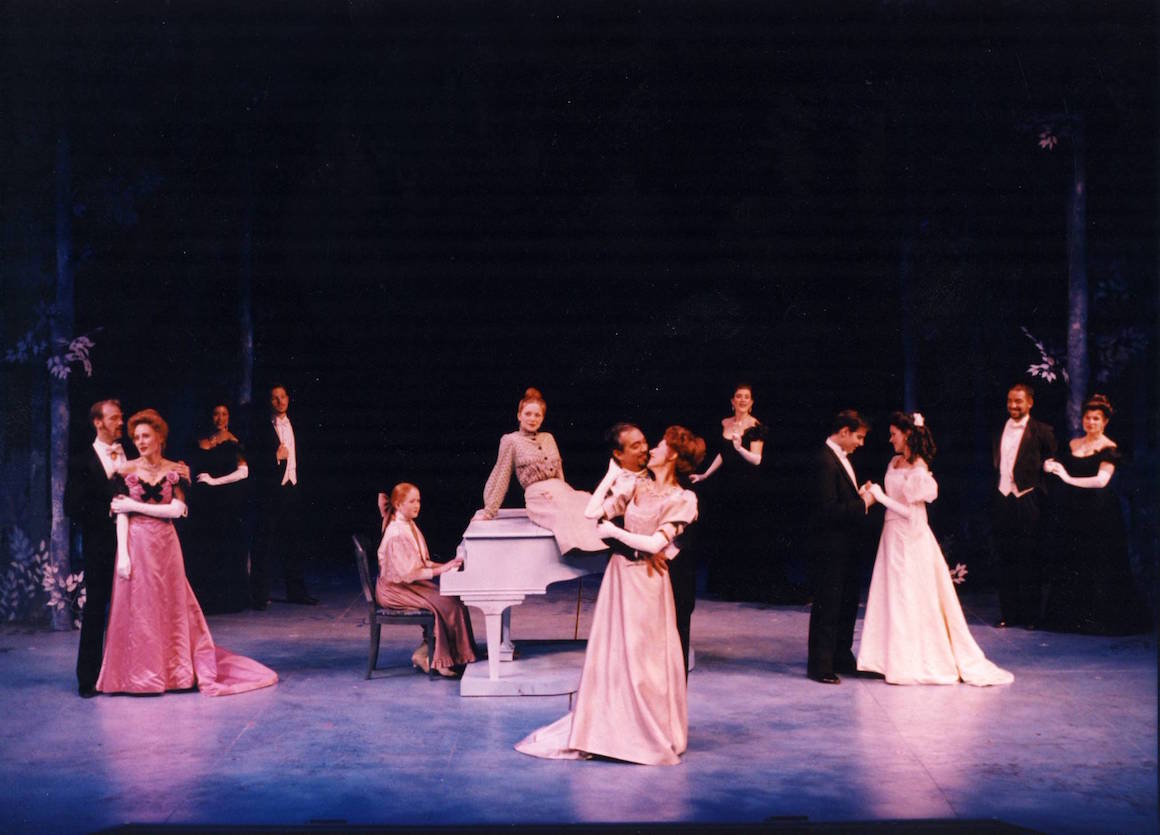 A Little Night Music
Suggested by a film by Ingmar Bergman
Originally produced and directed on Broadway by Harold Prince
Book by Hugh Wheeler
Music & Lyrics by Stephen Sondheim
Directed by Victoria Bussert
December
02
, 1998
-
February
01
, 1999
1998-1999 Mainstage Season
The Story
Refinement, beauty, grace and romance are the hallmarks of Sondheim's most elegant musical. Secret liaisons abound as fabulous characters having a high time all come together for a weekend in the country. A Little Night Music is civilized, sophisticated and enchanting—all set to the sound of a waltz and the smile of a summer night.
Creative & Production Staff
Musical Director: Valerie Gebert
Choreographer: Janet Watson
Scenic Designer: John Ezell
Costume Designer: James Scott
Lighting Designer: Peter E. Sargent
Stage Manager: Glenn Dunn
Assistant Stage Manager: Scott De Broux
Casting: Rich Cole
Cast
Caroline Holmes (Fredrika Armfeldt)
Fabio Polanco (Mr. Lindquist)
Theodora Middleton (Mrs. Nordstrom)
D'Vorah Bailey (Mrs. Anderssen)
Matthew Kovach (Mr. Erlanson)
Jennifer Douglas Gray (Mrs. Segstrom)
Marji Dodrill (Madame Armfeldt)
Rich Affannato (Henrik Egerman)
Garrett Long (Anne Egerman)
Thom Sesma (Fredrik Egerman)
Erin Hill (Petra)
Alison Bevan (Desirée Armfeldt)
Scott Brush (Count Carl-Magnus Malcolm)
Donna English (Countess Charlotte Malcolm)
Orchestra
Valerie Gebert (Conductor/Keyboard)
Ronald Vince (Violin)
Natasha Rubinstein (Cello)
Michael Buerk (Woodwinds)
Nancy Schick (French Horn)
Maria Pinckney (Harp)
Diane Ceccarini (Keyboard)
Robert Ceccarini (Musical Contractor)
Sponsorship & Support
Mainstage Season Sponsor: Monsanto Fund

Production Major Sponsor: American Express

Additional support for this production was received from Joanne and Joel Iskiwitch, Charter Communications, GenAmerica Corporation and Metropolitan Life Foundation.