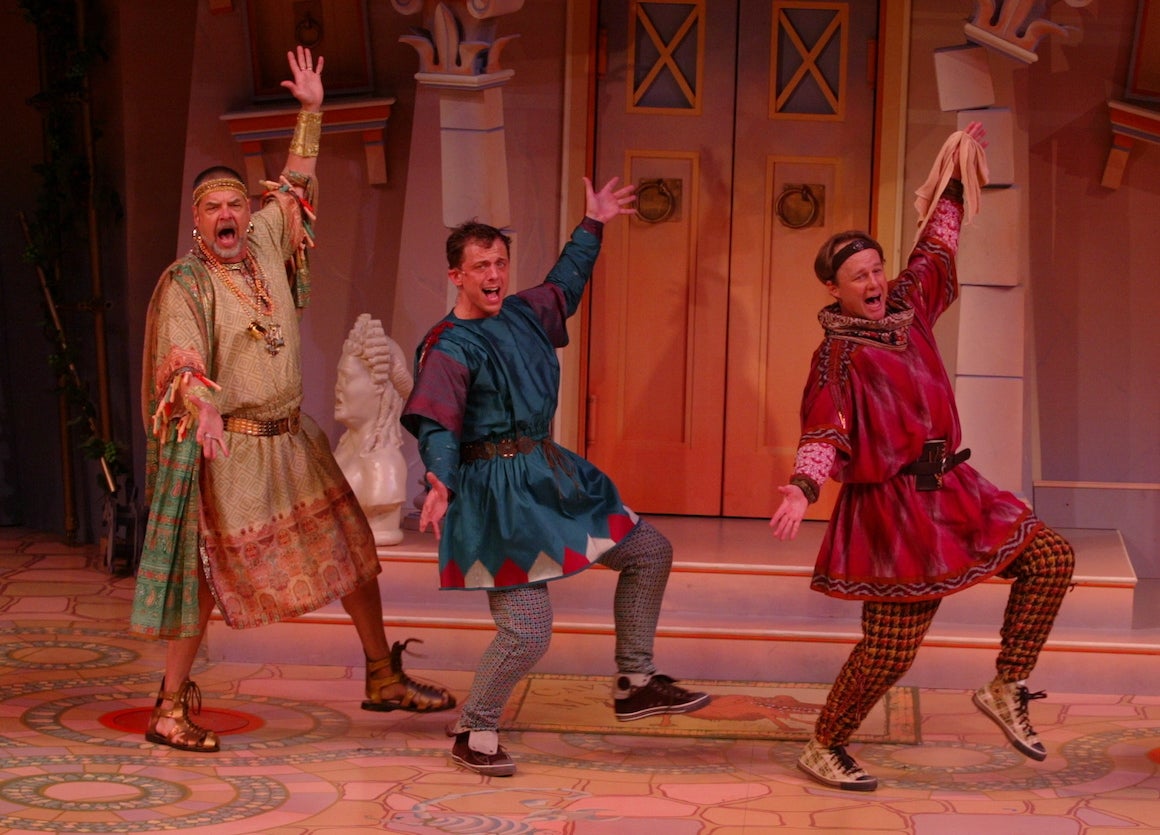 A Funny Thing Happened on the Way to the Forum
Book by Book by Burt Shevelove and Larry Gelbart
Music and Lyrics by Stephen Sondheim
Directed by Edward Stern
October
12
-
November
11
, 2005
2005-2006 Mainstage Season
The Story
All roads lead to laughs in this gaudy, bawdy musical! Pity poor Pseudolus, over-worked slave-in-chief. His master's in the tub, the house is overrun with courtesans, a pompous military marauder is on the warpath, and there's a virgin on the roof. What's a put-upon peon to do? Sing and scheme, of course, to unite two young lovers and gain his longed-for freedom. With hilarious songs by Stephen Sondheim and a raucous book by Larry Gelbart (creator of M*A*S*H) and Burt Shevelove, from the opening notes to the frenzied finale, Forum delivers on the promise of its tune "Comedy Tonight!"
Creative & Production Staff
Musical Director: Darren R. Cohen
Choreographer: Janet Watson
Scenic Designer: John Ezell
Costume Designer: David Kay Mickelsen
Lighting Designer: Peter E. Sargent
Stage Manager: T.R. Martin
Assistant Stage Manager: Tony Dearing
Casting: Rich Cole
Cast
Bob Walton (Pseudolus)
John Seidman (Senex)
Jared Gertner (Protean)
Bryan Lefeber (Protean)
Dominic Roberts (Protean)
Lynn Eldredge (Domina)
Jeff Skowron (Hysterium)
Eric Ulloa (Hero)
Keith Jochim (Marcus Lycus)
Jaclyn Minerva (Tintinabula)
Carol Schuberg (Vibrata, through October 16)
Stefanie Cedro (Vibrata, beginning October 18)
Erika Lynn Rominger (Gymnasia)
Lynette Knapp (Philia)
Nat Chandler (Miles Gloriosus)
Whit Reichert (Erronius)
Orchestra
Conductor/Pianist: Darren R. Cohen
Percussion: John Brophy
Trumpet: Bob Ceccarini
Woodwinds: Michael Buerk
Trombone: Wayne Coniglio
Violin: Adrian Walker
Bass: Jay Hungerford
Sponsorship & Support
Major Sponsor: Budweiser Select

The Repertory Theatre thanks Sigma-Aldrich Corporation for its support of this production. Additional support was provided by Guest Producers Lucy Lopata and the Estate of Stanley L. Lopata and Mr. and Mrs. Dan Viehmann.
Production Notes
A Funny Thing Happened on the Way to the Forum was a co-production with the Cincinnati Playhouse in the Park.
Kevin Kline Awards
Nominations
Outstanding Production of a Musical: A Funny Thing Happened on the Way to the Forum
Outstanding Director of a Musical: Edward Stern, A Funny Thing Happened on the Way to the Forum
Outstanding Choreography: Janet Watson, A Funny Thing Happened on the Way to the Forum
Outstanding Lighting Design: Peter Sargent, A Funny Thing Happened on the Way to the Forum
Outstanding Set Design: John Ezell, A Funny Thing Happened on the Way to the Forum
Outstanding Ensemble in a Musical: A Funny Thing Happened on the Way to the Forum
Outstanding Lead Actor in a Musical: Bob Walton, A Funny Thing Happened on the Way to the Forum
Outstanding Supporting Actor in a Musical: John Seidman, A Funny Thing Happened on the Way to the Forum
Outstanding Supporting Actor in a Musical: Nat Chandler, A Funny Thing Happened on the Way to the Forum
Outstanding Supporting Actress in a Musical: Lynette Knapp, A Funny Thing Happened on the Way to the Forum
Outstanding Supporting Actress in a Musical: Lynn Eldredge, A Funny Thing Happened on the Way to the Forum