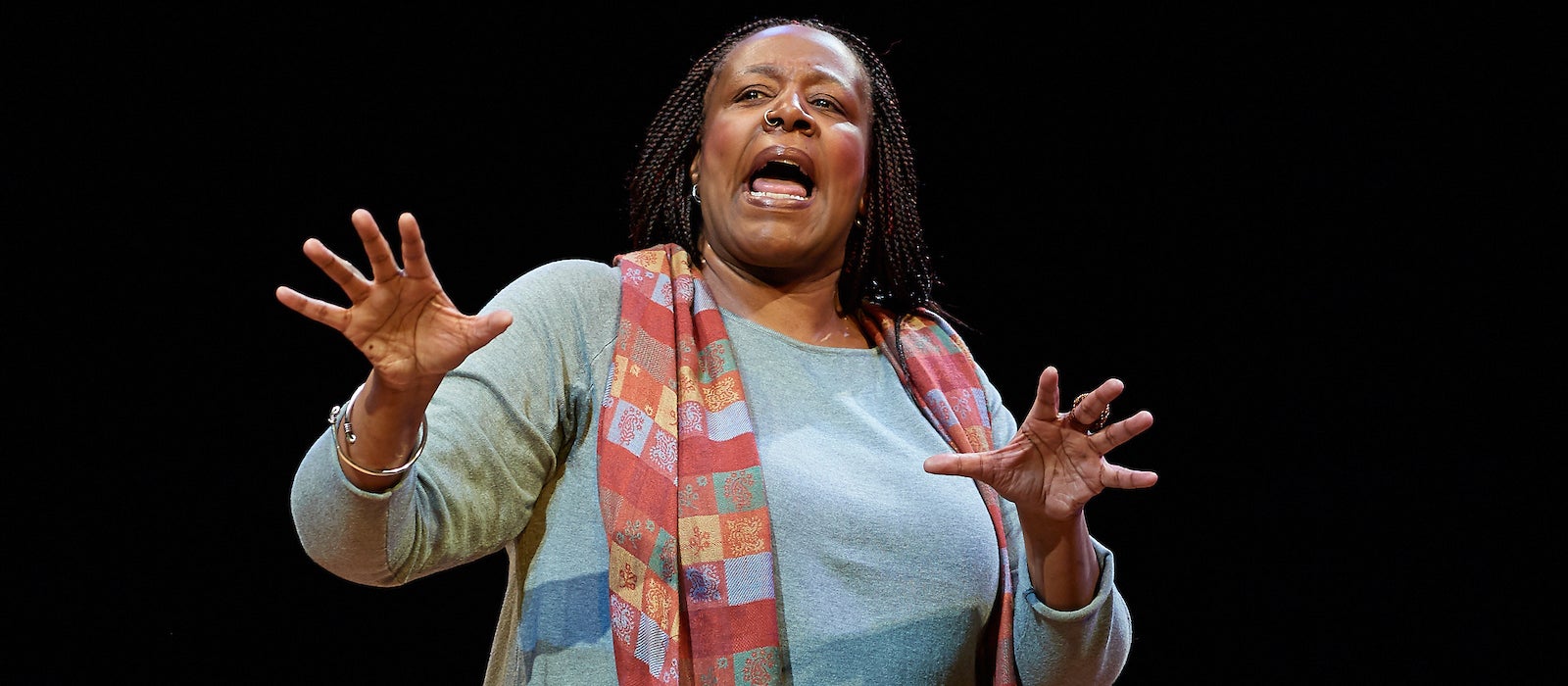 UNTIL THE FLOOD earns raves in its New York City debut
Monday |

Jan.

22

, 2018
In 2015, The Rep reached out to nationally renowned playwright and performer Dael Orlandersmith to commission a play about the shooting death of Michael Brown and the ensuing social unrest in Ferguson.
Initially, the plan was to tell the story from the perspective of one lifelong Ferguson resident, using interviews with locals as inspiration for the script. But when Orlandersmith visited St. Louis and began talking to people, her canvas quickly expanded.
The resulting play, Until the Flood, world premiered at The Rep in 2016. It featured eight composite characters – all played by Orlandersmith – who came to life based on a week's worth of interviews with people hailing from all over the St. Louis region. The final piece was stunning. And now theatre fans across the country will get to see Orlandersmith's masterful one-woman show throughout 2018.
That starts in New York City, where Rattlestick Playwrights Theater is currently presenting the play. Major outlets have taken notice, starting with the New York Times. In his Weekend Arts cover story, NYT theatre critic Jesse Green praised Orlandersmith's vision:
"Dael Orlandersmith does a great public service in her new play 'Until the Flood' ... Portraying only eight people — nine if you include her own alter ego — she nevertheless brings the questions, the pain and even the unspeakable thoughts of hundreds, if not millions, to life. 'Until the Flood' is an urgent moral inquest."
Variety also published a rave review, which leads with a shout-out to The Rep:
"The Repertory Theater of St. Louis confirmed the political power of theater when it commissioned this one-person show written and performed by Dael Orlandersmith to capture the reactions of Ferguson, Mo., residents to the police shooting of 18-year-old Michael Brown in the summer of 2014. The results are both eye-opening and quietly moving."
The Rattlestick production is just the beginning of an unofficial national tour for Until the Flood. Orlandersmith will bring the show to Milwaukee Repertory Theater in March, Chicago's Goodman Theatre in April and Seattle's A Contemporary Theatre in June.
We're thrilled that theatre lovers in other cities will get to experience this play, as well as start the necessary conversations that Orlandersmith's characters raise.