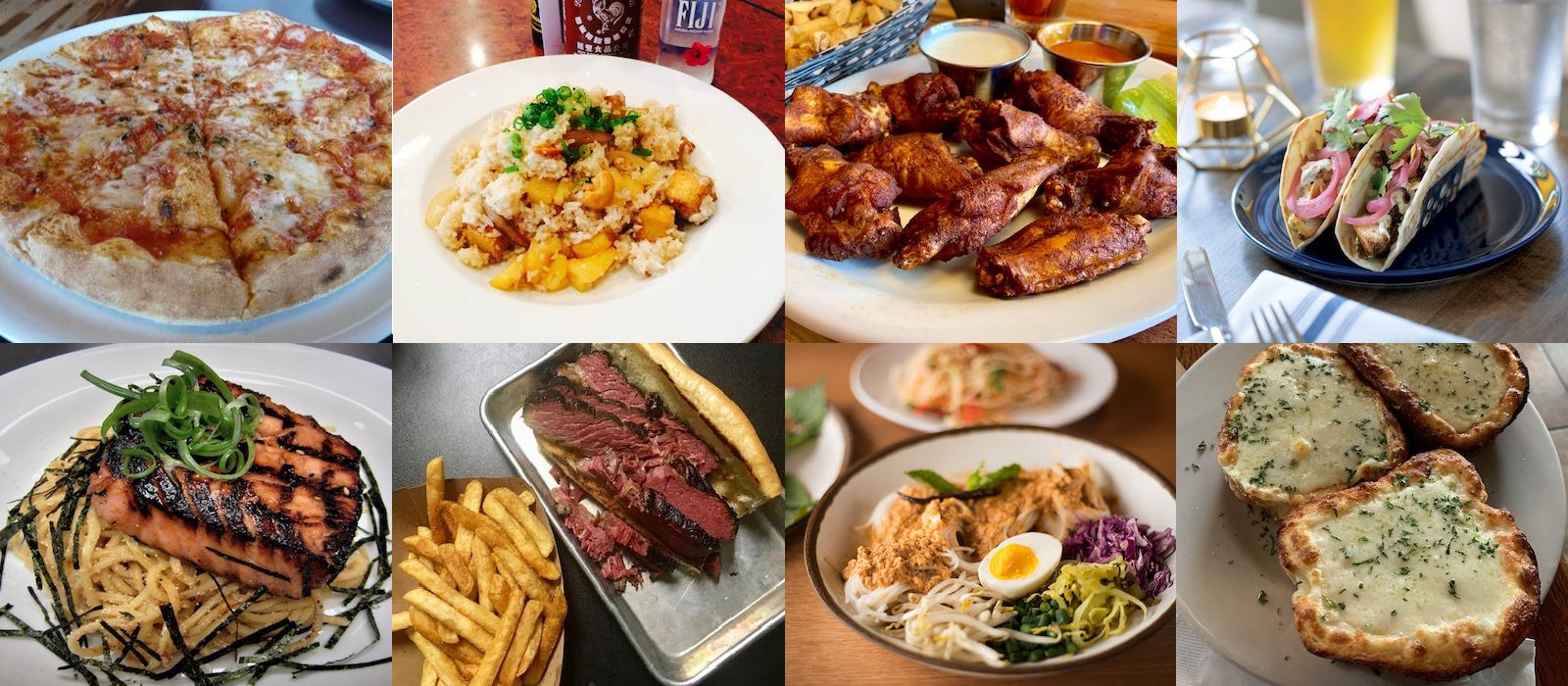 The Rep staff's favorite St. Louis takeout restaurants
Thursday |

May

14

, 2020
The St. Louis area's incredible restaurant scene is adapting and persevering amidst our current quarantined landscape. Between delivery services and curbside pickup, there are still plenty of ways to support our beloved STL eateries.
Since we began sheltering in place, our staff members have discovered plenty of new local food finds, as well as enjoying our dependable favorites. So if you're looking for something different for lunch or dinner, here are Team Rep's favorite takeout spots! Check out the Google Map below for an overview and read on to learn why our staff craves these dining selections.
Amy, Institutional Gifts Manager:
Tei Too because Thai + carbs = recipe for a happy runner! They have a number of vegetarian choices, which makes this particular runner especially happy. Love their Thai iced tea, too.
Larry, Director of Production:
A'mis - it's Italian food and delicious. My wife Dominica and I have ordered from them a few times and they wrap all their food in foil, so it is always hot when it arrives. The food is good and plentiful and we have yet to have a bad delivery! I like the chicken alfredo pasta and chicken wings. Dominica has had the grilled chicken salad and soup.
Ricki, Box Office Manager:
Smokee Mo's BBQ. Great BBQ with great sauces and (a lot) of traditional sides. The Manchester location even has a vegan menu.
Michelle, VIP Ticket Concierge:
58Hundred – owned by the Del Pietro family (who also run The Block) In addition to being good people, they are craft cocktail experts and offer a great menu if you have both meat-eaters and vegetarians in your house, as I do. They made me a believer in Brussell Sprout Tacos.
Sarah, Associate Director of Education:
Billy G's in Kirkwood – big bowls of pasta and they package their sangria like an adult Capri Sun. I mean... how can you beat that?
Amelia, Associate Artistic Director:
Chao Baan in The Grove. The family-style Thai food is delicious and it's one of the few places in STL I have encountered so far that makes their food spicy enough for my taste. The grilled eggplant is a favorite dish.
Dan, Database Administrator:
Peel Pizza in Edwardsville. They have great wood-fired pizza, terrific salads, and they have the "carry-out to your car" thing down to a science.
Robert, Development Assistant:
Ruma's Deli in Lemay. They've been giving away free food every Friday, and though I haven't won yet, I keep going back for baked mostaccioli covered in Provel cheese.. mmmmmmmmmmmm.
Jeremy, Public Relations and Digital Media Manager:
VP Square on South Grand. You really can't go wrong with their eclectic Southeast Asian menu – my husband and I love their bibimbap, banh mi sandwiches, poke bowl and fried rice special. The egg-encrusted shrimp wontons are also a killer app(etizer). Plus make sure to order some boba tea for a sweet treat!