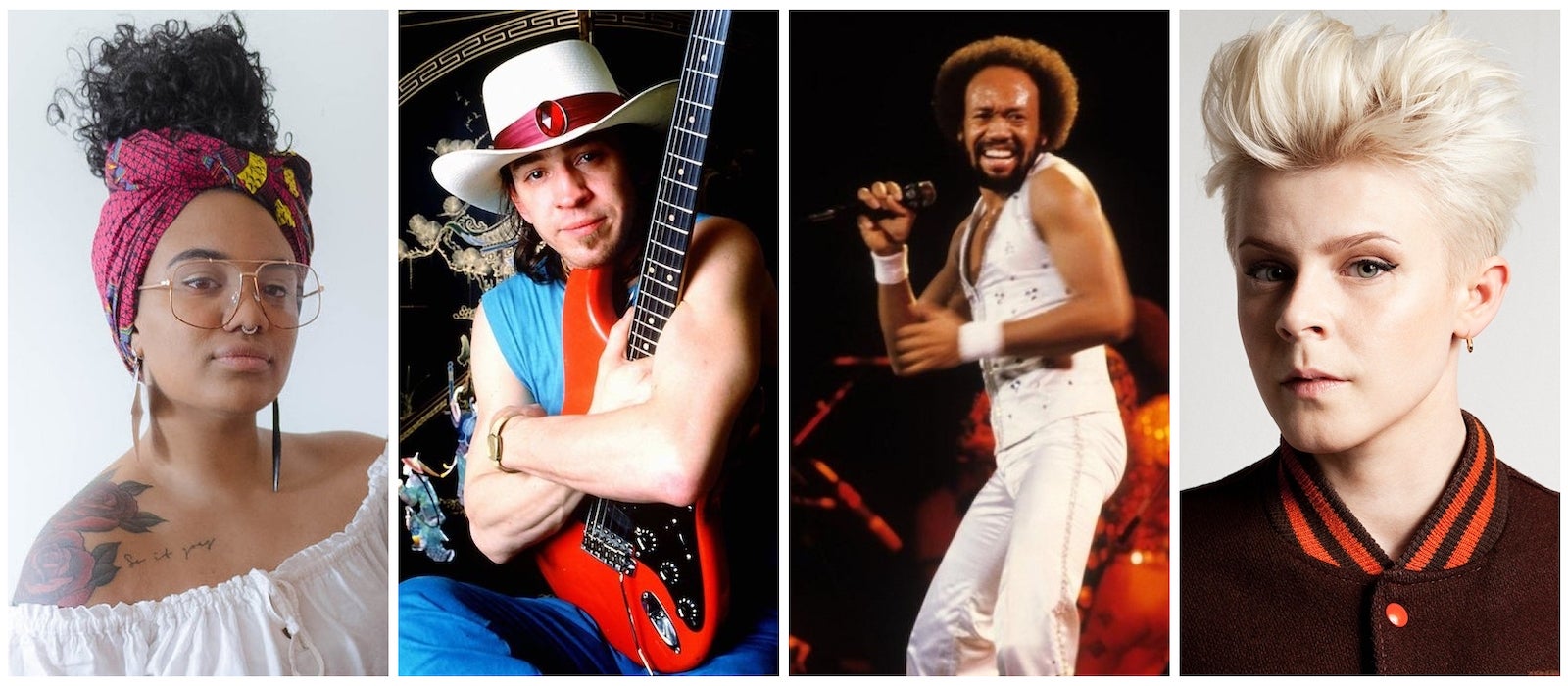 The Rep Staff Quarantine Playlist
Friday |

Apr.

3

, 2020
Like many of our colleagues around the nation, The Rep's staff has taken to working from home for the past several weeks. (Or is it months? It feels like months.)
As we navigate this time of uncertainty, we're all buoyed by a universal mood booster in times of trouble: good music. Previously, we shared with you some of our favorite quarantined musical performances from past Rep collaborators. Today, we're sharing some of our staff's favorite songs for inspiration, motivation and comfort.
Listen to our Spotify playlist below, and then read on for our staffers' thoughts on why they chose these songs for this moment.

Robyn – "Dancing On My Own"
Added to the Playlist By: Amelia, Associate Artistic Director
"In general, Robyn is a favorite of mine, but this song is really inspiring me through the quarantine because I am getting some physical activity each day by getting up from my computer and literally dancing…on my own."

Earth, Wind & Fire – "Fantasy"
Added to the Playlist By: Anita, Executive Assistant
"It's iconic, it's been touching lives since long before I was born, and it always makes me dance. I appreciate the raw vocals (they could actually sing!) and I especially love the structure of the instrumental composition. To me, it's just a beautiful song and I love it! If you ever want to see me dance, play Earth, Wind & Fire."

Lady Gaga – "Stupid Love"
Added to the Playlist By: Robert, Development Assistant
"Sorry if this is an obvious choice, but I have watched this at least twice daily and you should too!"

Sly & The Family Stone – "Everybody Is a Star"
Added to the Playlist By: Jeremy, Public Relations and Digital Media Manager
"An anthem of self-love, of reaching out to others and loving them without judgment – this song feels more essential and uplifting than ever."

Stevie Ray Vaughan – "Riviera Paradise"
Added to the Playlist By: Dan, Database Administrator
"I've always thought that Stevie Ray Vaughan's death in a helicopter accident at 35 was one of the worst tragedies in the history of music--regardless of genre. It was intrinsically unfair to lose not only a virtuoso musician, but also a man who was finally happy. He had overcome serious drug addiction, had found love, and besides making the best music of his career, was fully dedicating himself to helping others overcome their own addictions.
This song was the last song he recorded in the studio with his band Double Trouble. They did it live in the studio, with the lights dimmed, and this was one take. He poured everything he had into this song, this singular performance. Eight seconds after the last note ended, the tape ran out. If they had played just a few seconds longer, the take would have been ruined. But it was perfect. No overdubs. No added tracks. Just Stevie, his guitar and the three other men he'd played with for years, finding something extraordinary.
Every time he played it in concert, before his death a few months later, he always introduced it like this:
'This goes out to anyone who is suffering in any way.'"

Rusted Root – "Ecstasy"
​​​​​​Added to the Playlist By: Amy, Institutional Gifts Manager
"I saw these guys live in nineteen-mumblty-mumble when I was but a wee lass. They were the warmup for Toad and the Wet Sprocket, but they totally stole the show. It was such a multi-sensory experience: incense burning, they danced all over the stage, loud as anything so you both heard and felt them. Everyone in the band picked up a percussion instrument and banged on it, no matter what their usual instrument. They all just seemed so happy making their music, and that makes me happy, too, even all these years later."

Tonina – "Kite in the Wind"
Added to the Playlist By: Becks, Producer of New Play Development
"STL artist Tonina's song 'Kite in the Wind' is one of the first songs I heard live when I moved to this city. Feeling similarly to the lyrics at this moment in time, waiting for the winds to change and move us in a new direction. Her vocals bring a jazz vibe that is inherently St. Louis into our homes that feels soothing, grounded and hopeful."

Carbon Leaf – "Let Your Troubles Roll By"
Added to the Playlist By: Tina, Master Electrician
"This song, and truthfully this whole album, has gotten me through some very dark and tough times in my life. It always reminds me (especially the last verse) that people are resilient and that we can recover from those tough times."