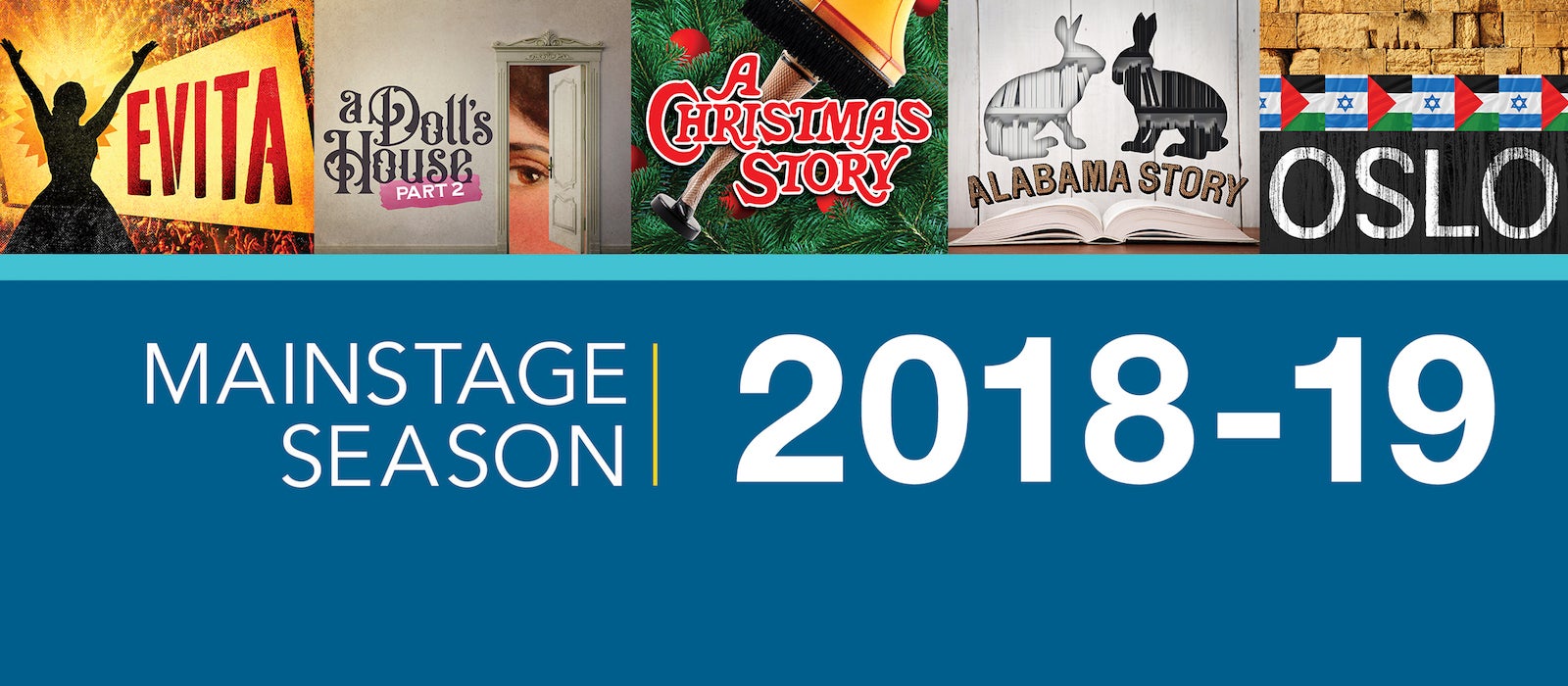 The Rep announces five shows of its 2018-2019 Mainstage season
Friday |

Feb.

2

, 2018
The Repertory Theatre of St. Louis is proud to announce five of the six shows for its 52nd Mainstage season.
This year marks Steven Woolf's final season as The Rep's Augustin Family Artistic Director, ending a three-decade run as the theatre's artistic leader. Woolf will retire upon the 2018-2019 season's completion.
Featuring a legendary musical, a returning family favorite and the 2017 Tony Award winner for Best Play, it's a fittingly eclectic and daring lineup for Woolf's farewell season.
Details for the final show of the season, opening in March 2019, are currently being finalized.
Evita
Lyrics by Tim Rice
Music by Andrew Lloyd Webber
September 5 – 30
The incandescent Eva Perón's rise from poverty to power electrified the world – and made her an iconic political celebrity. Winner of seven Tony Awards, Andrew Lloyd Webber and Tim Rice's tour-de-force musical revels in the glamour, charisma and controversy that defined the First Lady of Argentina. With its unforgettable anthem "Don't Cry for Me Argentina" and kaleidoscope of sights and sounds, Evita dazzles with pure passion.
A Doll's House, Part 2
by Lucas Hnath
October 10 – November 4
After 15 years away, Nora Helmer has returned home. And now that she's back, the heroine of Henrik Ibsen's A Doll's House is taking no prisoners. This award-winning theatrical sequel crackles with razor-sharp humor that speaks directly to today's audiences, giving new voice to its predecessor's themes of marriage, fidelity and personal independence.
A Christmas Story
by Philip Grecian
November 28 – December 23
Ralphie Parker's quest to get a Red Ryder BB gun for Christmas returns to The Rep in all its heartwarming and hilarious glory. Filled with delightful holiday vignettes and endlessly quotable lines ("You'll shoot your eye out!"), this play is the perfect gift for the whole family to enjoy. Come see the classic movie brought to life on stage!
Alabama Story
by Kenneth Jones
January 2 – 27, 2019
A determined librarian and a segregationist senator face off over an innocent children's book in 1959 Montgomery. Depicting the marriage of two rabbits – who happen to have different-colored fur – the story has Sen. E.W. Higgins calling for a book ban. But even as the pressure mounts, librarian Emily Wheelock Reed refuses to yield to censorship. Inspired by true events, Alabama Story is a stirring testament to free expression.
Oslo
by J.T. Rogers
February 6 – March 3, 2019
Winner of the 2017 Tony Award for Best Play. In 1993, two bitter enemies shocked the world by shaking hands and agreeing to work toward peace. This breathtaking drama tells the story of the secretive and precarious negotiations that made that moment possible. By focusing on the Norwegian couple who brokered talks between the Israelis and Palestinians, Oslo finds the unlikely story behind this historic event.
… And a sixth show
March 13 – April 7, 2019
We're currently finalizing details on a thrilling production to close our 2018-2019 Season. Look for an announcement in the near future!
---
Renewal for current Rep subscribers of a six-show season package begins Tuesday, February 6, at repstl.org or by calling the Box Office at 314-968-4925.
Subscription prices range from $103 to $513, with discounts available for seniors and students. Patrons can also build their own subscriptions by purchasing tickets for three, four or five Mainstage shows at subscriber rates.
Single tickets for Evita will go on sale July 18, followed by single tickets for the rest of the season in August.
Show times are Tuesdays, selected Wednesdays and selected Sundays at 7 p.m.; Thursdays, Fridays and selected Saturdays at 8 p.m. Matinee performances are selected Wednesdays at 1:30 p.m., Saturdays at 4 p.m. and Sundays at 2 p.m.