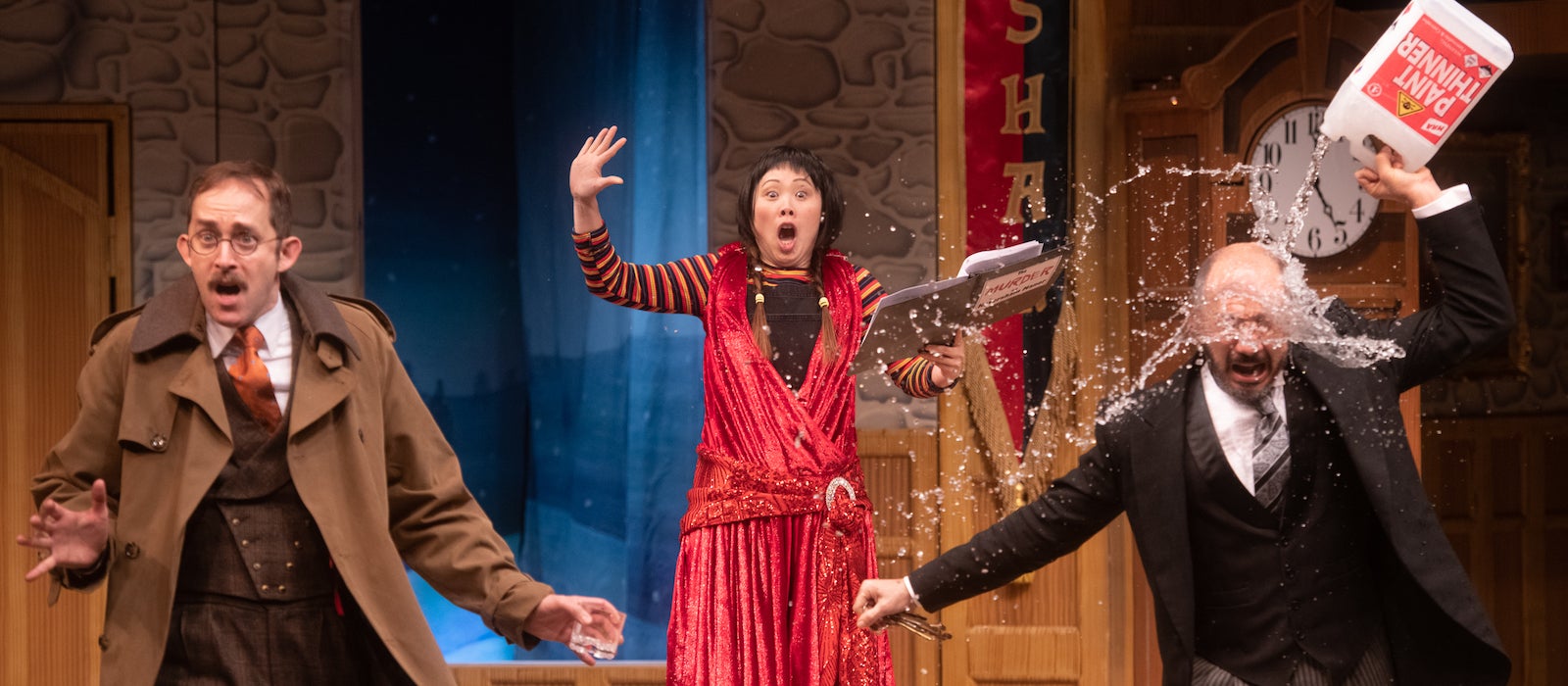 Review Roundup: THE PLAY THAT GOES WRONG is "the best worst performance ever"
Friday |

Mar.

22

, 2019
A lot of things had to go right to make The Play That Goes Wrong at The Rep. An impeccable cast. An ingenious team of directors and designers. A technical crew as good as any in the nation. This beast of a show demands all that and more.
Thankfully, we had all of that onhand for our regional theatre premiere right here in St. Louis! Our production of this smash-hit comedy is hitting all the right notes with reviewers and audiences, who are howling (and sometimes screaming) with delight in our theatre.
We're compiling all of the local critical reactions in this space, so be sure to keep checking back as the reviews continue to roll in! The show continues through April 7.
Calvin Wilson, St. Louis Post-Dispatch:

"By the time the set begins to self-destruct, in a manner that might raise concerns about the safety of everyone onstage, most spectators will be in hysterics."
"Here it must be noted that it takes great skill and focus for good actors like these to pretend to perform so poorly. It's obvious they are having the time of their lives, even as they are delivering the best worst performance ever."
Steve Allen, Stage Door St. Louis:

"In the case of 'The Play That Goes Wrong,' everything is a disaster. Since you're expecting that from a play with that title, the audience is not only entertained, they are treated to non-stop, out loud laughs that just won't stop."​​​
"Special recognition needs to be made to scenic designers Peter and Margery Spack, who concocted the wondrous set, which garners many of the comedy's abundant laughs with its propensity for calamity and destruction."
Bob Wilcox and Gerry Kowarsky, HEC-TV's Two on the Aisle:

"This is an encyclopedia of physical comedy ... Like watching some Olympic athletes, almost."
Michelle Kenyon, Snoop's Theatre Thoughts:

"It's one of those 'throw in all the jokes and see what happens' kind of shows, staged with energy, style, and a lot of impressive technical prowess."
"There's nothing else quite like The Play That Goes Wrong – and watching a disaster unfold never felt so right."
Ann Pollack, St. Louis Eats and Drinks:

"While the lines are funny, and the deliberate overacting and flubbing is funnier still, it's the movement that sets this show apart from the very first. The falls, the crawls, the face plants both vertical and horizontal are almost constant."
"You need never engage your mind as you laugh your head off."