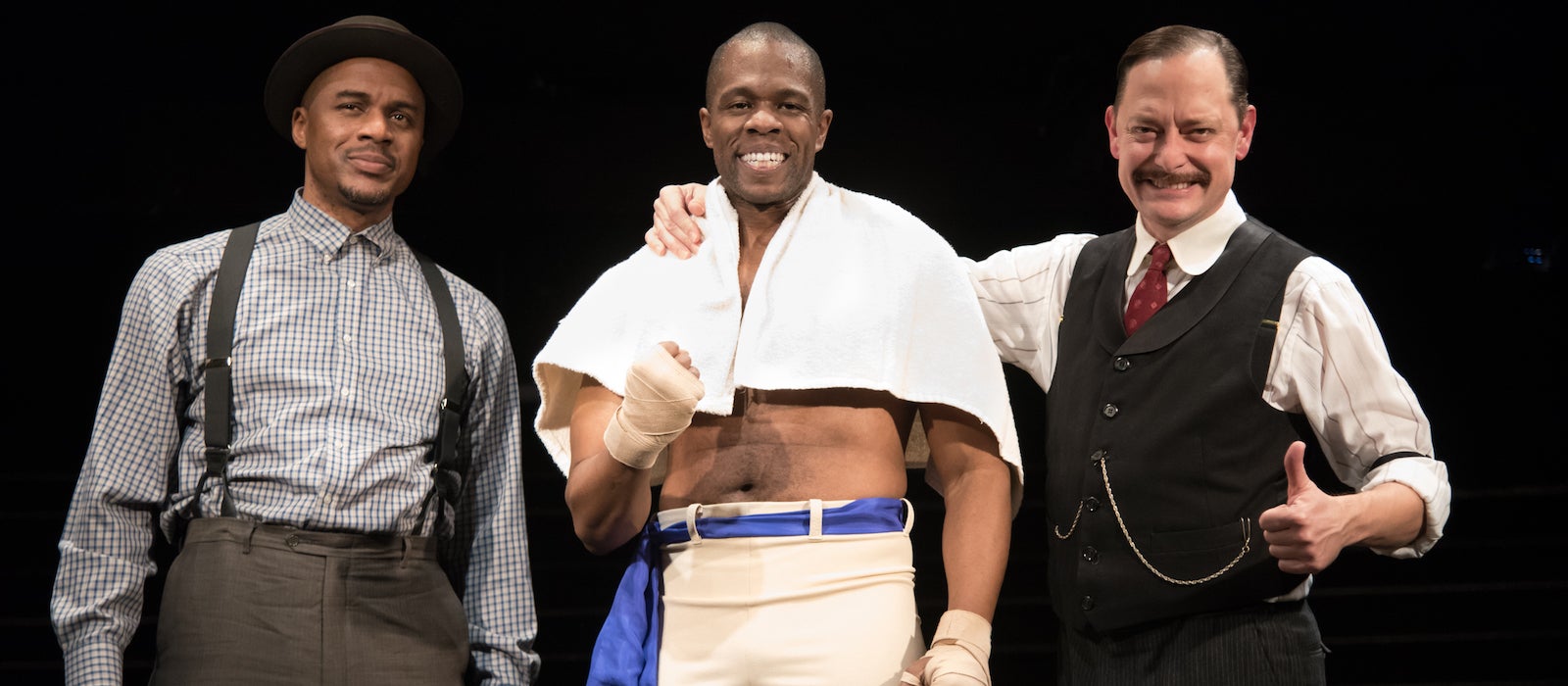 Review Roundup: The "complex, thrilling" ROYALE
Wednesday |

Mar.

15

, 2017
The Royale moves like a piston engine, firing on all cylinders in a rapid-fire sprint. Currently playing in The Rep's Emerson Studio Theatre, it's stunned critics with its technical and dramatic mastery.
We're compiling all of the local critical reactions in this space, so be sure to keep checking back as the reviews continue to roll in! The show continues through March 26.
Judith Newmark, St. Louis Post-Dispatch:

"'The Royale,' the last production in this season's Studio Theatre series at the Repertory Theatre of St. Louis, pushes theater arts to the limit. ... It's a complex, thrilling work."
Lynn Venhaus, Belleville News-Democrat:

"With innovative staging and top-of-the-game performances, it's one of the best shows of the year."
Steve Allen, Stage Door St. Louis:

"The cast excels throughout ... It's a perfect play for the Studio with the almost confining feel of sleazy gyms and smokey arenas as the audience is immersed in the world of the prizefighters."
"An exhilarating, pulsating production ... which blends choreography and social commentary into a searing and affecting cautionary tale."
"The cast of The Royale delivers one of the most powerful performances I have ever seen by an ensemble cast."
"This is a fiercely creative work ... even though gloves never touch an opponent's flesh during the play, you'll feel the intensity of the sport of boxing come alive in a powerful way that will move you."
Rosalind Early, St. Louis Magazine:

"There is a reason that the ringside boxing ropes are around the entire theater and not just around the stage. The Royale, by Marco Ramirez, is able to draw you into the fight."
"The winning show spectacularly combines percussion with a fresh perspective created through the staging and fully invested performances without forgetting its place in history."
Richard Green, Talkin' Broadway:

"Brash and thundering at the outset, Marco Ramirez' The Royale gracefully transforms into a dramatic chasm of personal doubt and worry as the stakes get higher and higher."
Michelle Kenyon, Snoop's Theatre Thoughts:

"This play depends a lot on its cast, and that's it's biggest strength. (Akron Lanier) Watson brings a real sense of charisma and presence that is essential for the dynamic, iconoclastic Jay."
Ann Pollack, St. Louis Eats and Drinks:

"Please don't skip seeing the Rep Studio's The Royale thinking it's just another sports story. Yes, it's about a boxer on his way to the top. But it's beyond that."