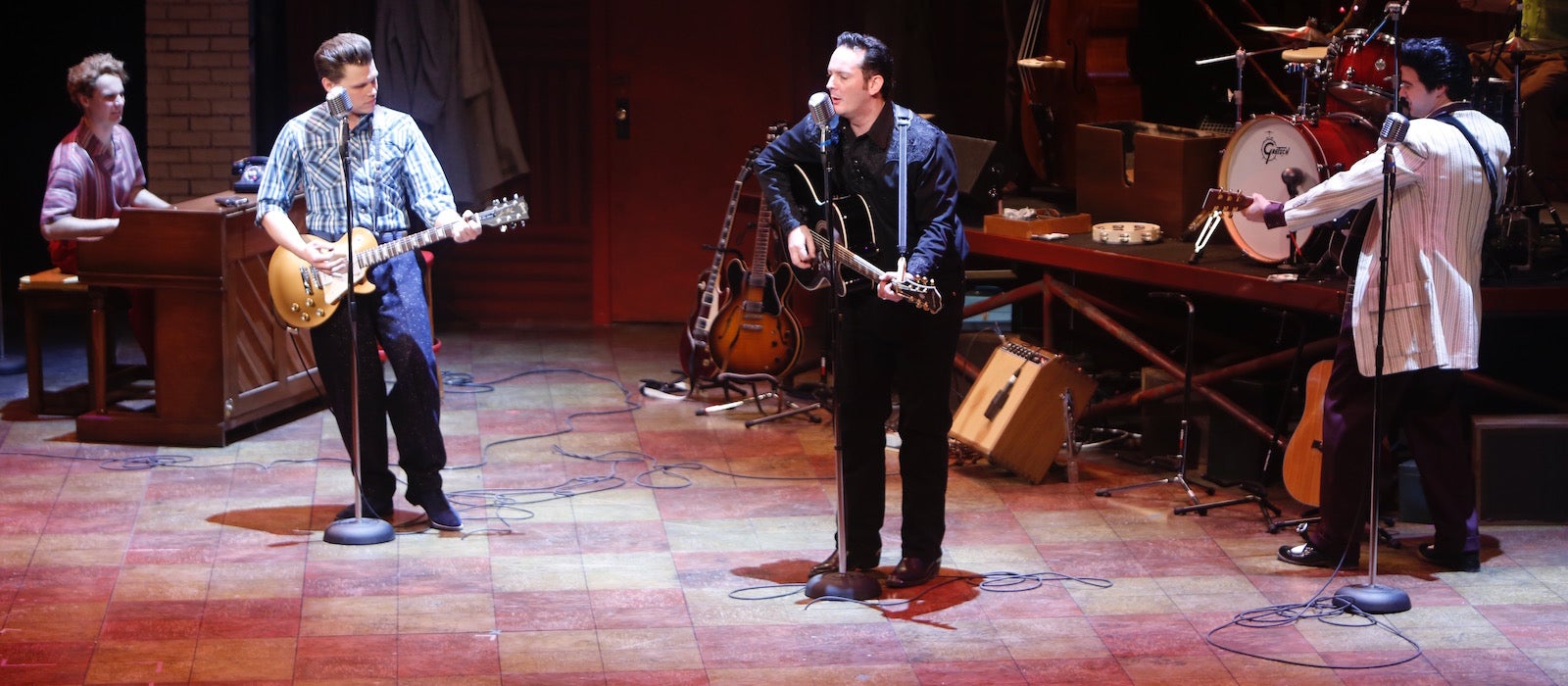 Review Roundup: MILLION DOLLAR QUARTET is "one big party"
Monday |

Mar.

27

, 2017
The dynamic, hip-shaking music of Million Dollar Quartet has transformed the Loretto-Hilton Center for the Performing Arts into a rock club. Audiences and reviewers alike are seriously digging The Rep's final show of its 2016-2017 Season!
We're compiling all of the local critical reactions in this space, so be sure to keep checking back as the reviews continue to roll in! The show continues through April 9.
Judith Newmark, St. Louis Post-Dispatch:

"A great big party … bold, irresistible."
Steve Allen, Stage Door St. Louis:

"'Million Dollar Quartet' is powered by a group of skilled and talented people who started the rock and roll revolution."
"At times, The Rep's presentation of Million Dollar Quartet seems more like a concert than a musical, an infectious good time woven around a fascinating story."
"Don't miss your chance to see this show! (And when you do go, don't be too quick to gather your belongings when it seems like the show is over. Hint, hint!)"
"Truly a fabulous way to close a monumentally fine season. ... It's the dessert you savor after a multi-course meal, and it's completely satisfying."
"A fun and fascinating story, full of fantastic performances and some of the best rock music in history."
"The show's got a beat you can dance to and engaging, infectious performances, ensuring a whole lotta shaking and a fitting close to The Rep's anniversary season."
Michelle Kenyon, Snoop's Theatre Thoughts:

"The music here is really the star, with all the musicians playing their own instruments and performing the songs well. There are some excellent musical moments and some stand-out performances."
Ann Pollack, St. Louis Eats and Drinks:

"It's the first time I ever heard an opening-night audience at the Rep cheer after the very first number, so great is the exhilaration of the score."