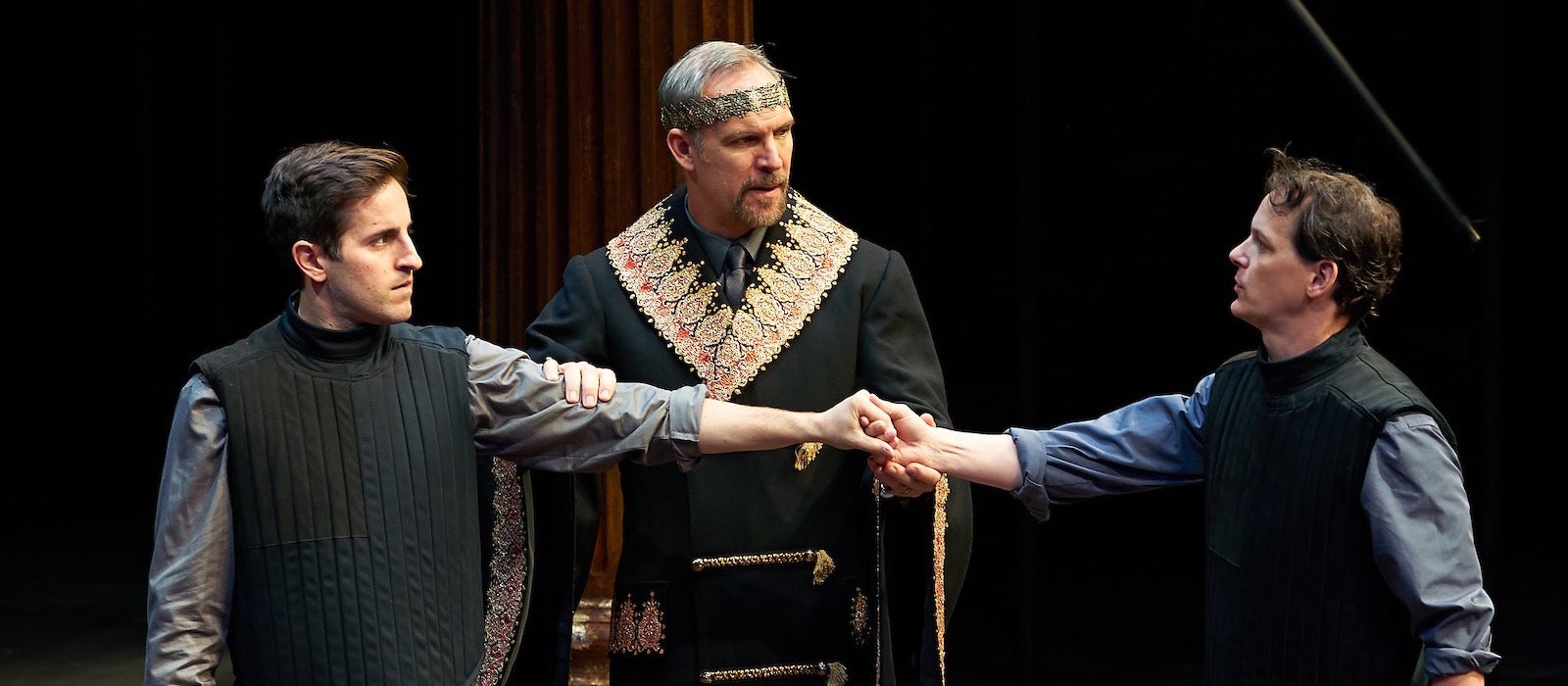 Review Roundup: HAMLET brings thrills and surprises
Tuesday |

Oct.

17

, 2017
It took The Rep 51 years to get around to producing Hamlet. But according to our local critics, it was well worth the wait.
Plaudits are rolling in for director Paul Mason Barnes, the cast and design team for giving Hamlet a fittingly larger-than-life adaptation for The Rep stage.
We're compiling all of the local critical reactions in this space, so be sure to keep checking back as the reviews continue to roll in! The show continues through November 5.
Judith Newmark, St. Louis Post-Dispatch:

"The play speeds along, carrying its audience on wings of action and poetry. This production lets us soar with Shakespeare."
"I found this staging utterly remarkable. ... This is a classic tragedy brilliantly realized for a modern audience to enjoy."
Steve Allen, Stage Door St. Louis:

"The Rep's 'Hamlet' is an entertaining ride that will surprise you with a feel like no other production you've seen."
Richard T. Green, Talkin' Broadway:

"For Mr. Poulos, in the title role, it is the kind of huge canvas that an actor dreams of, all his younger days. With the help of director Barnes, he takes full advantage of the opportunity, sometimes as a sort of Jackson Pollock, painting the stage with chaos."
Gerry Kowarsky, HEC-TV's Two on the Aisle:

"Depth of thought and attention to detail are evident throughout this production."
"A thoroughly engrossing dive into the language of Shakespeare with active, beautifully crafted scenes that are likely to have your heart racing."
Jacqueline McGarry, St. Louis Limelight:

"Jim Poulos... will give you a Hamlet that is loveable, devilishly sarcastic, cunningly mad, and so tortured that you cannot help but thirst for revenge along with him."
"(Director Paul Mason) Barnes keeps The Rep's version of Hamlet moving briskly and he is aided by several superior performances."
Michelle Kenyon, Snoop's Theatre Thoughts:

"This Hamlet is fresh, immediate, and characterized by a dynamic, highly physical performance from its leading actor."
Ann Pollack, St. Louis Eats and Drinks:

"This is a show that can sweep an audience away. ... Here we have a new way to be transported.​"