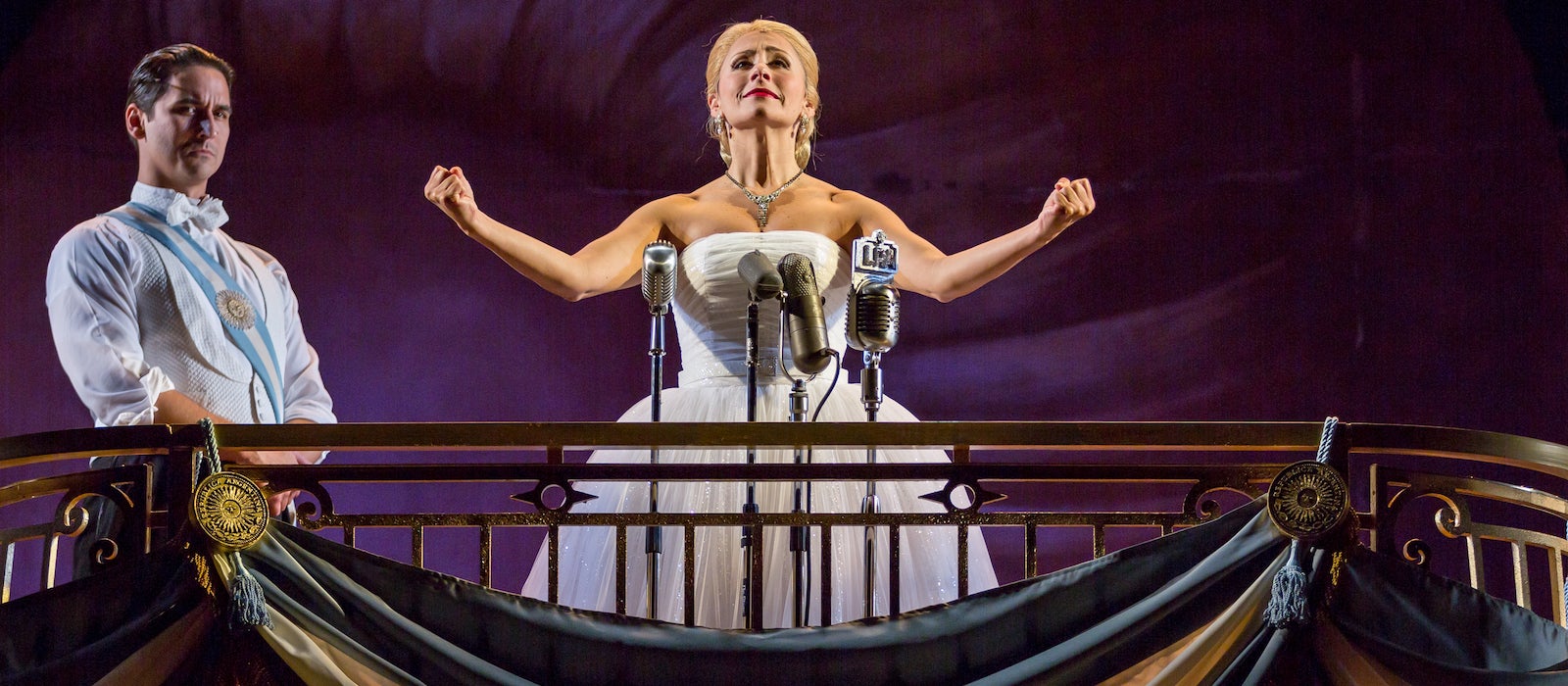 Review Roundup: EVITA is high flying, adored
Friday |

Sep.

14

, 2018
The Rep's 52nd season has burst into life with a towering production of Tim Rice and Andrew Lloyd Webber's Evita.
Directed by Rob Ruggiero, the show has audiences and critics alike enthralled.
We're compiling all of the local critical reactions in this space, so be sure to keep checking back as the reviews continue to roll in! The show continues through September 30.
Calvin Wilson, St. Louis Post-Dispatch:

"'Evita' is a richly theatrical experience that combines epic storytelling with well-calibrated performances and first-rate contributions from a production team including choreographer Gustavo Zajac, music director Charlie Alterman and scenic and projections designer Luke Cantarella."
"(Director Rob) Ruggiero's electric presentation, pulling together masterful work by artists both on stage and off, makes The Rep's Evita a thrilling and dynamic rendition."
Richard Green, Talkin' Broadway:

"Michelle Aravena is the Argentine firecracker of this grand and swaggering new production of Evita. ... The actress is so ingratiating, even as she draws her prey in for the kill, again and again."
"Ruggiero invests every moment of 'Evita' with the throb of possibility, the engine a poor, small-town teen drives to fame, fortune, political power and a cult of personality that revered her as something like a saint."
Steve Allen, Stage Door St. Louis:

"The brilliant choreography of Gustavo Zajac makes for an exciting look for this production. The large chorus whirls around the Rep stage with the exciting music of the show as a backdrop."
Andrea Torrence, St. Louis Theatre Snob:

"Michelle Aravena's triple-threat portrayal of Eva Perón is diversely hued. Curt, calculated and bitterly nursing childhood wounds inflicted by the upper classes, she's determined to take Buenos Aires... and an emotive Aravena nimbly occupies the role with grit and confident style."
"This production of Evita is a must-see, and a terrific way to kick off an exciting season at The Rep. Full of great songs, terrific music, and memorable performances – there is no question as to why this show has lived on for decades."
"The Rep's powerful production expertly captures the energy and excitement of revolution, the sneering, snide commentary of the elite and the fiery, passionate personas of the Peróns."
Bradley Rohlf, St. Louis Limelight:

"A spectacular staging of 'Evita' opens the 52nd season at The Repertory Theatre St. Louis. Director Rob Ruggiero executes a strong, emotion-filled vision of Andrew Lloyd Weber and Tim Rice's take on the life of Eva Perón."
Ann Pollack, St. Louis Eats and Drinks:

"Michelle Aravena returns to St. Louis to give us Evita, after playing Mary Delgado Valli in the Muny's Jersey Boys this summer. She's splendid, giving us a strong but not shrewish Eva, driven and fully able to work as a team with the 24-years-older Peron as they assume control of the country."
Michelle Kenyon, Snoop's Theatre Thoughts:

"It's a big, visually and vocally impressive show with a stellar cast that does justice to its celebrated score. It's a great way to start a new season at the Rep."