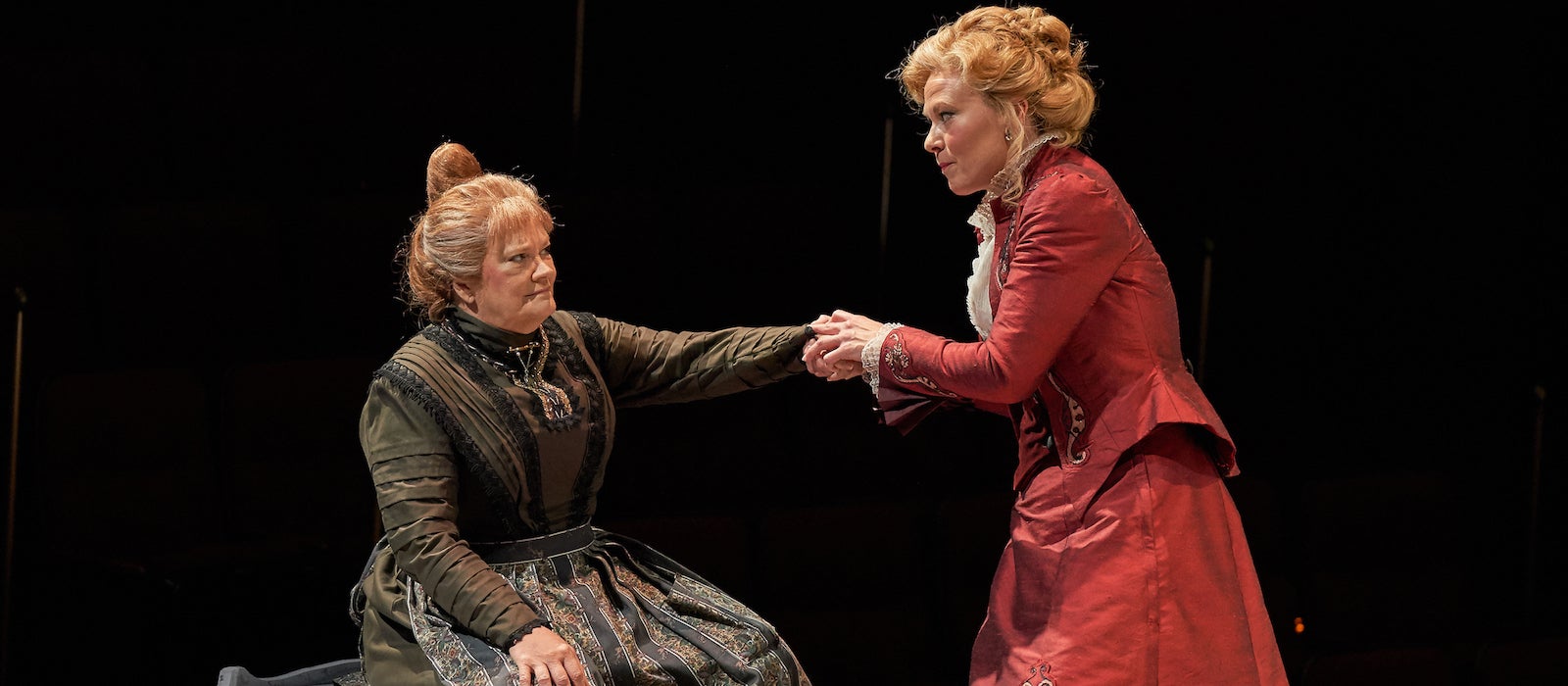 Review Roundup: A DOLL'S HOUSE, PART 2 brings Nora back at full force
Thursday |

Oct.

18

, 2018
After making a splash on Broadway, Lucas Hnath's audacious sequel to A Doll's House is now conquering the country.
More than two dozen professional companies will produce A Doll's House, Part 2 this season, including The Rep. Local critics are loving our production, directed with aplomb by Rep favorite Timothy Near.
We're compiling all of the local critical reactions in this space, so be sure to keep checking back as the reviews continue to roll in! The show continues through September 30.
Calvin Wilson, St. Louis Post-Dispatch:

"Clever, provocative and terrifically entertaining, 'A Doll's House, Part 2' stands on its own as a work of insight and imagination."
"The characters are interesting and sympathetic, with choices, reasons and reactions that are not always tidy but still satisfying. The result is an engaging story and a welcome sequel that you may not realize you want."
"Director Timothy Near and her colleagues present a smart, stylish rendition of Hnath's one-act work which will keep one guessing and pondering its ramifications well beyond the show's conclusion."
Richard Green, Talkin' Broadway:

"It all proceeds as a relentless 90 minutes of solid critical thinking (bolstered by steady laughs)."
Andrea Braun, St. Louis Limelight:

"Timothy Near directs her first show at the Rep in several years, and she shows why she keeps being asked back. She keeps the action moving at warp speed."
"Sweeping into the home she left, beautifully dressed (by costume designer Victoria Livingston-Hall) and grand in manner, Nora (Caralyn Kozlowski) is anything but repentant. ... Kozlowski cuts a commanding figure as Nora, sweeping about an empty room as if she were on stage."
"The show has a lot to say and, even though it takes place in the late 1800s, manages to speak to issues that are relevant now. It may have been a long time to wait for the rest of the story, but audiences will find that their patience has paid off."
Ann Pollack, St. Louis Eats and Drinks:

"The tension between the two (Nora and Torvald) is exquisite, erupting from time to time into shouting, but mostly done with fine emotional restraint. "
Michelle Kenyon, Snoop's Theatre Thoughts:

"There's a great cast here, led by the dynamic, stage-commanding performance of (Caralyn) Kozlowski as the determined, highly idealistic Nora. This is a woman who knows what she wants, but also struggles with the idea that not everyone wants what she wants."