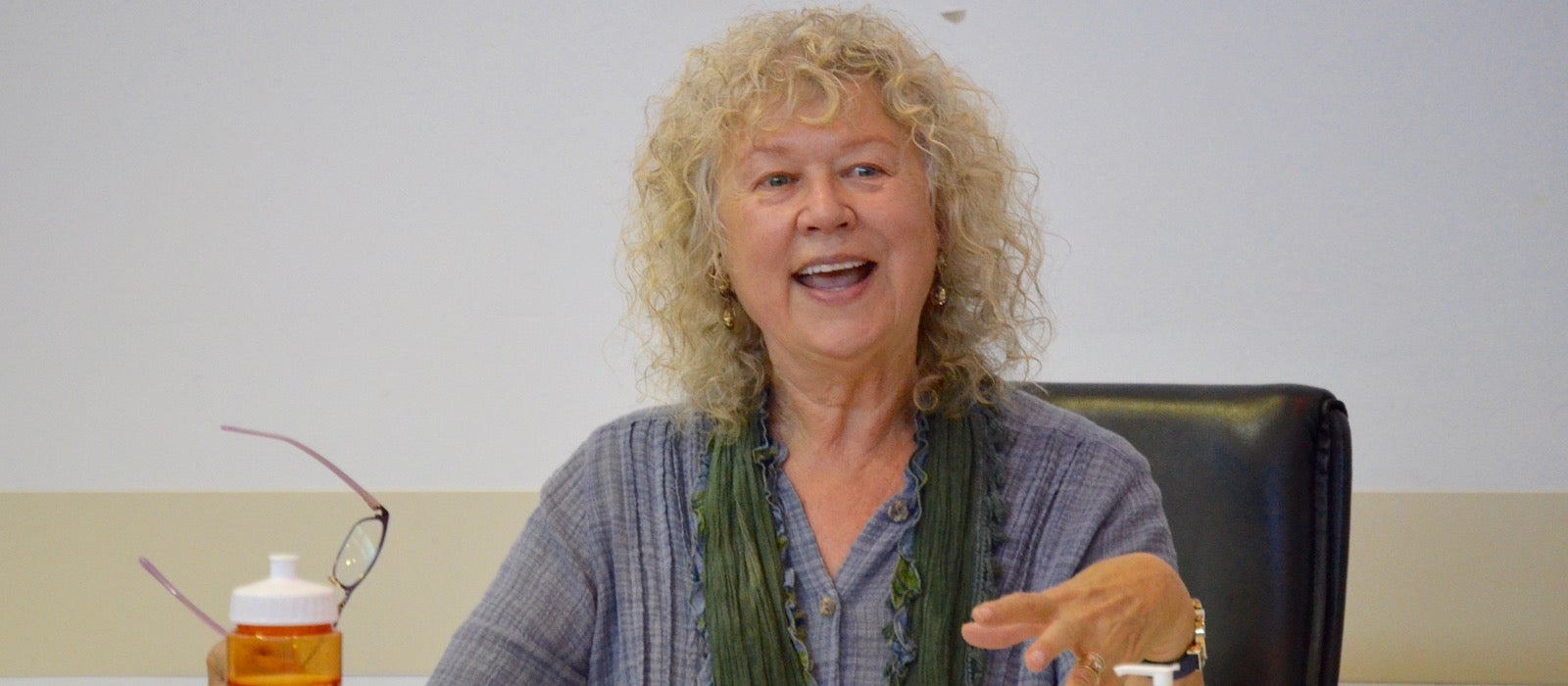 Rep Resume: Timothy Near
Thursday |

Sep.

27

, 2018
As we mentioned in our first rehearsal report for A Doll's House, Part 2, director Timothy Near is a huge part of The Rep's history. She's basically an unofficial sibling to our artistic director Steven Woolf, with a series of collaborations that goes back decades.
So we wanted to highlight her history with our company as a director and a performer, diving into some of the major productions of her Rep Resume.
Little did we know, however, that Timothy would have so many amazing stories – casting Kevin Bacon in his first theatre role, working with Holly Hunter and a band of super intense method actors on Buried Child, meeting Arthur Miller to discuss All My Sons and more.
We asked her about her current production and some of the highlights of her career at The Rep. Enjoy!
I was drawn to it because I love the themes of freedom, equality, responsibility, change. How we are all victims when inequality is supported by bad laws and bad policies. It's so timely, of course, with the #MeToo movement. These things are on our minds. I love (playwright Lucas) Hnath's rhythm of dialogue and pace, and his really cheeky approach to serious themes. He's dealing with these serious issues with comedy.
And then just how amazing it is that that door slammed in 1879. Today, the thing that people are most mad about is what they were mad about then – how can a woman leave her kids? It really makes you go, what's more important: self-care or your family?
A woman on her own in 1879, if she left, she could be a prostitute, she could sew and end up in the poor house, she would probably get sick in die. So those are the expectations of someone who would leave her family.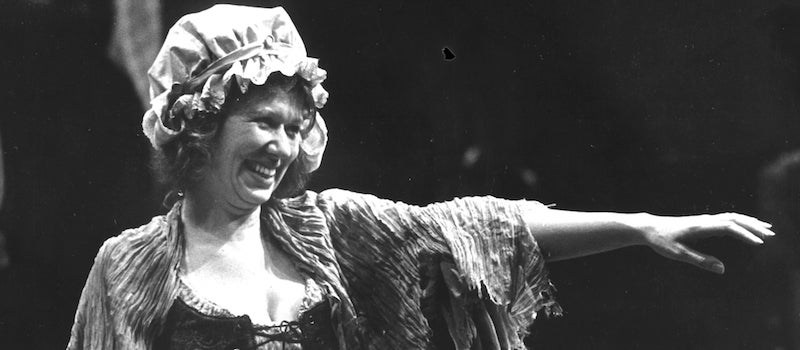 It had totally not crossed my mind that I would ever direct. So I was acting, I was living in New York City. I can't remember… what was my role? I have it written down here… (Peruses paper). Molly was my big role.
What was really bizarre about that was it was a "bus and truck." So we performed it on the Mainstage in January and then toured the north-midwest and the Dakotas in the winter. I mainly remember how cold it was. And probably how dangerous it was – we were in this big bus just traveling through lots and lots of snow. It was a very bawdy, very rambunctious play. It was really, really fun. And soon after that, by 1979, I was starting to direct.
The Rep: What got you into the world of directing in the first place?
I was part of a company in Springfield, Massachusetts. I'd done little directing things but I never thought of them as that, I thought of them as "putting together projects."
But I did find myself drawn to, when I was acting in a play, that I wanted to go out during tech and sit behind the director to listen to what they were doing. I was just so curious, like how were they doing their job? And I found I had a lot of opinions about how the whole scene should be shaped.
So (the company director) noticed this in me, and she asked me if I wanted to direct this children's show.
And I said, "Oh I don't direct."
And she said, "No, I think you do."
So I said, "OK, I'll direct it."
And actually, that was Kevin Bacon's first job as an actor.
The Rep: What?
Yeah, I cast him. It was called Gollywhoppers.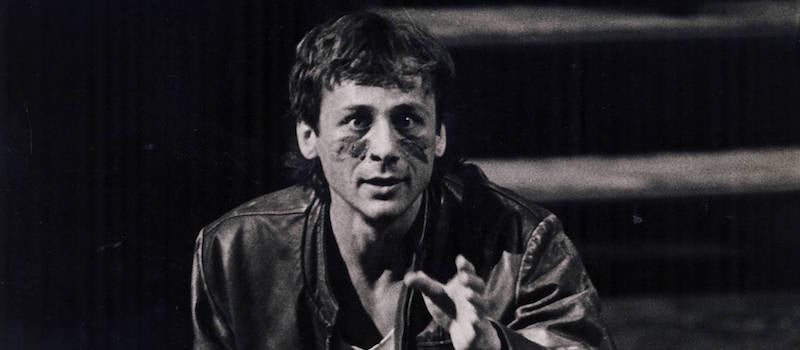 Steve (Woolf) was not yet the artistic director, but he had a lot of influence in getting me to come and do Buried Child.
Because I grew up on a ranch and I have such a close connection to all things western, I seemed like a perfect match for Buried Child. Sam Shepard writes about these big western, dysfunctional families and using that as a metaphor for our country.
I had worked with Holly Hunter already. I directed her in… Doll's House. See? It all goes 'round in a big circle. So this was my second work with her.
It was an insane cast, all really raw, dangerous… a little crazy actors. They just threw themselves into it in such a big way. I remember I went to John (Spencer)'s apartment one time and he had built a tent in the middle of his living room because he wanted to see what it was like to be (his character) Bradley living out in a barn. So they were that "method." [Editor's note: John Spencer later became a TV staple on The West Wing, playing White House Chief of Staff Leo McGarry. He won an Emmy for the role, portraying McGarry until his death in 2005].
The Webster students loved that show. It became cult, I was told. The students would come back, and back, and back to see it. And the audience who wanted more edge to their programming, they loved it. But a lot of people didn't. Probably there were more walkouts of that show than most shows in the history of The Rep. It had language; it was a shocking play.
When I left I here, I felt proud of my work. Steve was very supportive. But I thought, "I'll never get hired here again," because it was just so controversial and difficult work.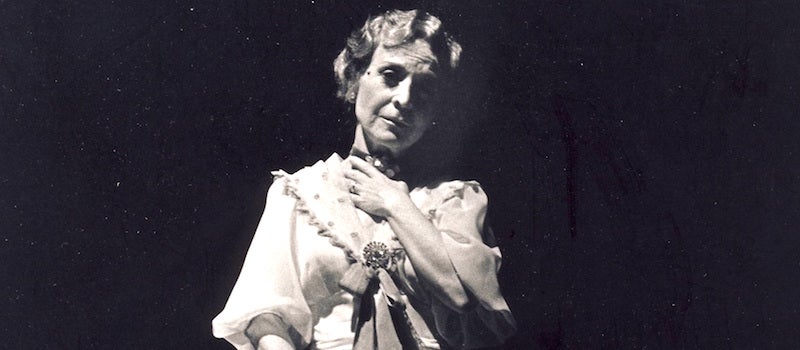 It was so great to have all this research right here. Steve took us on an outing to go to the (Tennessee Williams) house, to go to Soldan High, to go to the Jewel Box.
The one thing I remember about that was when… I felt like there was a place where Amanda, the mother, should cry. Now (Amanda's performer) Rosemary Prinz was a star on As The World Turns. She had been doing As The World Turns for years. And I'm a young director, kind of thinking to myself, "Gee, I'd really like her to cry there…"
So I kept giving her all kinds of emotional directions, but without saying what I wanted. She finally put her hand up, and said, "So honey, do you want me to cry here?" And I went [tentatively], "Yeah, it might be right to cry there." She went, "Oh, no problem! That's all you have to say. Just tell me to cry here."
And the next time she went through the scene, boom, tears rolling down her face, totally breaking my heart. So I learned something about directing there: some actors, you just need to tell them the result. You don't need to tell them how to get there – they're pros!
That's where I met my husband (Michael Butler)! He played the gentleman caller.
I had worked with him once – I thought he was a great actor and he seemed really right for the part.
I'd never dated actors, ever. But I discovered that he was a musician. I know that doesn't make any sense, because musicians are even more irresponsible than actors. But for some reason, when I found out he was a musician, I said, "OK." Then we started getting involved.
We're still together and he runs a theatre (Center REPertory Company) in Walnut Creek, (California).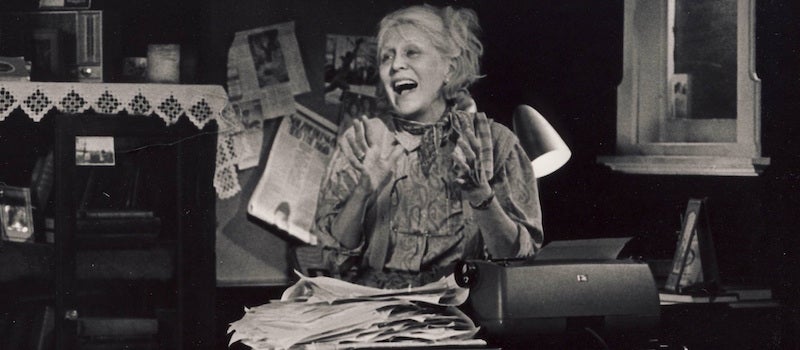 Annulla is about a woman who rescued her husband from a German concentration camp and got him out of the country. Saved his life, basically.
We created an environment where you'd come in and walk down an apartment hall with different doors. The last door was open, and there was just a little bit of light spilling out of that door. You'd go in, and there was a kitchen, with the seats all scattered around three sides.
And she actually cooked chicken soup – cut the chicken, cut the vegetables, cooked the soup, while she's telling her story about saving her husband.
She'd go up and sit in an armchair and hold some audience member's hand and talk to them for a while. You might go, "Ewww," you might not want an actor holding your hand. But Jacqueline Bertrand, who played Annulla, was so charming, beautiful, and just lovely that everyone was delighted to have her come hold their hand.
I wanted to talk to Arthur Miller. So I found someone who would introduce me to Arthur Miller, and he set me up to go to Arthur Miller's apartment in New York City.
I went over there, and I sat on his floor, because there was no furniture. Kind of at his feet – he had the only chair.
And he talked to me about his life, about his work and All My Sons – especially the kind of Greek style of that play.
Maybe 20 years later, I was running San Jose Repertory Theatre – I was the artistic director, and he was doing a book signing. Somebody invited me to come. I went up to him and said, "You know, I met you a long time ago. I interviewed you about All My Sons, I was directing, I was a very young director."
And he said, "And you sat on the floor, right? Because there wasn't any furniture."
So he remembered! I was so thrilled.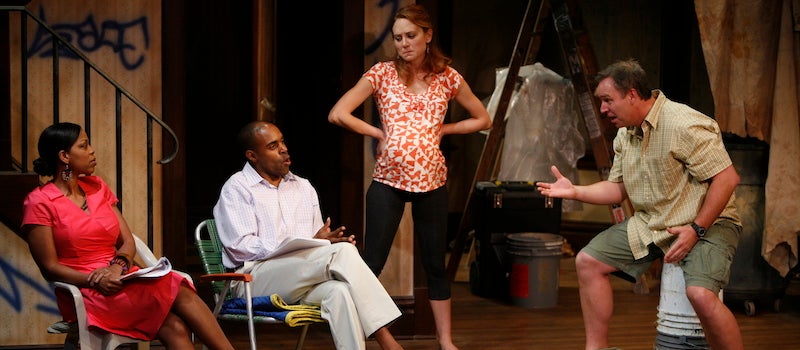 First of all, I love directing in the Studio.
I had a great cast. It's where I met Michael James Reed, who's now in Doll's House (Part 2).
We built a whole house – Scott Neale designed it, and he's designing Doll's House as well. That's why I went back to him, because I just thought he was a genius. He managed to put an entire house, with a staircase (in the Studio), and that entire set has to transform into something else. And he did it!
I feel so blessed that Steve has given me these incredible plays with important themes like racism, sexism, the evils of capitalism. Just stories about the world. The Rep has been a really wonderful artistic home for me.