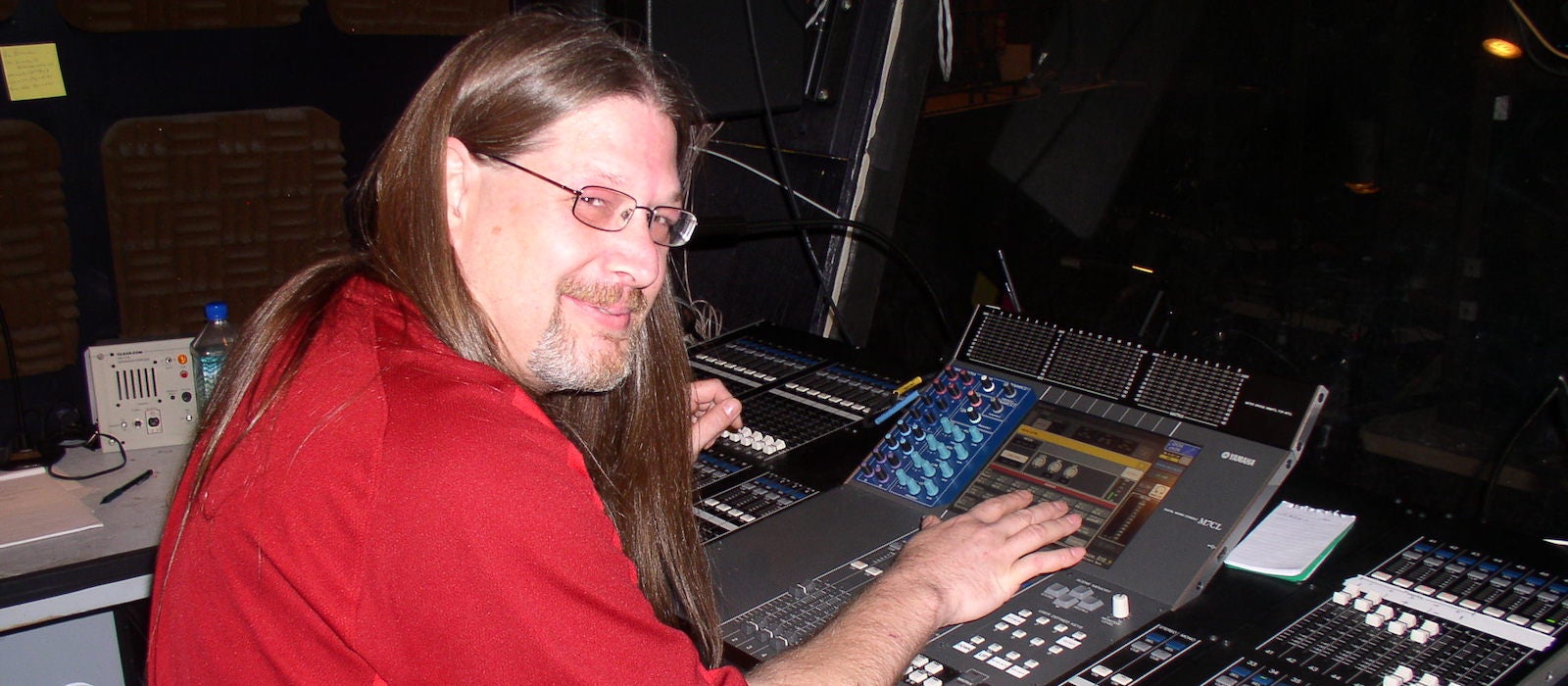 Remembering Michael Ferguson, The Rep's late master sound technician
Friday |

Oct.

19

, 2018
Earlier this week, we received the heartbreaking news that The Rep's master sound technician Michael Ferguson had unexpectedly passed away.
Michael was a true pro who had a radiantly kind and generous personality. He was a prime example of the kind of theatre we strive to be for St. Louis: welcoming, passionate, and never losing sight of the fun in what he did.

He'd been a part of our family for 12 years.

The news was a gut-punch, but we've been heartened to see a number of Rep friends and Webster Conservatory students sharing their memories of Michael on social media. Their stories illustrate just how big of an impact he had on creating a positive, friendly experience in our theatre. So many of those memories involve simple acts of kindness – proof that it doesn't take Herculean acts to make the world a better place.
Here are some of those stories:
"Sweet, smart, kind and professional. Memories of many conversations discussing music and the shows we were doing. If I was the only one out on stage early warming up, he'd quietly put on some Bill Withers or Al Green because he knew it'd make me happy. Michael you will be missed." – Ward Duffy

"This is tremendously sad news. He was so talented and kind. I will miss him immensely - especially during WiseWrite season. He had an incredibly positive spirit and an infectious laugh." – Suki Peters (former Rep staffer)

"It was such a pleasure working with him on Million Dollar Quartet. I have very fond memories of our late night conversations about guitar tones and levels after tech rehearsals. The cables I still use in my rig were a gift from him. He was a good soul." – John Michael Presney (who played Carl Perkins in the show)
"I met Michael at beginning of freshman year and he was the kindest more thoughtful person in the theatre. I would always look forward to talking to him before or after shows. He would always say hi and ask how I was doing, tell me about the best Tex-Mex restaurant in STL, and talk about how the show went every night. Always with a smile and always with a great spirit. Thank you Michael. We'll miss you dearly, your spirit will always be with all of us." – Gaby Rodriguez
If you have a story about Michael to share, visit our tribute to him on Facebook.