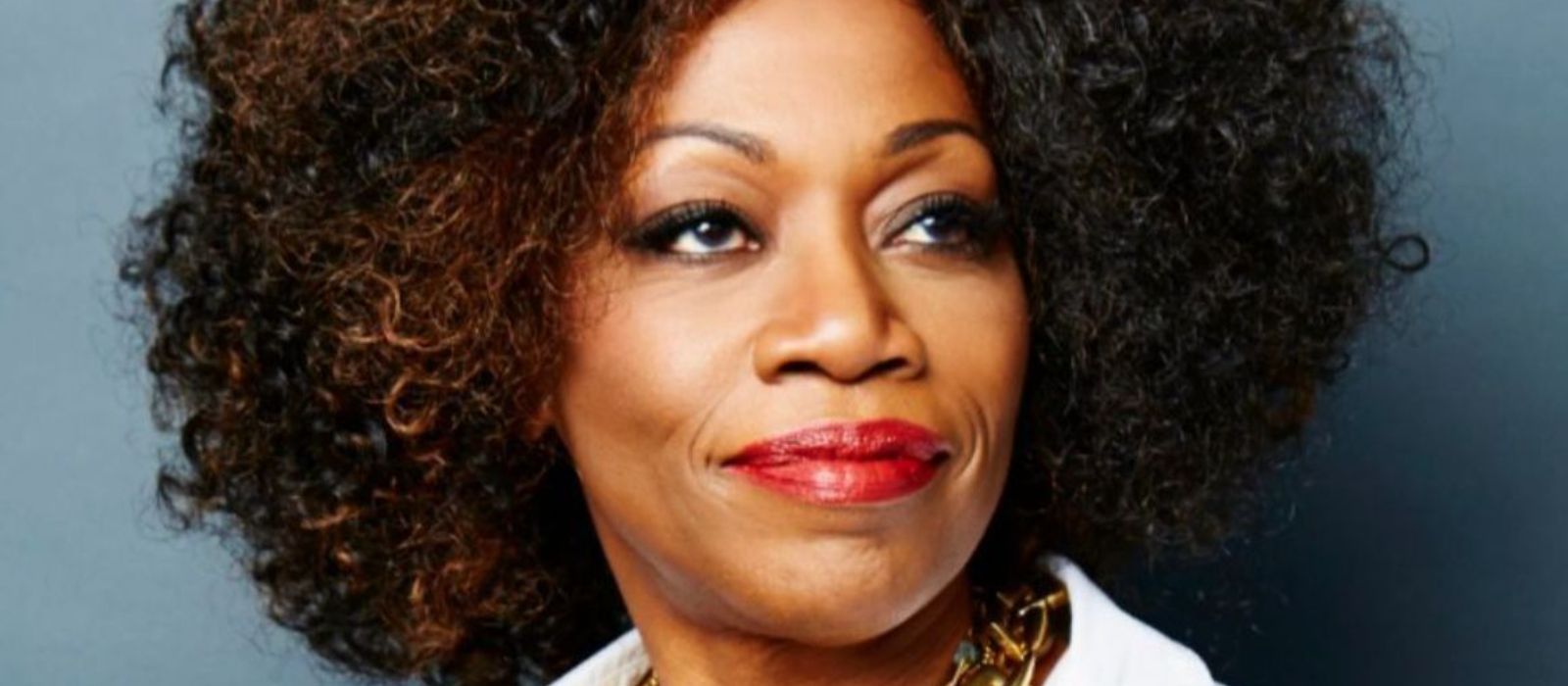 Q&A with Regina Taylor
Wednesday |

Oct.

14

, 2020
Regina Taylor is an award-winning actress, director and playwright and, starting in 2020, joins The Rep family for three years as a writer-in-residence through the National Playwright Residency Program. Taylor wrote Crowns, one of The Rep's most-loved productions. This triple NAACP Image Award-winner has also been praised for her acting work in the 1990s TV series "I'll Fly Away" (Golden Globe Best Performance by an Actress-Drama), CBS's "The Unit," films such as "Lean on Me," "Clockers," "Courage Under Fire" and "Strange Justice" and in many Broadway productions. Ms. Taylor was most recently featured in HBO's "Lovecraft Country."

How are you doing in these crazy times?
It's a roller coaster, isn't it?
I don't mind Zoom at all. I am loving it. I've always wanted to clone myself, but now I can be in five different cities in one day. And yet, I'm always here [referencing her deceased mother's home in Dallas]. It's like transporting, like "Star Trek."
I'm glad I decided to be here through this time. My mom's spirit is in this house – and others – and in the garden, where her flowers are still coming up every year, as well as my grandmother's and my aunts'. So I can commune with the spirits here. That has given me a great deal of grounding and peace, to be here in this moment, traveling back through my life, because we now have time to steep in it and to assess how we got here to this moment.

How did you become an artist?
One of my first memories is being on the floor with some construction paper, scissors and crayons and creating my own children's books, with my mother's hand on mine.
She was a very creative person. She was a social worker at the social security administration and was also a very good teacher. And her greatest gift was the gift of creativity: imagining, dreaming, and how you make those dreams concrete – rolling up your sleeves, having a plan, a strategy. And she gave that to me very consciously, as a survival tool, as a way of naming myself in this world that wants to name you. She empowered me with that; it was a great gift. So, I've been writing my whole life.

Talk about starting your acting career.
I went to Southern Methodist University (SMU), studying journalism and English; I thought I'd either be a journalist or an English teacher. And I took an acting class my freshman year to fill out some extra credits. My counselor said it would be an easy "A." [laughs] And I fell in love with it in the same way I loved books and writing – to be able to immerse myself in different worlds and different beings, to time-travel and to see the world through different eyes and come back to oneself with an expanded view of self. And as a very introverted person it was a way for me to express myself, to dare myself. That was very empowering.
SMU used to do live theatre presentations for television: "Live from SMU." They did The Oldest Living Graduate starring Henry Fonda, so Henry Fonda was at the school. And I was geeking out, following him down the hallway, too shy to introduce myself, just stalking him. And, like in a movie, an agent saw me stalking him and asked me, "Are you an actress?" I said, "…Sure." And she sent me on an audition that weekend. I typed up a resume, my cousin took a Polaroid picture, my biggest cousin drove me to the audition – it was an awful route - and I went in, and I got the job. It was a made-for-TV movie called "Crisis at Central High," starring Joanne Woodward, about the first nine students to integrate the Arkansas school system. So that was my first job as an actress, this movie-of-the-week about the Little Rock Nine. And I changed my major and became an actress.

Was your mother okay with you changing your major?
Yes, she was. Mom was very encouraging in terms of my taking risks. She was an artist. She loved to write – wonderful writer, wonderful painter. She was an artist at heart with everything that she did, whether that was her garden, whether that was how she created a meal.
She was always encouraging me as I was coming of age in the 1970s, and she saw the opportunities that were opening up – not only in the arts but in every direction. She had a great appreciation for that, coming of age when she came of age. She encouraged me to dare, to go out there and see those opportunities and seize them. So: I wanted to be an actress? Absolutely!
The rest of my family, however, were, "Oh my god! Nell Taylor's daughter has lost her mind! She's going to that expensive school over in Highland Park, her mama's paying that hard-earned money, and she's just lost her mind." That was their perspective, but Mom was always very encouraging and supportive, especially as I graduated and moved to New York and starved for a while. She was my cheerleader, nurturer, guide – and also sent checks every once in a while. [smiles]
What is your writing process? Where do you get your ideas?
It comes to me in different ways. I have a drawer full of ideas that come to me. And then things come out of the moment, too. There are things– I think, "if I get around to it, I'll work on this, this character; this story intrigues me."
Over the past couple of years I've been writing pieces under the title of "resistance plays," coming out of the politics of this country, the social injustice of this country. You can't deny it, and you can't not speak on it, as an artist. I think, as a writer, this is why I'm here, to be a witness to what surrounds you, to be an archaeologist, sifting through all of it and receiving. And also offering – through your own perspective – what affects you in this time.

How did you get connected with The Rep?
Hana Sharif is a person that I've known for a while now. We were first introduced when I was doing a play that I'd written at Alabama Shakespeare Festival about Madam C.J. Walker [America's first female millionaire] called The Dreams of Sarah Breedlove. We took to each other right away, and she became my assistant director, and I have followed her trajectory ever since. I just think she's really brilliant. And she's fierce. So I was very happy that she gave a call to extend this invitation for us to collaborate here.

You'll be working with The Rep for three years through the National Playwright Residency Program, established by the Andrew W. Mellon Foundation and HowlRound Theatre Commons, which puts a diverse group of American playwrights into selected theatres around the country. Could you explain the goals for this program?
To open the doors of the theatre to artists and allow them space and time to nurture the work and to connect that work to communities. That's what I'm about. To be able to steep myself in community and create work that speaks to community and communities. I think that the work can be a bridge – not only of artists to communities – but bridging communities together, tying back to the theatre.
I'm currently working on several pieces. The piece that is coming up for The Rep is Love and Kindness in the Time of Quarantine – coming out of where we are right now – and putting together a wonderful group of artists to write short pieces under that umbrella, writing monologues and songs that speak of these times. It will come out around Thanksgiving, which I think is appropriate.
It is to be steeped in the communities, steeped in the culture. I want to collaborate with various artists: writers, art-makers, musicians, museums, galleries, collaborate with schools – connecting with the art but also connecting the art to life, whether that's policy-makers, social justice groups, health, welfare, education, all of those parts. I do believe that the arts flow through everything, and I live and breathe it. That's who I am and what I do. And I'm very excited about this opportunity to do just that.

Do you have a sense of what the future of theatre looks like?
I'm very excited about the future. I'm very excited about the present moment.
I've been having a few excursions with "Zoom Theatre" as of late, and I think – as with everything – over the centuries, things shift. You think about theatre and its beginning point: community gathered around a fire, sharing stories, songs, dances, storytelling, sharing them with other people to let you know you're not alone. There's connection there. Then that shifted to a person who was the storyteller who could memorize all of that, so you held those stories and passed them on, generation to generation. Then writing it down, so those who could read could partake in those stories; then it became something done in isolation. Then opening it up for the masses. Then, how do you do that so it's not so elitist? Public forums to theatres to radio to TV. And at this present moment we have the worldwide web. You have an opportunity to expand the audience in this moment – a new audience, a generation that's born to this.
I'm teaching, doing this piece with Southern Methodist University, and I was talking to my students. We were breaking down a piece that I had written that goes backwards and forwards in time, from now to the 60s to the 70s. And I mentioned a time just before cellular phones, and I said, "I've finally reached your generation." And they were, like, "No, I was born after." [laughs] And I thought, in terms of references, who am I talking to?! They were born after cellular phones! [laughs]
So, [this technology] is already here for this generation. They grew up with it, from the time they could breathe. And swipe. And I think we should acknowledge that in the language we use. How do we continue to create, tell stories, share stories? It's an opportunity to open up audiences, connect new audiences, expand. It is something that I think will remain even after the doors of theatres are back open.

Working with these young people, do you feel hopeful? Do you feel they're going to make positive change?
Absolutely. And that's what the piece is about. That is my purpose, to challenge you to think about everything you think you know, as things are shifting, to encourage them to be observant, to receive, to question, and then to give, to strategize, to take action, to speak through your work. We are storytellers, and this is a prime time to ignite other people's minds, to effect a change through the arts. I think it's very fertile.

A lot of The Rep audience knows you through Crowns [written by Regina Taylor, commissioned by the McCarter Theatre Center in 2003 and produced at The Rep in the 2004-05 season]
It's my most popular work, and it has my heart – where it came from and how it developed to this present moment, all the experiences attached to it.
There was someone at McCarter Theatre who I'd always admired, who gave me a call about this coffee table book that was about to come out [Crowns: Portraits of Black Women in Church Hats by Michael Cunningham and Craig Marberry]. Pictures of African-American women in their Sunday hats and interviews of the women wearing their significant hats.
I received this book here – [referencing her mother's Dallas home] – she sent me the book while I was visiting my mom. And I'm looking at this book and going, "Oh my god, I recognize these women, even though I've never met them before!" These women in their Sunday hats, that whole culture, the history of it, the ritual of it.
It's something that, at that point, I did not embrace. I think I had three hats: a skull cap, a baseball cap and a head wrap – something to keep your head warm, something practical. But studying the whole background of it was what I was challenged with: travel back over the ocean, back to Africa, the sort of ritual that survived the Middle Passage; to slavery on Sundays when you could put on a little straw hat and dress it up with some flowers; to after, when you saved up for someone to make an individual hat for you with matching outfit, shoes, purse. To be seen on those Sundays as you wished to be seen, wholly and uniquely yourself, no matter what background – a teacher or a maid or a politician. And these hats have memories, from weddings to funerals to baptisms.
So I was talking to mom: "Oh, look at this," talking about the book. And my mother, who was not a "hat queen" – you have to own at least 100 hats to be a "hat queen," by definition – she had a lot of hats but not a hundred. She walked me through her closet that afternoon and told me the story of each and every one of her hats. And I thought, this is what I need to do, this is the end of the piece, and so I wrote that. And I'm glad I did.
It was also a great experience buying my first hat for that first opening at McCarter Theatre. Also, it became the same hat that I wore to my mother's funeral. I've acquired her hats, and I've shared some with her sisters and kept some, to hold on to her experiences, her memories, and then layer on my experiences as I wear them, too.
I'm very humbled by the success of this piece and how people have embraced it.

When will you be in St. Louis?
I think they're saying I should probably come in around the beginning of the year, but I'm already there, meeting some wonderful artists who'll be writing pieces for Love and Kindness in the Time of Quarantine. The four folk who are writing are really incredible, and I'm having a great time getting to know them – getting to know their work but also getting to know them – and then dive into this piece that will be presented in November.
I was talking to Adena [Adena Varner, The Rep's Director of Learning and Community Engagement], and I was talking about wanting to make connections, how to begin that. And certainly, connecting with the writers in St. Louis with this project is the beginning, but also how to be there in a physical fashion before I'm there. What I would love to do is find a space, maybe in a blighted area, and start a community garden that would start with plantings from here. So, I could send you the dirt, the bulbs, to be there in that way before I'm physically there, to plant something, to have that story growing.