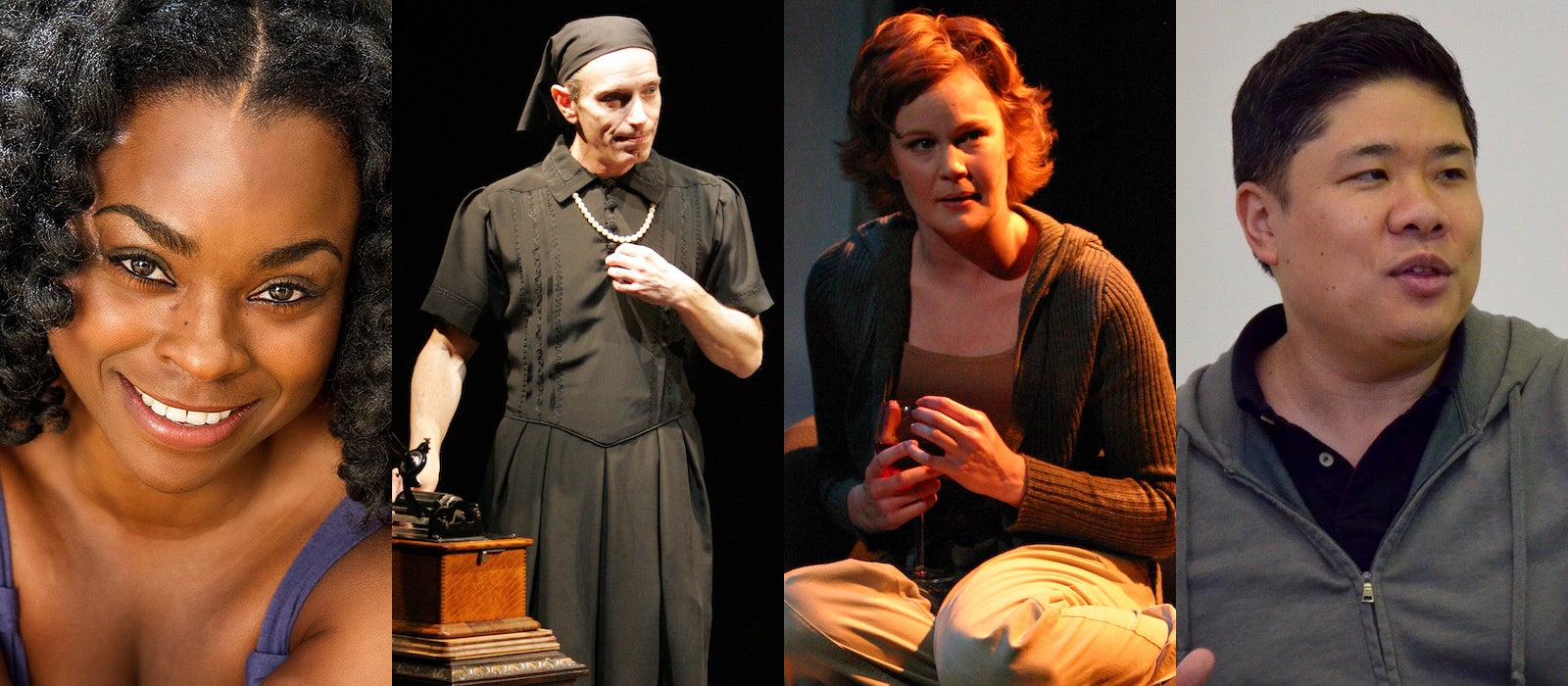 Our Broadway awards tracker for Rep alumni returns for 2019
Thursday |

Apr.

25

, 2019
Here at The Rep, we're honored to work some of the top theatre talents in the nation, both on stage and off.
We always keep an eye on the performers, designers, directors and playwrights who have worked here, as they often go on to achieve great things at theatres across the nation. And while awards are hardly the only measure of success, we have to admit it's always exhilarating to see our former collaborators receive recognition for their work on the biggest stages.
So this spring, as award nominations roll in for Broadway and Off-Broadway productions, we're tallying up all the nods for Rep alumni. This includes anyone who's acted in, directed or designed a show here. Check out the nominees below!
You can also look back on our 2018 Rep alumni awards tracker here.
---
Kate Baldwin
(Actress in The Last Five Years, 2004)
Lucille Lortel Awards: Outstanding Lead Actress in a Musical (Superhero)
---
Beowulf Boritt
(Scenic Designer for Fly, 2013)
Outer Critics Circle: Outstanding Set Design (Bernhardt/Hamlet)
---
Robert Brill
(Scenic Designer for Having Our Say, 1997)
Tony Awards: Best Scenic Design of a Musical (Ain't Too Proud, with Peter Nigrini)
---
Arnie Burton
(Actor in Frozen, 2005 and I Am My Own Wife, 2006)
Drama Desk Awards: Outstanding Featured Actor in a Play (Lewiston/Clarkston)
---
Lap Chi Chu
(Lighting Designer for A Christmas Story, 2009)
Lucille Lortel Awards: Outstanding Lighting Design (Mlima's Tale) – WON
---
Wilson Chin
(Scenic Designer for Angel Street, 2015 and Miss Bennet: Christmas at Pemberley, 2017)
Lucille Lortel Awards: Outstanding Scenic Design (Pass Over)
---
Justin Ellington
(Composer/Music and Sound Designer for Until the Flood, 2016)
Drama Desk Awards: Outstanding Music in a Play (Mrs. Murray's Menagerie)
Drama Desk Awards: Outstanding Music in a Play (The House That Will Not Stand)
---
Christopher Gattelli
(Choreographer for Altar Boyz, 2007)
Outer Critics Circle: Outstanding Choreographer (The Cher Show)
---
John Gromada
(Sound Designer for Fly, 2013)
Outer Critics Circle: Outstanding Sound Design (All My Sons)
---
Larry Hochman
(Orchestrator/Arranger for The Skinflint, 1997)
Tony Awards: Best Orchestrations (Kiss Me, Kate)
---
Toni-Leslie James
(Costume Designer for Fly, 2013)
Tony Awards: Best Costume Design of a Play (Bernhardt/Hamlet)
Drama Desk Awards: Outstanding Costume Design for a Play (Bernhardt/Hamlet) – WON
---
David Korins
(Scenic Designer for Ace, 2006)
Tony Awards: Best Scenic Design of a Musical (Beetlejuice)
Drama Desk Awards: Outstanding Set Design for a Musical (Beetlejuice) – WON
Outer Critics Circle Awards: Outstanding Set Design (Beetlejuice) – WON
---
Charles G. LaPointe
(Wig Designer for Ella, 2008)
Drama Desk Awards: Outstanding Wig and Hair Design (Beetlejuice)
Drama Desk Awards: Outstanding Wig and Hair Design (The Cher Show) – WON
---
Gregg Mozgala
(Actor in Teenage Dick, Ignite! 2017)
Drama League Awards: Distinguished Performance Award (Teenage Dick)
---
Jack O'Brien
(Director of Once in a Lifetime, 1976)
Outer Critics Circle: Outstanding Director of a Play (All My Sons)
---
Fitz Patton
(Sound Designer for The Other Place, 2014, All the Way, 2015 and Oslo, 2019)
Tony Awards: Best Sound Design of a Play (Choir Boy) – WON
Drama Desk Awards: Outstanding Music in a Play (Choir Boy, with Jason Michael Webb) – WON
Drama Desk Awards: Outstanding Sound Design in a Play (Choir Boy)
---
Stacey Sargeant
(Actress in Kiss Me, Kate, 2007)
Drama Desk Awards: Outstanding Actress in a Musical (Rags Parkland Sings the Songs of the Future)
Drama League Awards: Distinguished Performance Award (Rags Parkland Sings the Songs of the Future)
Lucille Lortel Awards: Outstanding Lead Actress in a Musical (Rags Parkland Sings The Songs Of The Future)
---
Jennifer Tipton
(Lighting Designer for Under Statements, 1985)
Tony Awards: Best Lighting Design of a Play (To Kill a Mockingbird)
---
Kaye Voyce
(Costume Designer for Until the Flood, 2016)
Lucille Lortel Awards: Outstanding Costume Design (Marys Seacole)
---
Harold Wheeler
(Orchestrator/Arranger for Everything's Ducky, 2000)
Tony Awards: Best Orchestrations (Ain't Too Proud)
Outer Critics Circle: Outstanding Orchestrations (Ain't Too Proud)
---
Pictured at top: Stacey Sargeant, Arnie Burton in I Am My Own Wife at The Rep, Kate Baldwin in The Last Five Years at The Rep, Wilson Chin