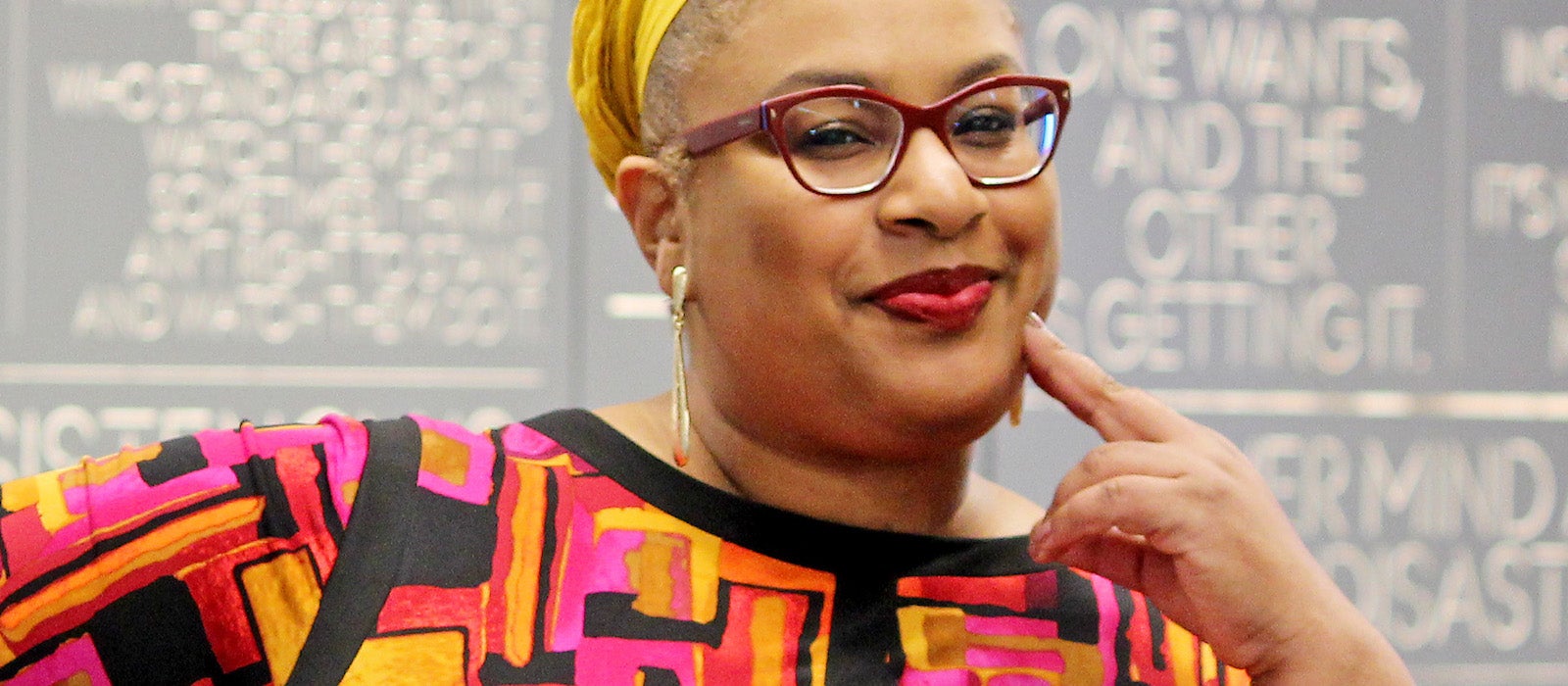 Meet our new artistic director: A Q&A with Hana S. Sharif
Friday |

July

20

, 2018
Even over the phone, Hana S. Sharif is magnetic.
Newly tabbed as The Rep's next artistic director, Hana spoke with us from Baltimore on Friday in advance of our announcing her hire to the St. Louis community. We covered her theatre origin story, her favorite playwrights and the strong feelings of connection she already has with St. Louis and The Rep.
Check out our press release on Hana's selection for more information on her background and the nationwide search we undertook before identifying her as Steven Woolf's successor. We hope you enjoy this introduction to our next artistic leader and chief ambassador, and can't wait for you to meet Hana as she becomes a part of our community. She will officially become artistic director following Steve's retirement at the conclusion of the 2018-2019 season.
---
You visited here for the artistic director interviews and also for the Theatre Communications Group (TCG) National Conference in June. What did you take away from those visits about St. Louis and The Rep in particular?
There's a spirit and an energy to St. Louis that was a wonderful, welcome surprise. It is this kind of pulsing energy. It has the feel of a city but also the heart of a town in some ways.
I know The Rep through its wonderful reputation and the legacy that Steve (Woolf, artistic director) and Mark (Bernstein, managing director) have created together nationally for the organization. So the quality of the productions and the quality of the actors that The Rep attracts were well-known to me before I came into the interview process.
One of the wonderful surprises for me in that process was the warmth and sense of dedicated family that exists with the staff. To know that I'm walking into a home where that level of interdependence and camaraderie already exists is really a gift.
---
What did your family think of their time here?
When I left my second interview in St. Louis, I felt like I had found home. That weekend was a special weekend – it was the TCG conference, it was my birthday weekend, it was Father's Day. So my husband and daughter actually flew out that weekend so we could celebrate those two events together.
They had an opportunity to actually tour the city and go exploring while I was in conference mode, and then we had time in the evenings together.
I will never forget when we were driving back to the airport and my seven-year-old said from the backseat, "You know mommy and daddy, I really like this city. It's really beautiful and I think this is a place that I would be happy to live." (Laughs)
My husband and I looked at each other and it was one of those affirming moments. It's the same feeling I had after I spoke to The Rep staff in particular – I left that meeting and felt like I'd found my tribe.
---
Now that you've begun your transition to becoming our next artistic leader, what are your first steps to prepare for this new position?
My leadership style is built on listening, and so I think the first step for me is to learn the city, to really learn the heartbeat of the organization.
I'm looking forward to spending time in communities, going into communities that may not be home to our traditional patrons and figuring out how we connect – how the transformative work that The Rep creates can connect and service all of the greater St. Louis community.
So the first step in my mind is becoming integrated into St. Louis and really understanding who we are as a city, who we are in our specific townships and neighborhoods – and what is the through-line? What are the things that connect us? What is the essential human need that connects those communities, and then how do we create art that serves that?
How do we create art that amplifies the best of us? How do we create art that allows us to look in some very challenging ways at ourselves and the world around us? How do we create art that liberates us?
How do we use art – and the tools that we are masters of crafts of in our field – to allow our surrounding communities to use those tools to tell their own stories and amplify their own voices?
I think that it's an exciting moment of renaissance within the American theatre and within our country. And I hope that together we'll be able to craft stories and bring forward voices that really reflect the evolution of our society and our city.
Watch Hana answer the question, "Why theatre?" in this video produced by Oregon Shakespeare Festival.
---
So hitting the rewind button, how did you get the theatre bug in the first place?
If you ask my mother, she would tell you I was a very dramatic child. I don't know if that's actually my truth, but that's the story.
I fell in love with the theatre very young. When I was young, I loved storytelling and found my voice as a writer.
I went to college believing that theatre was something I was really passionate about, but that I was supposed to go law school – because that's what you do, right? But it was my junior year of college that I really, really knew that there was nothing I loved more than the theatre.
I remember very nervously calling my parents junior year to tell them that I was changing my major, and kind of bracing myself to hear what their response was going to be. They were incredibly supportive.
In fact, my mother said my father owed her $10, because apparently they made a bet my freshman year about how long it would take me to figure out that I was an artist.
---
Tell us about a theatre project that you took part in – and this can be from any phase of your career – that moved you or you felt really made an impact.
I would say the production of Marley (at Baltimore Center Stage). This is a play that we took from concept – the idea of a play – to stage within a year. So the developmental process of building a new musical within a year was extraordinarily intense.
It was also happening in the city of Baltimore at a very public moment. I remember we were going into tech for Marley when Freddie Gray was killed in Baltimore. I remember sitting in the first day of tech, and all of a sudden we heard this rise of voices that was intense. It overpowered what was happening in the room. So we actually paused rehearsal, and everyone went outside.
There were protestors who were marching – they'd been marching from the capitol – and the streets were just taken over with this beautiful spectrum of who greater Baltimore was. People gathered together, raising a voice to amplify the value of this man's life.
We went back into tech, and we sat on stage together taking in that moment. And I remember Kwame Kwei-Armah, the artistic director, and I looked at each other and he said, "We have to do something for our city."
Within 24 hours, we came up with a plan to take the cast of Marley – and the music director on keys – down to the corner of Penn and North, which was kind of the centerpiece of the uprising. We took the cast down to the corner and we performed (Bob) Marley's songs on the street.
It was this incredible moment of healing, because the audience in that moment was comprised of protestors and police officers. There were buses coming down that stopped and unloaded, and people literally came and sang and danced in the street together.
It was one of the most powerful moments of watching what art can do in a highly charged environment to bring healing. It was cathartic for everyone who was there. It's another one of those iconic moments that I will probably remember for the entirety of my life, and proof again that art has a real role in helping to transform our communities and our society.
Watch video of the Marley cast's performance during the Baltimore protests, including an interview with Kwame Kwei-Armah.
---
So we're not going to ask about your first season – there's plenty of time before that comes together. But we're curious: who are some contemporary playwrights whose work you admire?
I think that we're in a golden era of playwriting, where there are voices who had never made it to the mainstream before that are really transforming the way we think about storytelling.
So Larissa FastHorse, who I think is one of the first Native American voices to burst through the mainstream. Or someone like Luis Alfaro, who continues to reinvent himself. Lauren Yee, Marcus Gardley…
I'm also deeply connected to artistic voices that are reimagining classics. I'm passionate about American classics – I'm a big fan of (Arthur) Miller's, and having been mentored by (Edward) Albee, it's hard not to love his work and his mind.
Then there are other extraordinary voices like Quiara Hudes, who wrote In the Heights, Amy Herzog, who is just a ferocious mind, Lucas Hnath, who's an extraordinary new voice. Then there's no way you can ignore the voices of those contemporary icons like Lynn Nottage or Paula Vogel.
Matthew Lopez's new play The Inheritance is truly astonishing. I think the comparisons that we keep hearing to Angels in America are not hyperbolic. When that play comes to America, it's going to revolutionize and reinvigorate the American theatre.
---
What message would you like to share with Rep patrons?
I'm incredibly excited to follow in the footsteps of Steve Woolf, and I am looking forward to continuing and building on the legacy of artistic excellence and great programming – of American classics and new works. I am so looking forward to meeting each and every one of them and being a part of their community.