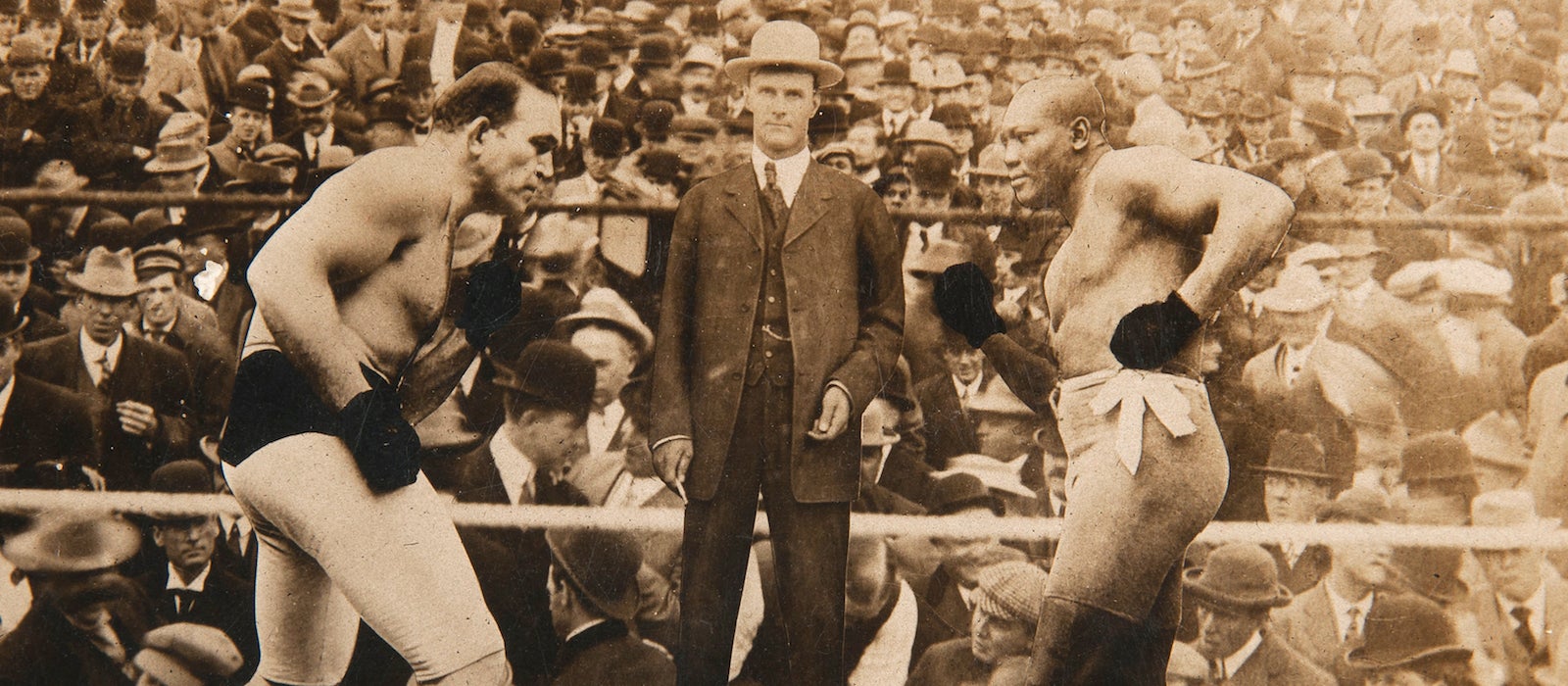 Look back at the monumental fight that inspired THE ROYALE
Wednesday |

Mar.

1

, 2017
Jack Johnson vs. Jim Jeffries was the first ever boxing match to earn the designation "The Fight of the Century."
Looking back, it's easy to see why. The year was 1910. Johnson was the reigning world heavyweight champion, the first African-American to hold the title. His race, flashy clothes and supremely confident demeanor had galvanized an army of critics who were desperate to see him fail.
To this crowd, Jeffries became the "Great White Hope" — a beloved, retired champion who would return to put Johnson in his place. But Johnson triumphed in the 15th round, continuing a title reign that would last for another five years. His victory sparked race riots throughout the nation.
Johnson is the basis for Jay "The Sport" Jackson, the main character of The Royale, which opens in The Rep Studio Theatre on March 10. Like Johnson, Jay has to deal with hungry opponents in the ring and Jim Crow-era discrimination outside of it. He's so eager to prove himself against the reigning white champion that he's willing to take a miniscule cut of the fight purse to make it happen.
Through the magic of YouTube, we can look back at the Johnson-Jeffries bout with footage that's more than a century old. Watch below and read on for our annotated list of insane facts that this 1965 documentary reveals:
WHAT WE LEARNED:
• 15,000 boxing fans descended on Reno, Nevada for the fight. Reno's population at the time? 10,867.
• Jeffries had seriously gone to seed in his retirement, with his weight swelling to 334 pounds. His fighting weight had been 220. Somehow, he got back down to 226 pounds in time for the fight.
• This bout marked the first time in history that a stadium had been constructed specifically to host a boxing match.
• Promoter Tex Rickard paid $120,000 in gold to secure the fight.
• Famed pugilists Jake Kilrain and John L. Sullivan, who took part in the pre-fight festivities, once faced each other in a 75-round bare-knuckle boxing match. Which is... wow. How did either one of them survive?
• Johnson was immensely superstitious about one detail: he always had to enter the ring first before each of his fights. This was a requirement of any fight agreement he signed.
• Ever the attention-seeking promoter, Rickard tried to get then-President William Howard Taft (!) and Sherlock Holmes author Arthur Conan Doyle (!!!) to serve as a special guest referee. When both respectfully declined, Rickard nominated himself as the referee. He had never officiated a fight in his life.
• The temperature for the July 4 fight: a positively scorching 110 degrees.
• At 9:49, you can see the stunned crowd reaction as Johnson knocks down Jeffries in the 15th round. No one had ever knocked Jeffries off his feet in a boxing ring until this moment. Thousands of shocked fans leap to their feet in unison.
• As soon as Jeffries gets up, Johnson knocks him clean out of the ring. At this point, a fan actually rushes to ringside and helps Jeffries back to his feet, illustrating just how desperate some people were to see the "Great White Hope" emerge victorious... and how lax security must have been at the time.
• Johnson floors Jeffries for a third time, prompting Jeffries' manager Sam Burger to forfeit the fight. Truly, it's a match worthy of the history books.