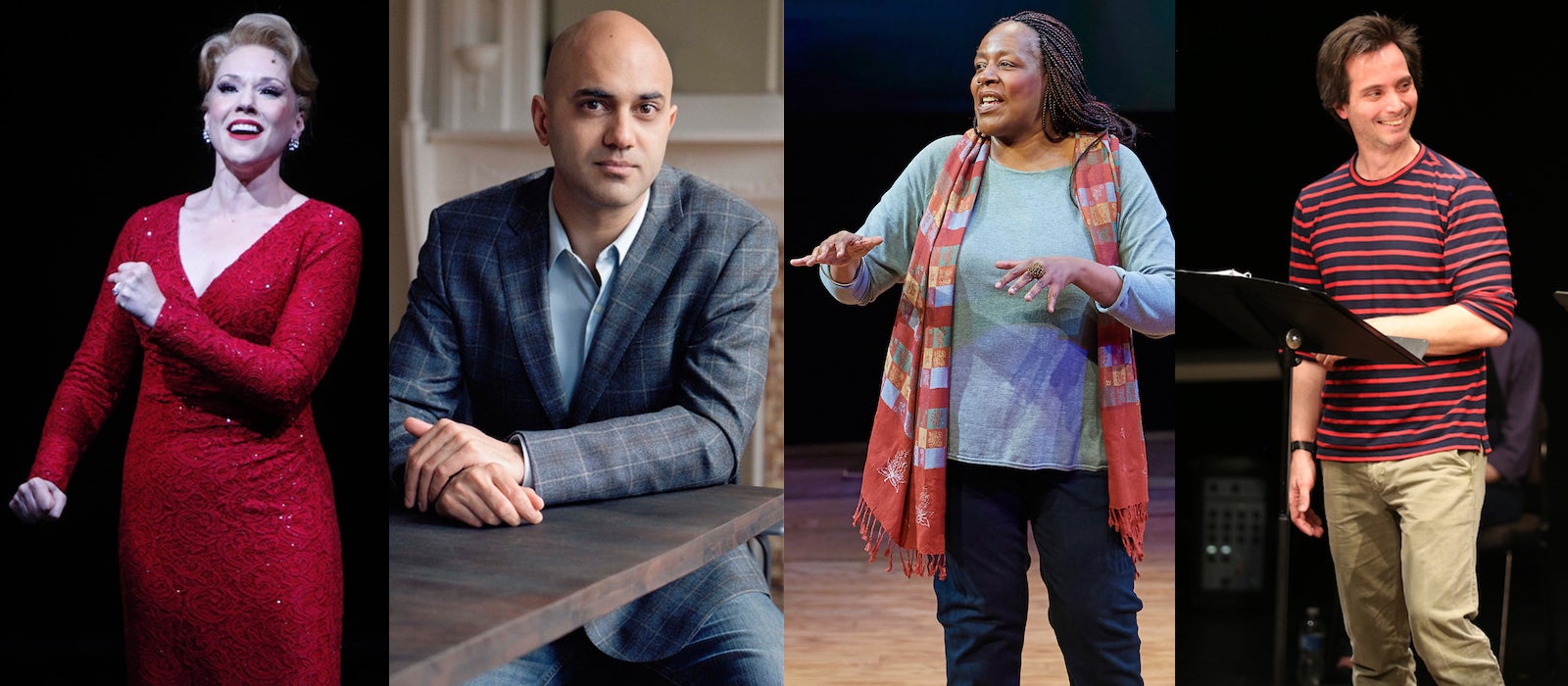 Introducing our 2018 Broadway awards tracker for Rep alumni
Tuesday |

May

1

, 2018
Here at The Rep, we're honored to work some of the top theatre talents in the nation, both on stage and off.
We always keep an eye on the performers, designers, playwrights and directors who have worked here, as they often go on to achieve great things at theatres across the country. And while awards are hardly the only measure of success, we have to admit it's always exhilarating to see one of our former collaborators receive recognition for their work on the biggest stages.
So this spring, as award nominations roll in for Broadway and Off-Broadway productions, we're tallying up all the nods for Rep alumni. This includes anyone who's acted in, directed or designed a show here – as well as playwrights who've premiered works at our theatre.
---
Ayad Akhtar
(Playwright of The Invisible Hand, world premiered at The Rep in 2012)
Outer Critics Circle: Outstanding New Broadway Play (Junk)
Tony Awards: Best Play (Junk)
---
Beowulf Boritt
(Scenic Designer for Fly, 2013)
Drama Desk Awards: Oustanding Set Design for a Musical (Prince of Broadway)
---
Norbert Leo Butz
(Actor in Noises Off, 1989, The Matchmaker, 1989, and The Life of Galileo, 1996)
Outer Critics Circle: Outstanding Featured Actor in a Musical (My Fair Lady) – WON
Tony Awards: Best Performance by an Actor in a Featured Role in a Musical (My Fair Lady)
---
Lap Chi Chu
(Lighting Designer for A Christmas Story, 2009)
Outer Critics Circle: Outstanding Lighting Design (Mlima's Tale)
---
Mikhail Fiksel
(Sound Designer for In the Next Room, or the vibrator play, 2011, and The Royale, 2017)
Lucille Lortel Awards: Outstanding Sound Design (The Treasurer)
---
Christopher Gattelli
(Choreographer for Altar Boyz, 2007)
Drama Desk Awards: The LaDuca Award for Outstanding Choreography (SpongeBob SquarePants)
Outer Critics Circle: Oustanding Choreographer (My Fair Lady)
Outer Critics Circle: Oustanding Choreographer (SpongeBob SquarePants)
Tony Awards: Best Choreography (My Fair Lady)
Tony Awards: Best Choreography (SpongeBob SquarePants)
---
Tony Kushner
(Director of Golden Boy, 1986, playwright of several Imaginary Theatre Company shows)
Drama Desk Awards: Outstanding Revival of a Play (Angels in America) – WON
Drama League Awards: Outstanding Revival of a Broadway or Off-Broadway Play (Angels in America) – WON
Outer Critics Circle: Outstanding Revival of a Play (Angels in America) – WON
Tony Awards: Best Revival of a Play (Angels in America) – WON
---
Charles G. LaPointe
(Wig Designer for Ella, 2008)
Drama Desk Awards: Outstanding Wig and Hair (SpongeBob SquarePants) – WON
---
Matthew Lombardo
(Playwright of High, world premiered at The Rep in 2010)
Lucille Lortel Awards: Outstanding Solo Show (Who's Holiday!)
---
Gregg Mozgala
(Actor in Teenage Dick, Ignite! 2017)
Drama Desk Awards: Outstanding Featured Actor in a Play (Cost of Living)
Lucille Lortel Awards: Outstanding Featured Actor in a Play (Cost of Living) – WON
Outer Critics Circle: Outstanding Actor in a Play (Cost of Living)
---
Jack O'Brien
(Director of Once in a Lifetime, 1976)
Drama Desk Awards: Outstanding Director of a Musical (Carousel)
---
Deirdre O'Connell
(Actor in Still Life, 1985)
Drama Desk Awards: Oustanding Featured Actress in a Play (Fulfillment Center)
Drama League Awards: Distinguished Performance Award (Fulfillment Center)
---
Dael Orlandersmith
(Playwright/Performer of Until the Flood, world premiered at The Rep in 2016)
Drama League Awards: Outstanding Production of a Broadway or Off-Broadway Play (Until the Flood)
---
Fitz Patton
(Sound Designer for The Other Place, 2014, and All the Way, 2015)
Outer Critics Circle: Outstanding Sound Design (Napoli, Brooklyn)
---
Thom Sesma
(Actor in Sweeney Todd, 1997, A Little Night Music, 1998, and Dinner with Friends, 2001. Director of Life (x) 3, 2004)
Lucille Lortel Awards: Outstanding Featured Actor in a Musical (Pacific Overtures)
---
Emily Skinner
(Actor in Follies, 2016)
Outer Critics Circle: Outstanding Featured Actress in a Musical (Prince of Broadway)
---
Ben Stanton
(Lighting Designer for Altar Boyz, 2007)
Lucille Lortel Awards: Outstanding Lighting Design (The Low Road)
Tony Awards: Best Lighting Design of a Play (Junk)
---
Michael Starobin
(Orchestrator/Arranger for March of the Falsettos/Falsettoland, 1992)
Drama Desk Awards: Outstanding Orchestrations (Once on this Island, with AnnMarie Milazzo)
Outer Critics Circle: Outstanding Orchestrations (Once on this Island, with AnnMarie Milazzo)
Tony Awards: Best Orchestrations (Once on this Island, with AnnMarie Milazzo)
---
Jonathan Tunick
(Orchestrations for Follies, 2016)
Drama Desk Awards: Outstanding Orchestrations (Carousel) – WON
Drama Desk Awards: Outstanding Orchestrations (Pacific Overtures)
Outer Critics Circle: Outstanding Orchestrations (Carousel) – WON
Tony Awards: Best Orchestrations (Carousel)
---
Photographs, from left: Emily Skinner in Follies, Ayad Akthar, Dael Orlandersmith in Until the Flood, Gregg Mozgala in Teenage Dick