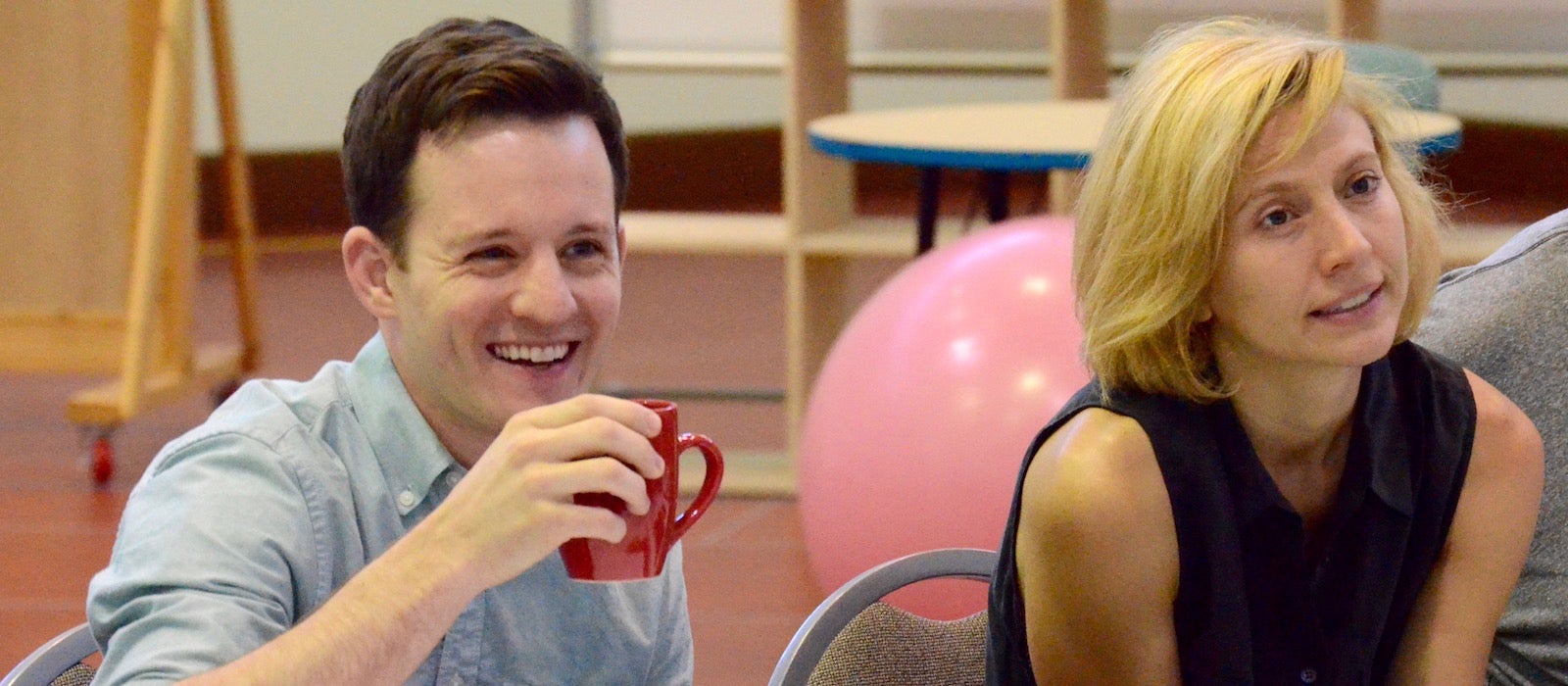 Five things we learned from THE CURIOUS INCIDENT's first rehearsal
Wednesday |

Aug.

9

, 2017
The Rep's summer break is officially over.
Rehearsals began today for The Curious Incident of the Dog in the Night-Time, the opening production of our 2017-2018 season. The 2015 Tony Award winner for Best Play, it's a rich and imaginative play that encourages innovative stage magic.
The story centers on Christopher (Nick LaMedica), a brilliant young man who struggles with sensory sensitivity and social anxiety. When a mysterious assailant murders his neighbor's dog, Christopher embarks on a journey to find the true culprit. An unexpected detour takes him into London, but the sensory overload of the big city may be too much for him to bear.
We sat in on the design presentations and first reading. Here's what to expect from our amazing Curious Incident team:
1. This won't be like the Broadway or London productions.
The Curious Incident took the theatre world by storm with its technically dazzling runs at London's Royal Theatre (starting in 2012) and on Broadway (2014-2016). If you want a taste of what those looked like, well, feast your eyes on this trailer:
... Now promptly forget everything you just saw, because The Rep's production won't look like that. Like just about everyone else, director Marcia Milgrom Dodge was blown away by the Broadway production. But in bringing this story to The Rep, she wanted to approach it differently.
"Mark Haddon created a great literary character in Christopher," Dodge said. "Now we want to give it a location, and create these relationships between Christopher and the others."
2. The adaptable set will help audiences understand Christopher's worldview.
Set designer Narelle Sissons has fashioned a set that will transform and adapt to reflect the way that Christopher sees the world. Its base design is Christopher's schoolroom, with enormous whiteboard walls where actors will be able to write and draw.
But as the play progresses, the ensemble will move furniture to suggest other locations, or create "jungle gym"-style obstacles for Christopher to traverse.
"It'll be a lot of heavy lifting for the actors," Dodge said, before addressing her cast with a sly shrug. "But, you know, that's why you're here."
3. It's all about the relationships.
Speaking of the actors, they'll all have unspoken relationships with Christopher in the show. When they're not playing the people Christopher encounters on his investigation, the rest of the ensemble will all have roles as Christopher's teachers at the school.
That creative choice will enhance the relationships between the show's lead and the community that surrounds him, one that doesn't always understand the way he thinks.
"It's a story about someone on the outside," said The Rep's Augustin Family Artistic Director Steven Woolf. "It's about the other and how we treat the other."
4. Several costume pieces are inspired by complex mathematics.
Among Christopher's great loves are mathematics and space. Costume designer Leon Wiebers took inspiration from those character traits, and some of his designs will feature mathematical inspiration.
In particular, he's working with a company called KnitYak, which creates "mathematically knit" scarves built around algorithmically generated patterns. (You can check out their work here). Christopher will wear one of KnitYak's scarves in the show.
5. The Rep and Easterseals Midwest are partnering to enrich the production.
Christopher is never identified as being on the spectrum in the play (by Simon Stephens) or in the book on which it is based (by Mark Haddon). But because he deals with challenges typically associated with people who live with autism, many people identify Christopher as being on the spectrum.
While Christopher's status on the spectrum is ambiguous, we see The Curious Incident as an opportunity to open up a conversation about autism, how it affects individuals and families, and how we can dispel some of the myths surrounding it. The Rep has partnered with the Autism Services Division of Easterseals Midwest to create educational materials surrounding our production of the play.
Earlier this week, Easterseals staff met with Dodge and LaMedica to discuss what they see working with young people with autism. While every person on the spectrum is different, those experiences will add background and texture to the portrayal of Christopher and his behavior.
October 1, 2017
by Simon Stephens |
Based on the novel by Mark Haddon |
Directed and choreographed by Marcia Milgrom Dodge