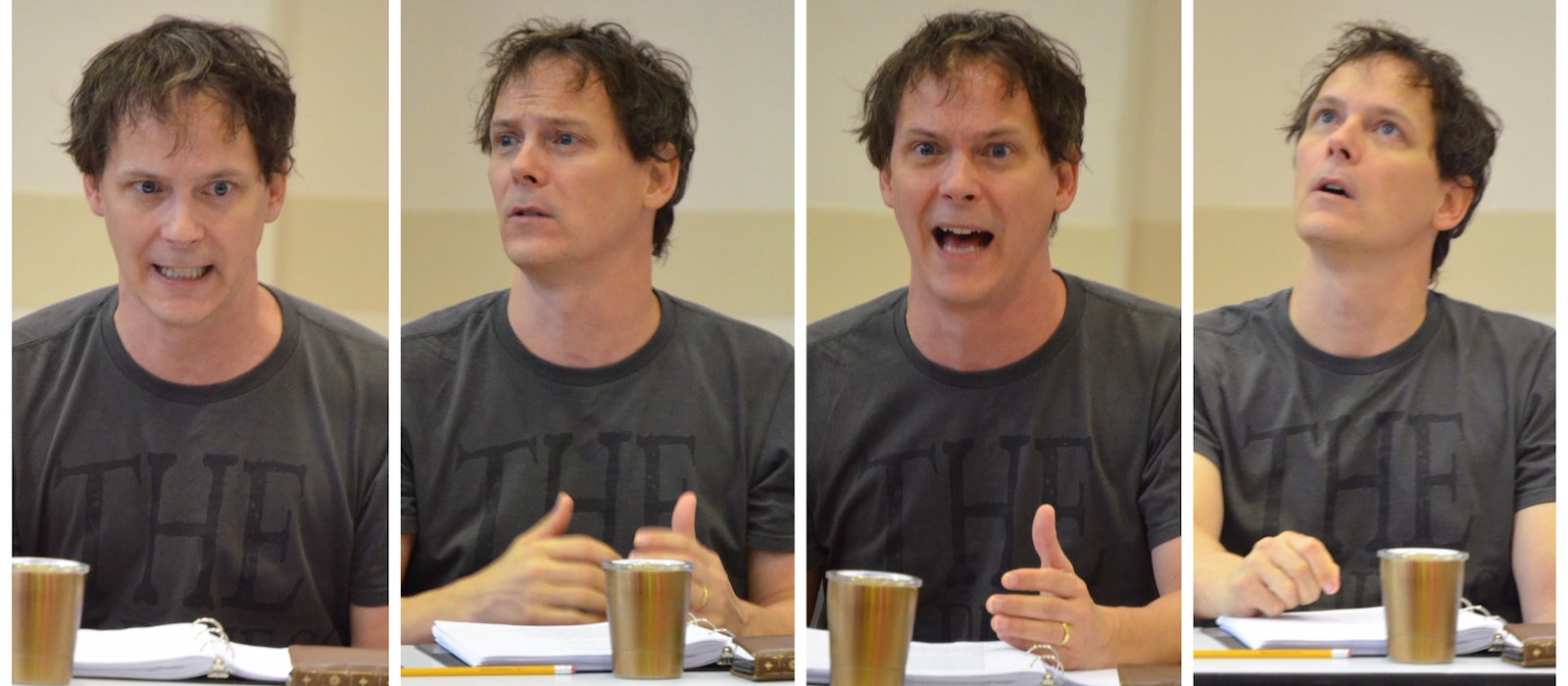 Five things we learned from HAMLET's first rehearsals
Friday |

Sep.

22

, 2017
When we tell people that this October's production of Hamlet will be the first time that Shakespeare's iconic play has appeared on The Rep stage, the common reaction is disbelief. As in: really? The Rep hasn't produced the granddaddy of all tragedies in any of its 50 seasons?
As it turns out, we were just patiently waiting for the perfect cast and production team to come together. This past week, we've gotten our first look at the show's design and seen the full cast in action. We're thrilled to report back on some of our discoveries:
1. This production is a continuation of our landmark 50th season.
Augustin Family Artistic Director Steven Woolf said as much during the first meet-and-greet for the production. He had always wanted to bring Hamlet to The Rep stage, and at one point hoped to fit it into last season's schedule. Even though we ultimately had to push it back a year, expect Hamlet to be just as immense and prestigious as anything that appeared on our stage during our 50th anniversary.
2. Even after 400 years, Shakespeare's script still surprises and seduces.
The rich themes and characterizations of Hamlet are practically bottomless. It's no small wonder that entire libraries have been written on the play since it first took life in the early 1600s.
"You could die reading about this play and never get around to actually directing it," quipped director Paul Mason Barnes.
In a speech to his cast and designers, Barnes hit upon a multitude of themes for the play: it's a play about death. It's a ghost story. A tale of fathers and sons. A love story. But above all, it's a "great revenge play." Understanding and exploring those other themes will make Hamlet's grand revenge all the sweeter when the play reaches its bloody climax.
3. The language comes first.
Barnes, who has directed acclaimed Rep adaptations of Macbeth, A Midsummer NIght's Dream and The Comedy of Errors, is a great student of Shakespeare and his language.
One of the chief lessons he wants to impart to his Hamlet cast: as a verse play, this production should feel like one long poem. Even though he acknowledges the script has a reputation for being "contemplative and lugubrious," Barnes wants to keep the action moving forward with very few, selective pauses and rapid entrances as one scene flows into the next.
Most importantly, Barnes wants his actors to let the language take them where they need to go instead of wrestling with the verse. Likewise, Barnes sees himself as a servant of Shakespeare's words.
"Some directors try to put their own stamp on (Shakespeare)," Barnes said. "I'm just not that smart. My job is to keep up with him."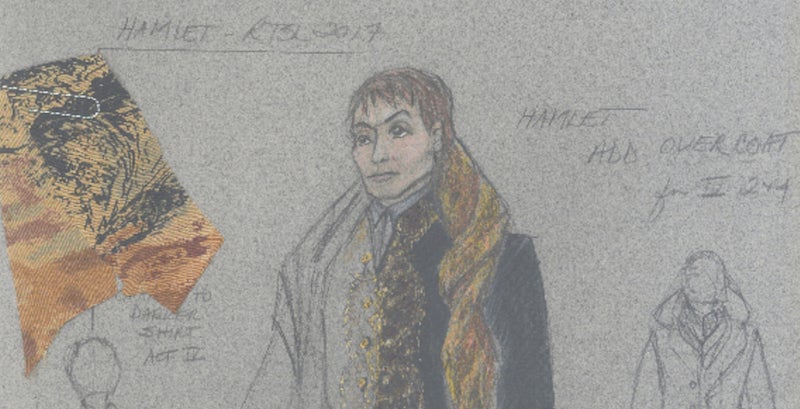 Hamlet costume design by Dorothy Marshall Englis
4. The show's design will thrive on juxtapositions.
For his design team, Barnes has assembled a veteran crew whose members have collaborated so frequently that they're essentially on the same aesthetic wavelength.
When Barnes, scenic designer Michael Ganio and costume designer Dorothy Marshall Englis first met to discuss the overall look and feel of the show, they quickly hit upon a shared language. Their design vision will juxtapose the decorative against the decaying, the ornate against the minimalist.
Ganio's set is spare and open – at one point during his design presentation, he shared a Japanese minimalist painting of fish as an example of his approach. His set is dominated by a massive red column at the center of the stage, which is a striking splash of color on a mostly black palette.
Englis' costume designs were inspired by both contemporary fashion runway looks and more classical clothing, but she's quick to point out that this production doesn't take place in a set time period.
"I say to people that the period is 'now and then,'" Englis said. "It's a little of 'now' and a little of 'then.'"
5. Jim Poulos (Hamlet) and the rest of the cast are up to the challenge.
We love this cast. It's an exciting blend of Rep newcomers and actors who've appeared on this stage before – mostly under Barnes' direction.
Listening to them read the show Thursday, it's easy to hear how much they relish getting to portray these characters and recite so many iconic lines.
At the head of it all is Jim Poulos as Hamlet, who is already bringing tremendous passion and emotional elasticity to the role:
The many faces of Hamlet (@JimPoulos3) at yesterday's script reading. See this fantastic performance in-person: https://t.co/gtHFHW5t4f pic.twitter.com/oBcDo8DrQs

— The Rep (@repstl) September 22, 2017
You won't want to miss this landmark production at The Rep, opening October 13. Click below to learn more and secure your tickets: