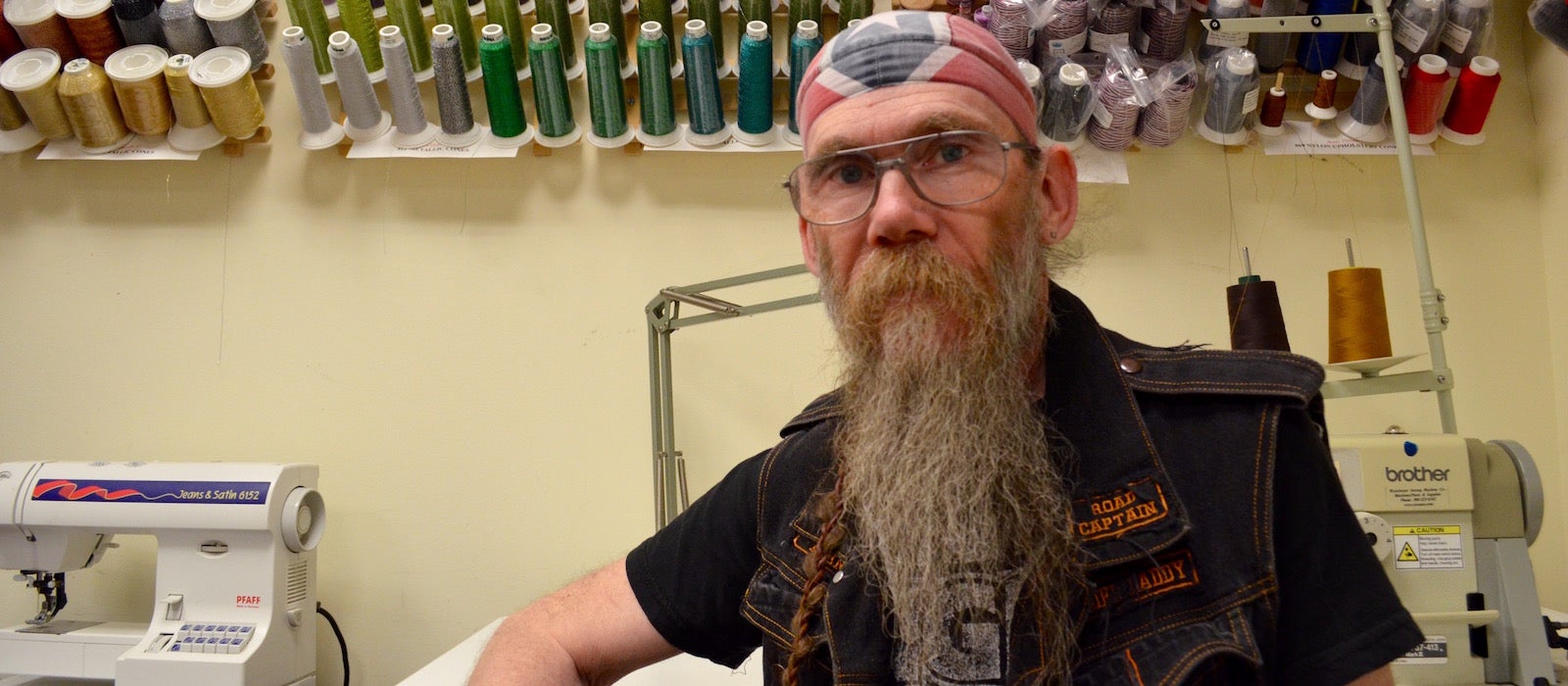 Five Questions with Bob Trump, The Rep's resident costuming wizard
Friday |

Aug.

12

, 2016
The dire warning signs hang all over The Rep's Costume Shop:
"Property of Bob Trump… DO NOT USE!"
"Hands off Bob's thread!"
One sign features a photo of Bob himself: a lean, whiskered figure in an American flag bandana and biker leathers, glowering at the camera with a pair of razor sharp scissors held suggestively in his right hand.
Judging solely by the signs and the desperado-style photo, it would be easy to mistake this Bob Trump character for a surly vigilante who cuts costumes by day and cuts people off the road on his motorcycle by night.
The actual man himself, however, is something far more magnificent: a nationally sought-after costumer, published author, a wizard of thread and cloth… and a gentle and humble soul. Bob is beginning his 36th season working in The Rep's costume shop. Over that time, he's had a hand in crafting nearly every outfit worn on Rep stages — especially menswear, his forte.
We sat down with Bob to ask him five questions about his role as The Rep's head draper, his unusual career path and favorite memories.
1. How did you land at The Rep?
Well I grew up just down the street, five blocks from here on Oakwood (Avenue). I actually worked the Opera Theatre season right before Rep season (in 1981). The technical director came into the shop one day and said that one of the first hands had cancelled on their contract the day before work.
So I just called up and said, "You wouldn't happen to have any openings would you?" "Funny you should call…"
2. Where did your passion for working with clothes come from?
I really liked period clothes growing up. I was always attracted to them.
But when I grew up, I was raised to be an engineer by my family. I studied chemical engineering in college during the oil crisis in the '70s. I was supposed to design petroleum refineries. And I just thought, I can't see myself doing this the rest of my life. I had gotten a job offer from Monsanto to go to the Middle East and design a refinery when I graduated. And I thought, "Oh my gosh, that means I would actually have to do this."
So I dropped out and I wanted to do something with clothing, (but) I really didn't know what one did. So I thought I'd do museum work because that could be period clothing. So I got a job at the Historical Society as the assistant to the curator and discovered that was really, really boring to me. Because just putting clothes in drawers and looking at them was not the same thing as making them.
Then I went to Wash U to study fashion design. I was working in the theatre overtime to get arts credits, and discovered that my engineering background was really handy for patterning. I've also done alterations at a menswear store, been a costumer for marionettes, all sorts of things.
3. What's your favorite part of working in The Rep Costume Shop?
To me, the best part is that fact that we have a different designer for every show. It's not like a factory where you're just getting in stuff and then doing it. You actually have a different person you're working with, a different concept you're working with and different people — the actors are always changing.
4. What does it take to excel in a costume shop like the one at The Rep?
Each person has to have their own skills that work with what we need to do. My particular field is menswear. Since very few people are even interested in doing the men's clothes, that's very handy. So I do a lot of men's suits and period men's clothes as well as modern-ish men's clothes. I also do a lot of embroidery and that kind of decorative work.
Each person has to be able to do their own thing. But the division between parts of the shop can be amorphous, so being able to switch back and forth is also handy.
5. Do you have any favorite Rep shows that you've worked on?
That's a tough one, because it seems like every show we work on has something about it that's interesting or crazy or just unusual, because they're all different and there's always something. And I've been here long enough that you go through periods where there's different crazinesses that go on.