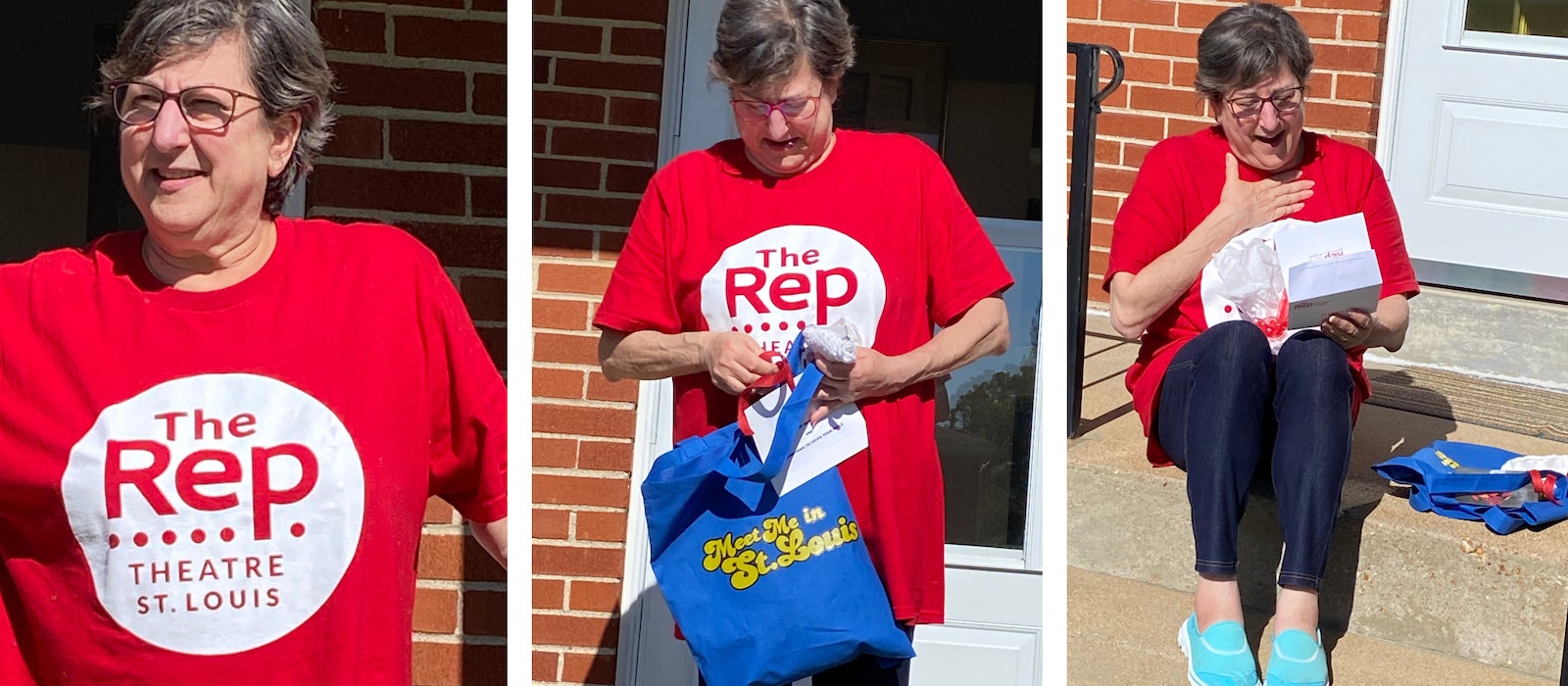 Celebrating Marsha Coplon, The Rep's retiring Director of Education
Monday |

June

1

, 2020
On Friday, it became official: Marsha Coplon, The Rep's Director of Education for 22 years, retired from our organization. But Marsha's impact – on both The Rep's programming and the people who work and volunteer here – is everlasting.
For her last day at The Rep, members of our Volunteer Board delivered a farewell package to Marsha – you can see some of the photos from the gift drop above. We also asked our staff and volunteers to share some of their favorite Marsha stories, which we've compiled below.
Thank you to Marsha for all that you've brought to The Rep and to area students – you've helped to foster a love of theatre in countless young people throughout our community!
And now, our team's favorite Marsha Stories...
Ann Bronsing, Volunteer Board:
Marsha always maintained that if we all treated students like adults at the Student Matinees, they would act that way. She outlawed anyone ever calling the matinees, "Creature Features" which is the nickname many theatres give student matinees.
Her main message to the student matinee ushers every year was that they were expected to treat the kids like regular theatregoers: with respect and enthusiasm.
It must have worked.
I often gave airport rides to actors leaving town at the end of their play's run. Whenever I mentioned that I helped at Student Matinees, the actor always enthusiastically praised the student audiences and commented how much all the actors enjoyed performing for them. They implied or actually said that these matinees were a real credit to The Rep.
That was all Marsha! I hope that legacy lives on.
Suzanne Bodenstein, Accounting Associate:
A few years ago, I had some major surgery and I was on sick leave when I was pleasantly surprised that Marsha went out and bought me the best food to eat from Art of Entertainment. I was surprised and completely overwhelmed at her generosity.
Glenda Hares, Volunteer Board:
Everything I know about octopuses ("octopuses," not "octopi" because the word derives from Greek) I learned from Marsha. They are smart, they have personalities, they like to have fun. They communicate. They know the people they like and remember them. They also remember who they don't like. At this point, I can't imagine eating one. Now, however, I am jealous of octopuses because she wants to work with them in her new life instead of working with us.
Amy Steinmetz, Institutional Gifts Manager:
Mostly I will miss collaborating with her. She would come to my office, and I would go to hers, and we would sit in awkward places like the edges of each other's desks, and just bounce ideas around until we figured out how to approach communicating with the outside world what we intended to do. I will miss her sense of humor, and the fact that we were often on the same humor wavelength. I will miss her stories of her mom, and of her young friend who helped her grieve when her "hair died." And how she always had all of our best interests at the forefront of all that she did.
Linda Lowry, Volunteer Board:
One of my favorite times with Marsha was at the Volunteer Christmas Luncheon when she and (former Rep production manager) Edward Coffield tag-teamed the auction of purses. There were many laughs and good results when the 2 of them worked the group with each purse and what it held to raise the ante.
Amelia Acosta Powell, Associate Artistic Director:
Marsha was one of the first people to welcome me to The Rep and to St. Louis. She drove me around town, pointing out idiosyncrasies of the roads and neighborhoods, and introduced to me Lona's Lil Eats which remains one of my favorite restaurants! I will not forget her kind heart and her helpful attitude.
Susan Barley, Volunteer Board:
Jean Lange, an amazingly dedicated and longtime Rep supporter, brought the new staff member from Syracuse to an event at Grant's Farm, and introduced many of the Volunteer Board members to her. Marsha Coplon was pleasant, a little quiet, but friendly.
Perhaps Jean knew something we did not even suspect. Perhaps Jean had caught a glimmer of what was to come.
Slowly but surely, Marsha made surprises happen. Thoughts and ideas came flying fast. The enthusiasm was contagious. The Volunteer Board members would do anything Marsha asked of them. We were breathless but on-board. Through the years, Marsha made spreading the news and values of theatre, to young and old, fun.
Volunteers love it when what they are doing is worthwhile and valuable. Marsha guaranteed that anything she asked of us would fill the bill. As we worked together with theatre education, we became educated. It would be great to hear Jean say, "I could have told you."
Marsha will be very much missed.