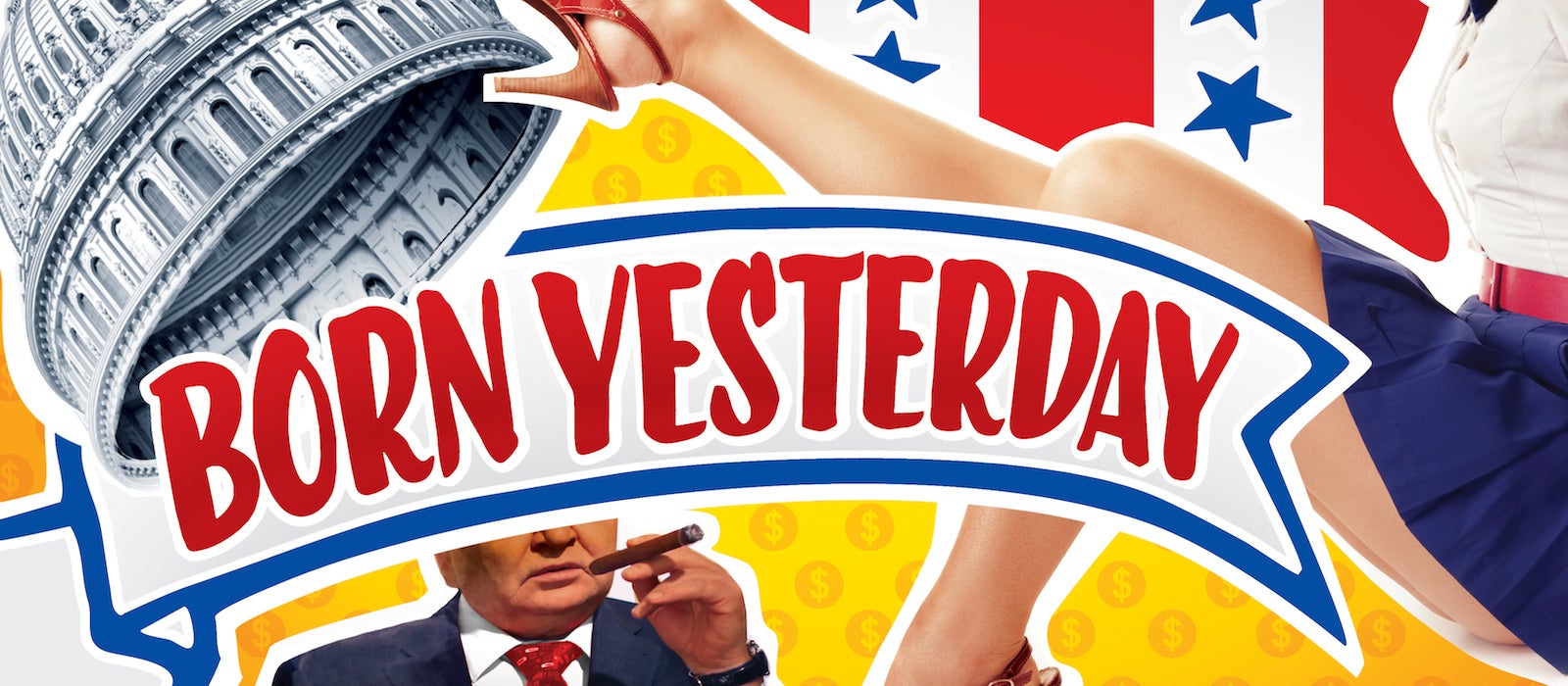 BORN YESTERDAY closes The Rep's 51st season with classic comedy
Wednesday |

Feb.

21

, 2018
With its lively patter, sharp satire and empowered female lead, Born Yesterday is a classic comedy that continues to surprise and entertain. Since its Broadway debut in 1946, Garson Kanin's sendup of political gamesmanship has seen multiple prominent film and stage adaptations, including a 1995 production at The Repertory Theatre of St. Louis.
The Rep will produce the show once again this spring, running from March 14 to April 8. Pamela Hunt directs.
Junkyard tycoon Harry Brock swaggers into Washington, D.C., determined to buy a senator or two. The monkey wrench in his schemes is Billie Dawn, his seemingly dim-witted ex-showgirl girlfriend. But when Brock hires a reporter to tutor Billie, she rapidly comes into her own as a force to be reckoned with. This sharp and snappy comedy hilariously skewers Beltway corruption.
Ruth Pferdehirt (One Man, Two Guvnors, 2014) returns to The Rep as the irrepressible Billie Dawn. Andy Prosky (who appeared with Pferdehirt in 2014's Noises Off) brings plenty of attitude as Harry Brock. Aaron Bartz makes his Rep debut as reporter Paul Verrall.
Rounding out the supporting cast are Ted Deasy (Evie's Waltz, 2008), Kurt Zischke (All the Way, 2015), Gina Daniels, Randy Donaldson (A Funny Thing Happened on the Way to the Forum, 1992), Tom Wethington and Michelle Hand (Sense and Sensibility, 2013).
The ensemble includes Cassidy Flynn, Cece Hill, Maison Kelly, Cassandra Lopez and Ryan Lawson Maeske as various hotel employees.
Hunt returns to direct a Rep show for the first time since 2011's Beehive the 60's Musical. She's directed 10 shows at our theatre, dating all the way back to 1983's Tintypes. She's bringing two frequent collaborators with her in scenic designer James Morgan and lighting designer Mary Jo Dondlinger, who both filled those same roles in The Rep's production of Beehive.
Costume designer Lou Bird (Constellations, 2017) and sound designer Rusty Wandall (The Humans, 2018) complete the design team. Tony Dearing will stage manage the production.
The Rep's production of Born Yesterday is sponsored by the Centene Charitable Foundation.
Tickets to The Rep's production of Born Yesterday are currently on sale and can be purchased online at repstl.org, by calling the Box Office at 314-968-4925 or visiting the Loretto-Hilton Center at 130 Edgar Road (on the campus of Webster University). Ticket prices range from $18.50 to $89.
Show times are Tuesdays, selected Wednesdays and selected Sundays at 7 p.m.; Thursdays, Fridays and selected Saturdays at 8 p.m. Matinee performances are selected Wednesdays at 1:30 p.m., Saturdays at 4 p.m. and Sundays at 2 p.m.
For more information about Born Yesterday, click below.