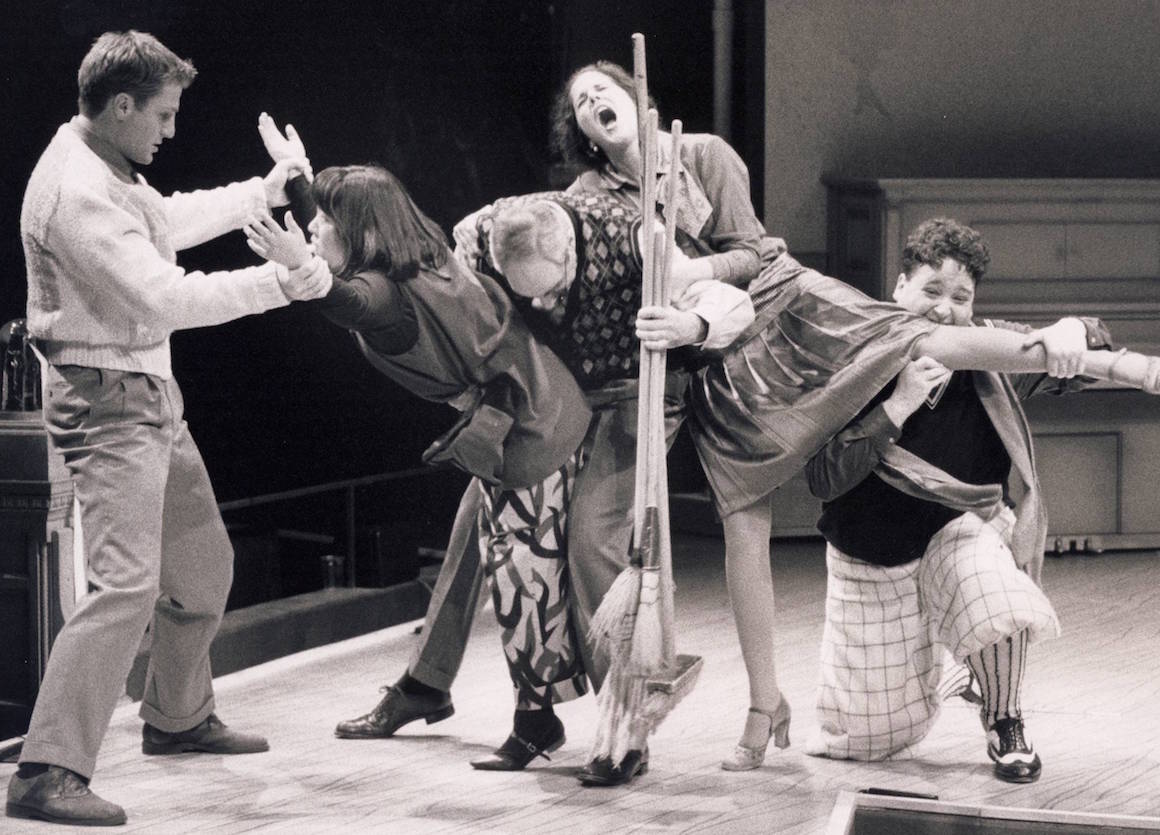 The Skinflint
Book & Lyrics by Barbara Field
Music by Hiram Titus
Directed by Susan Gregg
December
03
, 1997
-
January
02
, 1998
1997-1998 Mainstage Season
The Story
Exploding with dazzling songs, intriguing plot twists and playful characters, this world premiere musical will add a joyful note to the holiday season. On the eve of the 1929 stock market crash, pawnshop proprietor Harry K. Pomander is dithering about his money and scheming to marry off his children. The madcap and silly adventures which follow in this tuneful musical celebrate the story's hilarious roots in Moliere's play, The Miser.
Creative & Production Staff
Musical Director: Jeffrey Buchsbaum
Orchestrator/Arranger: Larry Hochman. Additional arrangements by Jeffrey Buchsbaum.
Choreographer: Williamichael Badolato
Scenic Designer: John Ezell
Costume Designer: James Scott
Lighting Designer: Phil Monat
Stage Manager: Glenn Dunn
Assistant Stage Manager: Scott De Broux
Casting: Rich Cole
Cast
Don Richard (Barker/Simple Simon/Officer O'Malley)
John Cudia (Vinny)
Paul Boesing (Harry K. Pomander)
Max Perlman (Chip Pomander)
Yvette Lawrence (Elsie Pomander)
Nancy Anderson (Mary Ann)
Adinah Alexander (Flora Sweeney)
David Heuvelman (Radio Announcer/Mr. Anselmo)
Christopher Bloch (Nathan Filberg)
Ann Harada (Bolivia)
Orchestra
Jeffrey Buchsbaum (Conductor/Piano)
Michael Buerk (Woodwinds)
Diane Ceccarini (Synthesizers)
David Engelke (Bass)
John Brophy (Percussion)
Nancy Schick (Music Preparation)
Robert Ceccarini (Musical Contractor)
Additional Credits
Assistant Choreographer: Dean Badolato
Sponsorship & Support
Mainstage Season Sponsor: Monsanto Fund

Production Sponsor: American Express Financial Advisors

Music underwritten by General American Life Insurance Company.

The Skinflint is made possible in part by Edward Jones, The May Department Stores Company and its Famous Barr and Lord & Taylor divisions and Mercantile Bank, corporate partners of the Arts & Education Council.
Production Notes
This production was the world premiere of The Skinflint.