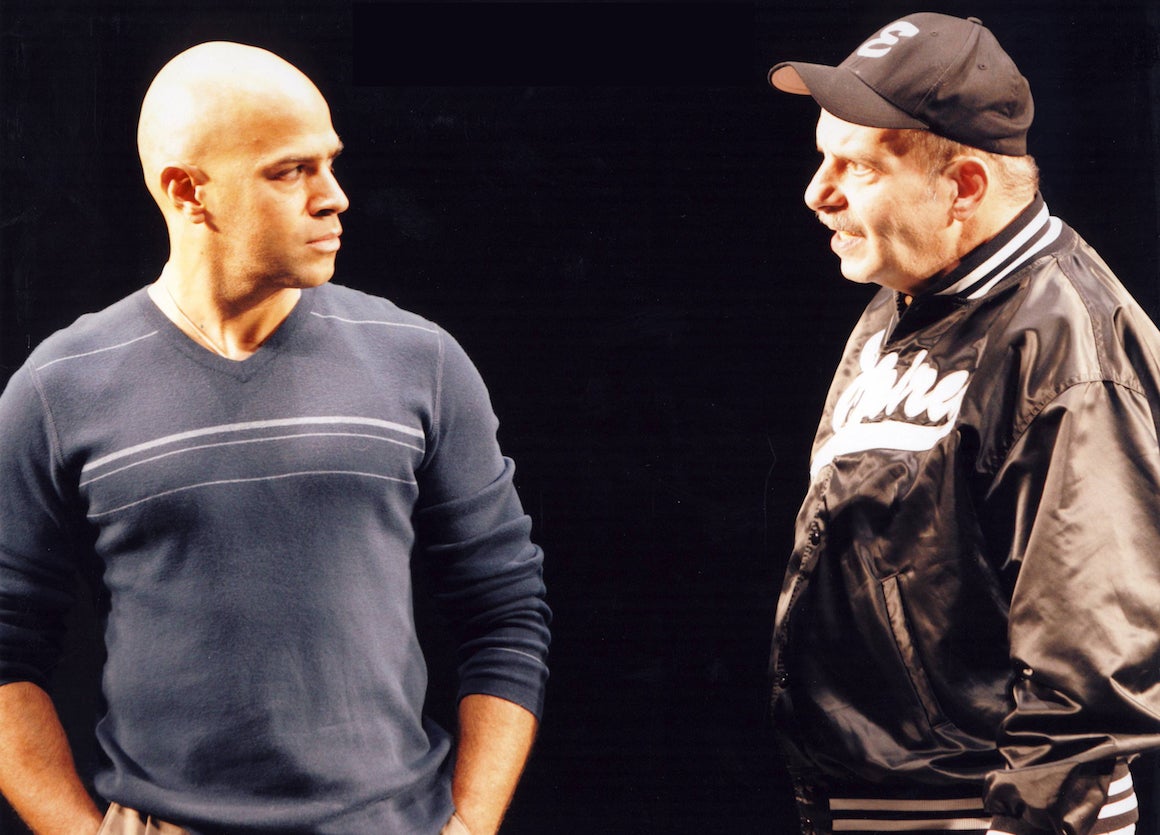 Take Me Out
By Richard Greenberg
Directed by Rob Ruggiero
September
21
-
October
09
, 2005
2005-2006 Off-Ramp Season
The Story
The New York locker room will never be the same after a charismatic young baseball star at the top of his game casually reveals a personal truth: he's gay. The announcement throws a curve ball into the middle of a perfect season and sends a ripple effect through the entire team, the media, the nation and one shy business manager who can't tell an earned run from an earnings tax. A joyous tribute to baseball that celebrates the glory of the game, and the men who love—or learn to love—America's pastime. Winner of the 2003 Tony, Drama Desk and Outer Critics Circle Awards for Best Play and finalist for the 2003 Pulitzer Prize for Drama.
Creative & Production Staff
Scenic Designer: Adrian W. Jones
Costume Designer: Michael J. McDonald
Lighting Designer: John Lasiter
Sound Designer: Janet Kalas
Stage Manager: Champe Leary
Assistant Stage Manager: Jenni Bowman
Casting: Rich Cole
Cast
Tim Altmeyer (Kippy Sunderstrom)
Philip Anthony-Rodriguez (Darren Lemming)
Michael Balsley (Shane Mungitt)
Jorge Oliver (Martinez)
Jose Joaquin Perez (Rodriguez)
Tony Hoty (The Skipper/William Danziger)
Jake Schneider (Jason Chenier)
Matthew Montelongo (Toddy Koovitz)
Shawn T. Andrew (Davey Battle)
Nat DeWolf (Mason Marzac)
Ikuma Isaac (Takeshi Kawabata)
Additional Credits
Sound design adapted by Lee Buckalew
Sponsorship & Support
Presenting Sponsor: Whitaker Foundation

The Repertory Theatre gratefully acknowledges a generous challenge grant from Ann and Hugh Scott to support the Off-Ramp season.
Production Notes
Take Me Out was the first production in the Off-Ramp Season, created in 2005, at the Grandel Theatre.
Kevin Kline Awards
Nominations
Outstanding Production of a Play: Take Me Out
Outstanding Director of a Play: Rob Ruggiero, Take Me Out
Outstanding Costume Design: Michael J. McDonald, Take Me Out
Outstanding Lighting Design: John Lasiter, Take Me Out
Outstanding Set Design: Adrian W. Jones, Take Me Out
Outstanding Sound Design: Janet Kalas, Take Me Out
Outstanding Lead Actor in a Play: Philip Anthony-Rodriguez, Take Me Out
Outstanding Lead Actor in a Play: Nat DeWolf, Take Me Out
Outstanding Supporting Actor in a Play: Michael Balsley, Take Me Out
Awards
Outstanding Production of a Play: Take Me Out
Outstanding Director of a Play: Rob Ruggiero, Take Me Out
Outstanding Lighting Design: John Lasiter, Take Me Out
Outstanding Lead Actor in a Play: Nat DeWolf, Take Me Out