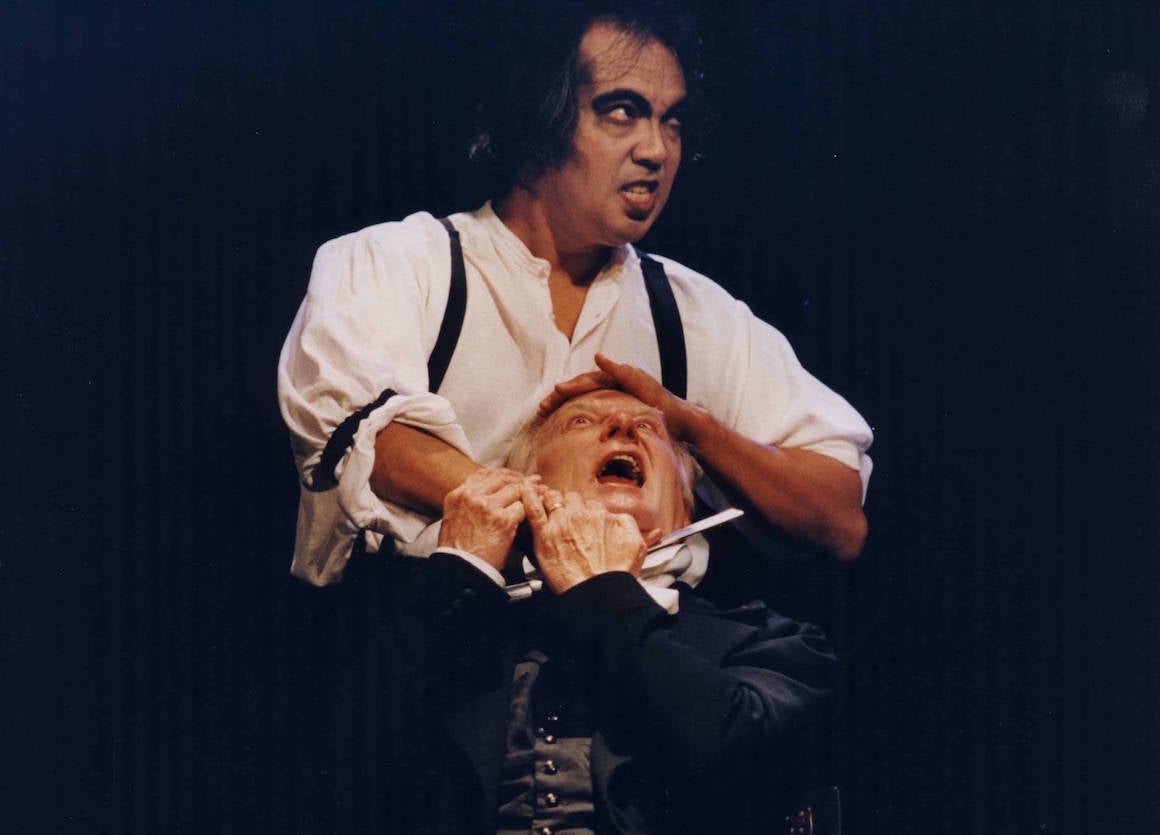 Sweeney Todd: The Demon Barber of Fleet Street
From an adaptation by Christopher Bond
Book by Hugh Wheeler
Music & Lyrics by Stephen Sondheim
Directed by Edward Stern
September
10
-
October
10
, 1997
1997-1998 Mainstage Season
The Story
The story of a barber who gives his customers very close shaves is a powerful, bloody tale of vengeance, madness and murder, featuring Sondheim's music at its most melodic and most haunting. Investing an old folk tale with moral depth and brilliant comedy rife with irony, Sondheim and Wheeler have created a striking artistic achievement—Sweeney Todd is musical theatre at its greatest!
Creative & Production Staff
Musical Director: Larry Pressgrove
Choreographer: Ken Roberson
Fight Choreographer: Drew Fracher
Scenic Designer: David Gallo
Costume Designer: James Scott
Lighting Designer: Peter E. Sargent
Stage Manager: Glenn Dunn
Assistant Stage Manager: Scott De Broux
Casting: Rich Cole
Cast
Tony Capone (Anthony Hope)
Thom Sesma (Sweeney Todd)
Alison Bevan (Beggar Woman)
Pamela Myers (Mrs. Lovett)
Joneal Joplin (Judge Turpin)
Ray Friedeck (The Beadle)
Brigid Brady (Johanna)
Robert Creighton (Tobias Ragg)
Tom Souhrada (Pirelli)
Bill Bush (Jonas Fogg)

The Company: Kelly Atkins, Bill Bush, Ron Gibbs, James Jaeger, Julie James, John Jensen, Judi Mann, Andrée Petersen, Don Rey
Orchestra
Larry Pressgrove, Conductor

Diane Ceccarini (Keyboard)
Ronald Vince (Violin)
Natasha Rubenstein (Cello)
David Engelke (Bass)
Michael Buerk (Clarinet)
Peggy Bumb (Bassoon)
Robert Ceccarini (Trumpet)
Nancy Schick (French Horn)
John Brophy (Percussion)

Robert Ceccarini, Musical Contractor
Sponsorship & Support
Mainstage Season Sponsor: Monsanto Fund

The Repertory Theatre thanks Metropolitan Life Foundation for its generous contribution to sponsor Guest Costume Designer James Scott.