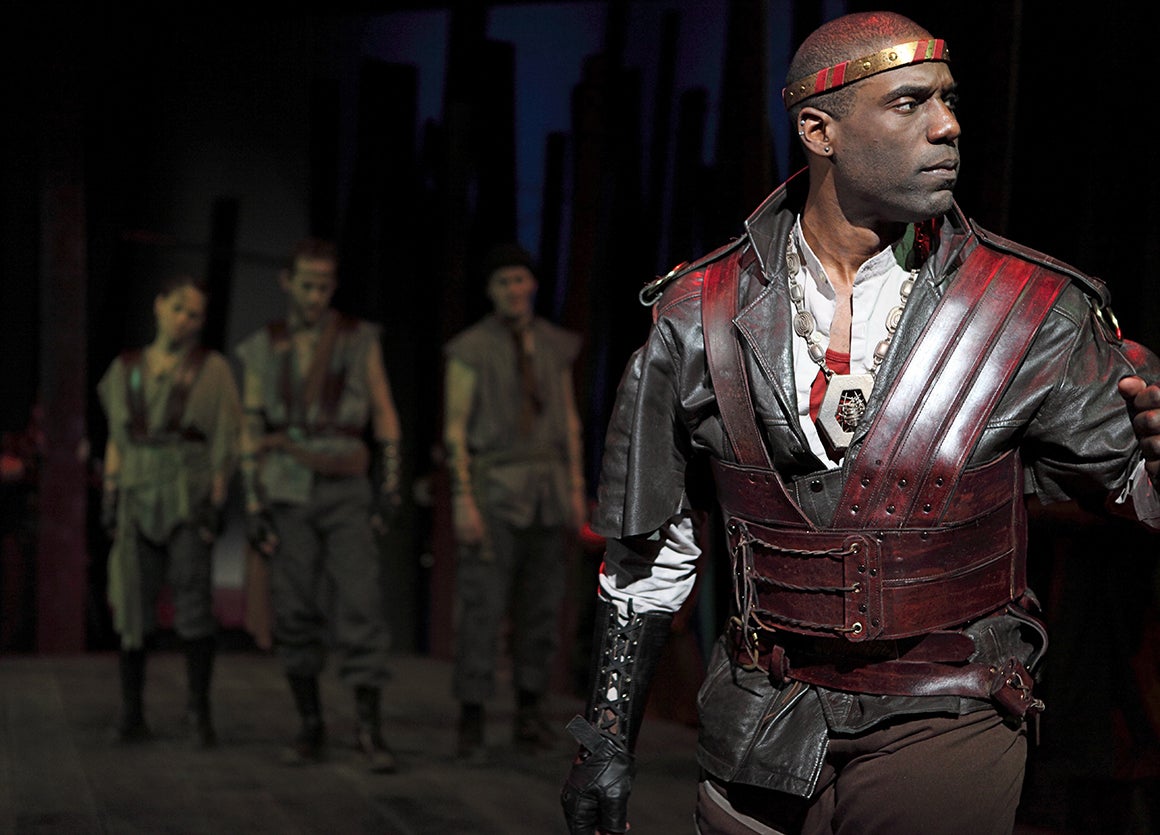 Macbeth
By William Shakespeare
Directed by Paul Mason Barnes
February
09
-
March
06
, 2011
2010–2011 Mainstage Season
The Story
Sorcery, betrayal and intrigue abound in Shakespeare's most chilling and enduring tragedy. Esteemed for his military prowess, Macbeth is the King's most trusted warrior until he is wooed by the murmurs and prophecies of witches into a bloody struggle for the throne. Drunk with ambition, his quest for glory leads to war, murder and destruction and propels Macbeth and his wife on a dizzying spiral to paranoia and madness.
Creative & Production Staff
Fight Choreographer: Brian Peters and Shaun Sheley
Scenic Designer: Michael Ganio
Costume Designer: Dorothy Marshall Englis
Lighting Designer: Kenton Yeager
Sound Designer: Rusty Wandall
Stage Manager: Glenn Dunn
Assistant Stage Manager: Shannon B. Sturgis
Cast
Kyle Acheson (Fleance)
Nancy Bell (Lady Macduff/Angus)
Chris Bolan (Lennox)
Hillary Brainerd (Ensemble)
Jason Cannon (Banquo/Caithness)
Mike Curtin (young Siward/Solder)
Alexander M. Donovan (Macduff child)
Greg Fink (Donalbain)
Shanara Gabrielle (Witch/Murderer/Servant/Gentlewoman)
Jake Golliher (Ensemble)
Christopher Hickey (Ross)
David Graham Jones (Witch/Poter/Seyton)
Scott Joy (Ensemble)
Michael Keyloun (Witch/Murderer/Servant/Doctor)
Maria Knasel (Macduff child)
Scears Lee IV (Ensemble)
McKenna Liesman (Ensemble)
Nathaniel McIntyre (Captain/Siward/Earl of Northumberland)
Ben Nordstrom (Malcolm)
Colton Pometta (Ensemble)
Drew Redington (Macduff child)
Michael James Reed (Macduff)
Julia Schweizer (Macduff child)
Timothy D. Stickney (Macbeth)
Elizabeth Teeter (Macduff child)
Jerry Vogel (Duncan, King of Scotland/Menteith)
Caris Vujcec (Lady Macbeth)
Sponsorship & Support
Brown Shoe
The Rep's Leading Ladies
Production Notes
This production is part of Shakespeare for a New Generation, a national program of the National Endowment for the Arts in cooperation with Arts Midwest.