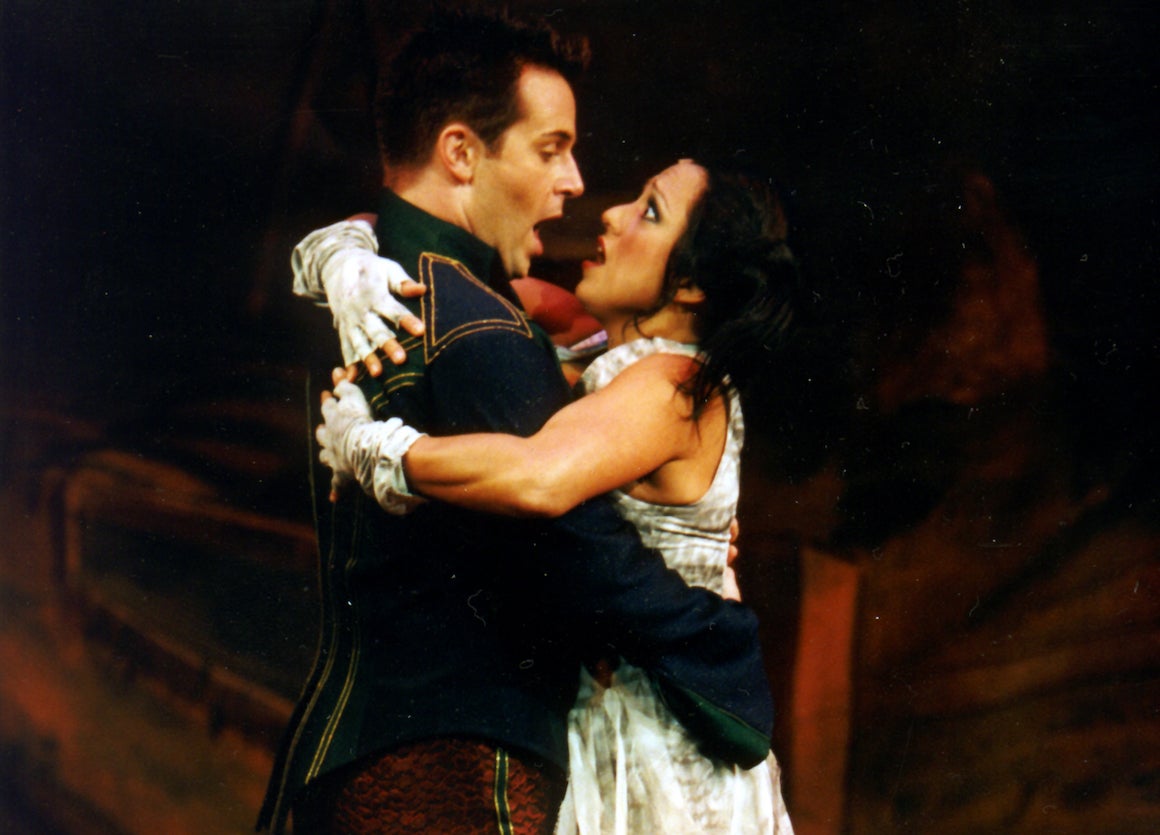 Everything's Ducky
Book by Bill Russell and Jeffrey Hatcher
Music by Henry Krieger
Lyrics by Bill Russell
Directed by Gip Hoppe
September
06
-
October
06
, 2000
2000-2001 Mainstage Season
The Story
From the composer of Dreamgirls and Side Show comes a clever musical fairy tale, full of great humor and heart, with a wonderful score and witty lyrics. In a wacky world where ducks rule the roost, follow the exploits of Serena, the ugly duckling, as she outwits wolves, coyotes and other carnivores on her journey from possible paté to superstar swandom.
Creative & Production Staff
Musical Director: Shawn Gough
Orchestrator/Arranger: Harold Wheeler
Choreographer: Linda Goodrich
Scenic Designer: Robert Bissinger
Costume Designer: Beaver Bauer
Lighting Designer: Jeff Croiter
Sound Designer: Janet Smith
Stage Manager: Glenn Dunn
Assistant Stage Manager: Malia Arguello
Casting: Johnson-Liff Associates
Cast
Tracey Conyer Lee (Mrs. Bovine, Galinda)
John Herrera (Mr. Lambkins, Wolf)
Tony Capone (Mayor Mule, Drake)
Mark Chmiel (Rooster Bob, King, Police Dog, Armand Dillo, Giorgio Grouse)
Jonathan Brody (Free-Range Chicken, Sheep, Clem Coyote, Pig 2, Runway Model)
Bobby Daye (Free-Range Chicken, Sheriff Goat, Carl Coyote, Pig 1, Runway Model)
Alicia Irving (Mrs. Mallard, Aunt Leda, Queen)
J.B. Wing (Millicent Mallard, Sally, Wren, Stylist, Ruta, Guard, Assistant)
Angela Pupello (Mildred Mallard, Daphne, Pig 3, Make-up Artist, Verblinka)
Natalie Toro (Serena)
Facilitators: Joshua Franklin, Elena Gronlund, Katie Simon, Jesse Lawder
Orchestra
Shawn Gough (Conductor/Synthesizer)
Reggie Thomas (Associate Conductor/Synthesizer)
Michael Buerk (Woodwinds)
Michael Karpowicz (Woodwinds)
Andrew Tichenor (Trumpet/Fluegelhorn)
Steve Schenkel (Guitar/Banjo)
Diane Ceccarini (Synthesizer)
Robert Lowe (Electric Bass)
John Brophy (Drums)
Jerry Bolen (Percussion)
Bob Ceccarini (Musical Contractor)
Additional Credits
Puppet Designer: Erminio Pinque
Vocal Arrangements: David Chase
Additional Arrangements: Shawn Gough
Sponsorship & Support
Major Sponsor: Monsanto Fund
Production Notes
Everything's Ducky was a co-production with the Cincinnati Playhouse in the Park.