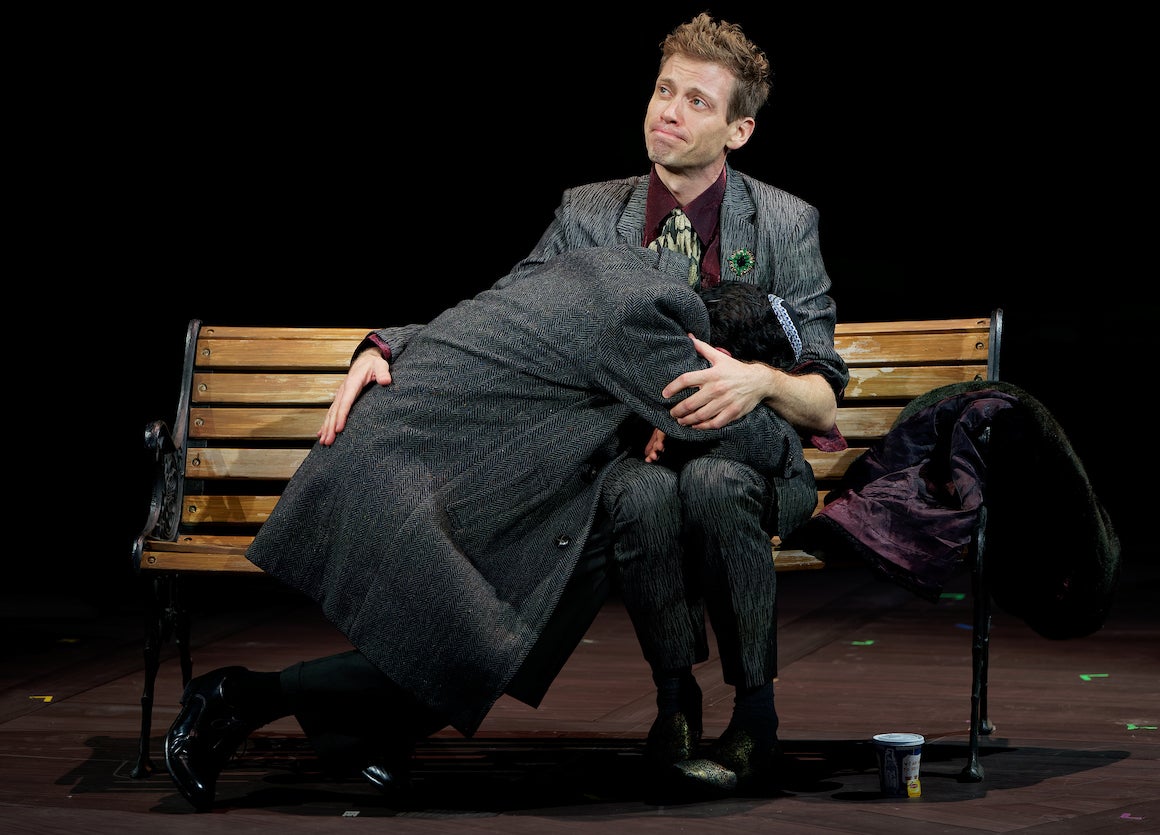 Angels in America: Parts One and Two
by Tony Kushner
Directed by Tony Speciale
September
04
-
October
06
, 2019
2019-2020 Mainstage Season
The Story
A towering epic that unveils new depths with each passing year, Tony Kushner's Tony- and Pulitzer Prize-winning masterpiece arrives on The Rep's stage for the first time. The AIDS epidemic is the flashpoint in Kushner's swirling tapestry of American culture, myths and spirituality. Navigating this maelstrom are Prior Walter, whose prophetic visions lead him toward an uncertain destiny, Joe Pitt, a devout and painfully closeted Mormon, and Roy Cohn, a lawyer whose AIDS diagnosis forces him to face a lifetime of misdeeds. These twin plays' vision of a wounded and chaotic nation struggling toward redemption is more urgent than ever.
Creative & Production Staff:
Director: Tony Speciale
Scenic Designer: Timothy Mackabee
Costume Designer: Dede Ayite
Lighting Designer: Xavier Pierce
Sound Designer: Broken Chord
Projections Designer: Alex Basco Koch
Associate Director/Violence, Intimacy and Movement Director: Tommy Rapley
Dramaturg: Gad Guterman
Voice and Dialect Coach: Joanna Battles
Associate Costume Designer: Jake Poster
Casting By: Pat McCorkle / Katja Zarolinski, McCorkle Casting Ltd.
Stage Manager: Emilee Buchheit
Associate Stage Manager: Lorraine LiCavoli
Production Assistant: Makenzie Clark
Flying Effects Provided by: ZFX, Inc.
Cast:
Meredith Baxter (Rabbi Isidor Chemelwitz, Henry, Hannah Pitt, Ethel Rosenberg, Aleskii Antedilluvianovich Prelapsarianov, Asiatica)
Peter Frechette (Roy M. Cohn, Prior 2, Antarctica)
Jayson Speters (Joseph Pitt, Prior 1, Europa)
Valeri Mudek (Harper Pitt, Martin Heller, Africanii)
David Ryan Smith (Mr. Lies, Belize, Oceania)
Ben Cherry (Louis Ironson, Australia)
Barrett Foa (Prior Walter, The Man in the Park)
Gina Daniels (The Angel, Emily, Sister Ella Chapter, Homeless Woman, Mormon Mother)
Sponsorship & Support:
Emerson
Centene Charitable Foundation (2019-2020 Mainstage Season)