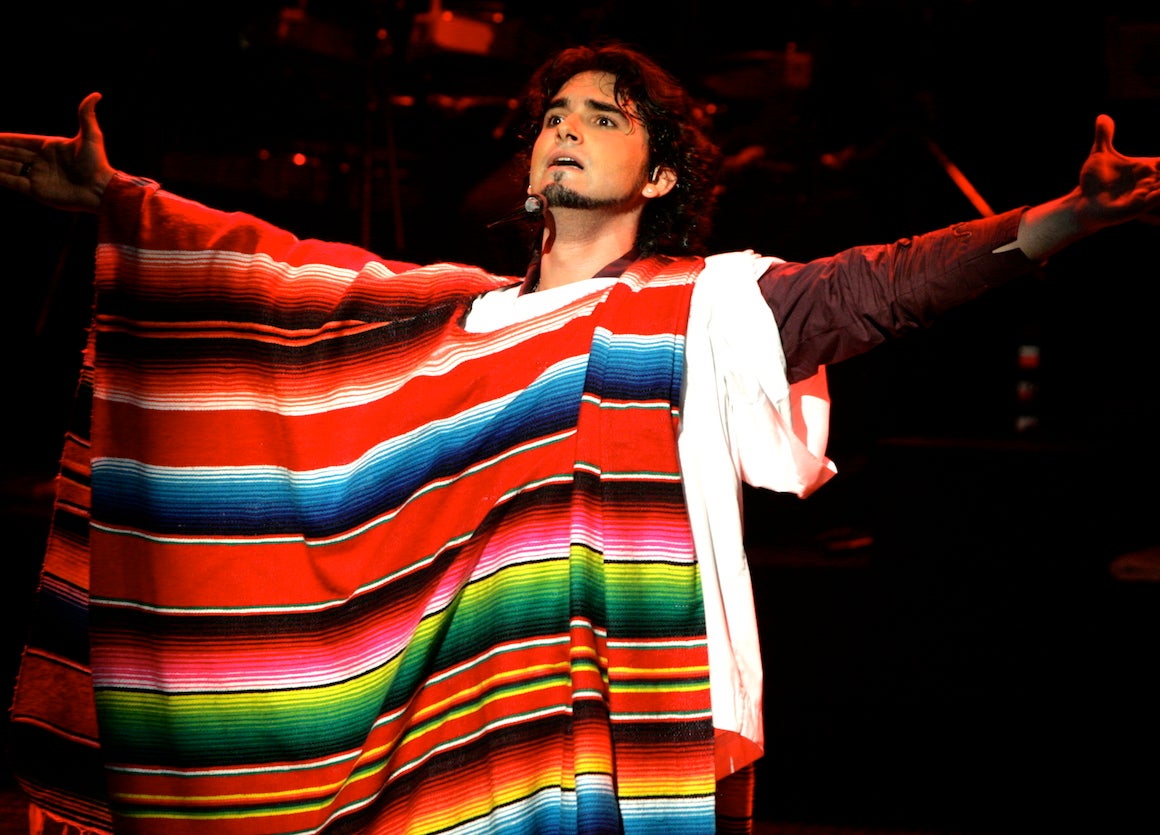 Altar Boyz
Book by Kevin Del Aguila
Conceived by Marc Kessler and Ken Davenport
Music and Lyrics by Gary Adler and Michael Patrick Walker
Directed by Stafford Arima
September
19
-
October
07
, 2007
2007-2008 Off-Ramp Season
The Story
As a struggling boy band nears the end of its "Raise the Praise" tour of bingo halls and pancake suppers, the apostles of pop-Matthew, Mark, Luke, Juan and Abraham-get their chance to break into the big time. These small town heart-throbs hit the boards for the Lord with their angelic voices, sinfully hot dance moves and lyrics like "Jesus Called Me On My Cell Phone" and "Girl, You Make Me Wanna Wait". A hilarious, holy hit for the whole family!
Creative & Production Staff
Musical Director: Henry Palkes
Orchestrator/Arranger: Doug Katsaros and Lynne Shankel
Choreographer: Christopher Gattelli
Scenic Designer: Anna Louizos
Costume Designer: Alejo Vietti
Lighting Designer: Ben Stanton
Sound Designer: Tori Meyer
Stage Manager: Shannon B. Sturgis
Assistant Stage Manager: Mary Jane Probst
Casting: David Petro
Cast
Michael Kadin Craig (Matthew)
Shua Potter (Mark)
Adam Fleming (Luke)
Mauricio Perez (Juan)
Ravi Roth (Abraham)
Orchestra
Keyboard 1: Henry Palkes
Keyboard 2: Adaron "Pops" Jackson
Percussion: James Jackson
Guitar: Shaun Robinson
Additional Credits
Vocal arrangements by Gary Adler and Michael Patrick Walker.
Dance music and additional arrangements by Lynne Shankel.
Associate Choreographer: Lou Castro
Associate Scenic Designer: Todd Potter
Sponsorship & Support
Season Sponsor: Emerson
Production Notes
Altar Boyz was a co-production with the Cincinnati Playhouse in the Park.
Kevin Kline Awards
Nominations
Outstanding Production of a Musical: Altar Boyz
Outstanding Director of a Musical: Stafford Arima, Altar Boyz
Outstanding Musical Direction: Henry Palkes, Altar Boyz
Outstanding Choreography: Christopher Gattelli, Altar Boyz
Outstanding Sound Design: Tori Meyer, Altar Boyz
Outstanding Ensemble in a Musical: Altar Boyz
Outstanding Lead Actor in a Musical: Shua Potter, Altar Boyz
Awards
Outstanding Musical Direction: Henry Palkes, Altar Boyz
Outstanding Choreography: Christopher Gattelli, Altar Boyz