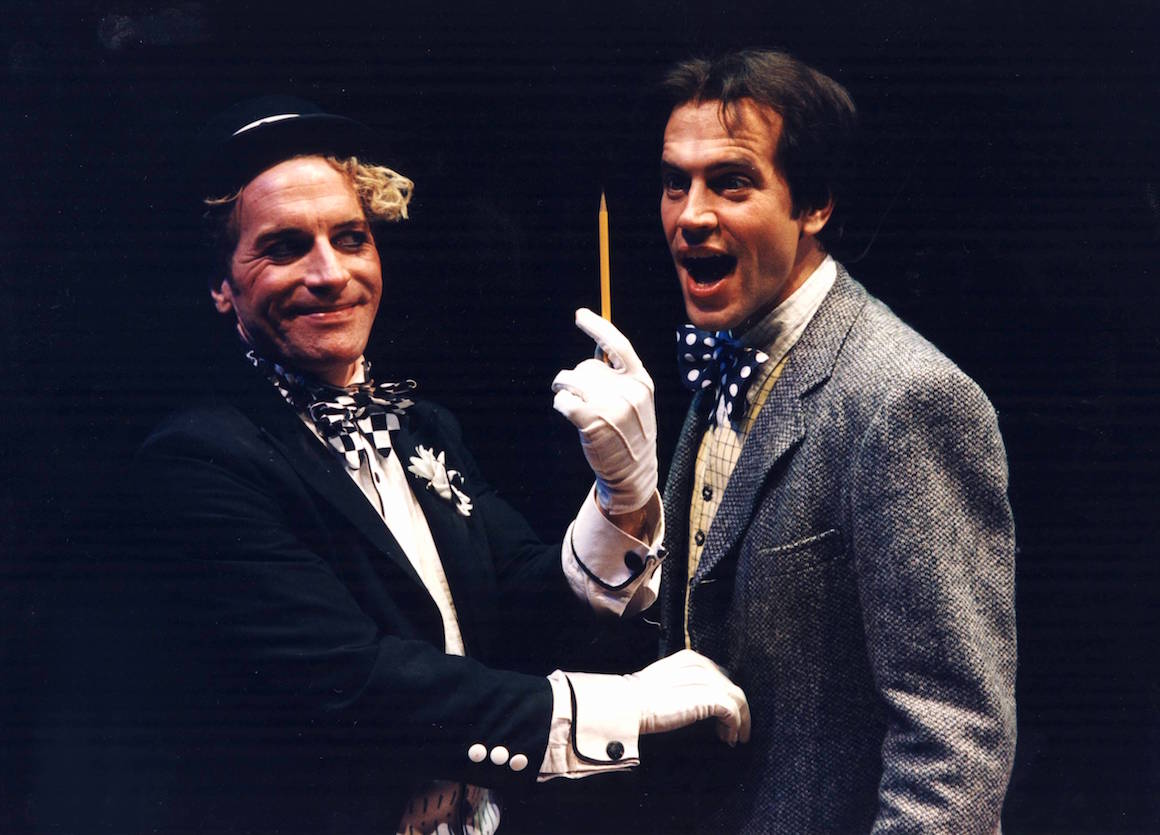 Young Rube
Based on the play by George W. George
Book by John Pielmeier
Music & Lyrics by Matthew Selman
Directed by Susan Gregg
September
08
-
October
08
, 1993
1993-1994 Mainstage Season
The Story
A zany musical comedy gag strip based on the life of the legendary cartoonist Rube Goldberg. Turn-of-the-century San Francisco sets the stage for Young Rube's journey of discovery as his crazy cartoon characters sing and dance their way onto the pages of America's newspapers. This world premiere musical is tuneful, inventive and full of the imagination and spirit that made Goldberg's cartoons famous.
Creative & Production Staff
Musical Director: Albert Ahronheim
Orchestrator/Arranger: Michael Gibson
Choreographer: David Holdgrive
Scenic Designer: John Ezell
Costume Designer: Dorothy Marshall Englis [credited as "Dorothy L. Marshall"]
Lighting Designer: Dale F. Jordan
Stage Manager: Glenn Dunn
Assistant Stage Manager: Scott De Broux
Cast
Mana Allen (Tillie/Pearl His Girl)
Bill Bowers (Boob McNutt)
Amanda Butterbaugh (Secretary/Copyboy/Eau D'Alisque/Adenoida Sourgrapes/Miner)
Frank DiPasquale (High School Principal/Professor Slate/Boss Ruef/Mike/Bartender)
Susan Ericksen (Secretary/Copybody/Galatea de Teets/Countess Lala Palooza/Miner)
Gregory Grant (Little Rube/Mole/Mr. P./Little Cop/Old Man Alf of the Alphabet/Black Bart)
Steve Liebman (Professor Christy/Bunker/Big Cop/Liberty Undaunted/Minister)
Michael Mulheren (Max/Professor Lucifer Gorgonzola Butts)
Marcus Neville (Young Rube)
Kristine Nevins (Secretary/Copyboy/Moany Lisa/Miss Medulla Oblongata/Miner)
Russ Thacker (Woodward/Mayor Schmitz/Dying Miner)
Orchestra
Albert Ahronheim (Conductor/Keyboards)
Diane Ceccarini (Synthesizers)
Michael Buerk (Woodwinds)
John Brophy (Percussion)
Additional Credits
Vocal Arrangements: Albert Ahronheim
Sponsorship & Support
Corporate Sponsor: Monsanto Fund
Music Underwriter: General American Life Insurance Company
Production Notes
This production was the world premiere of Young Rube.