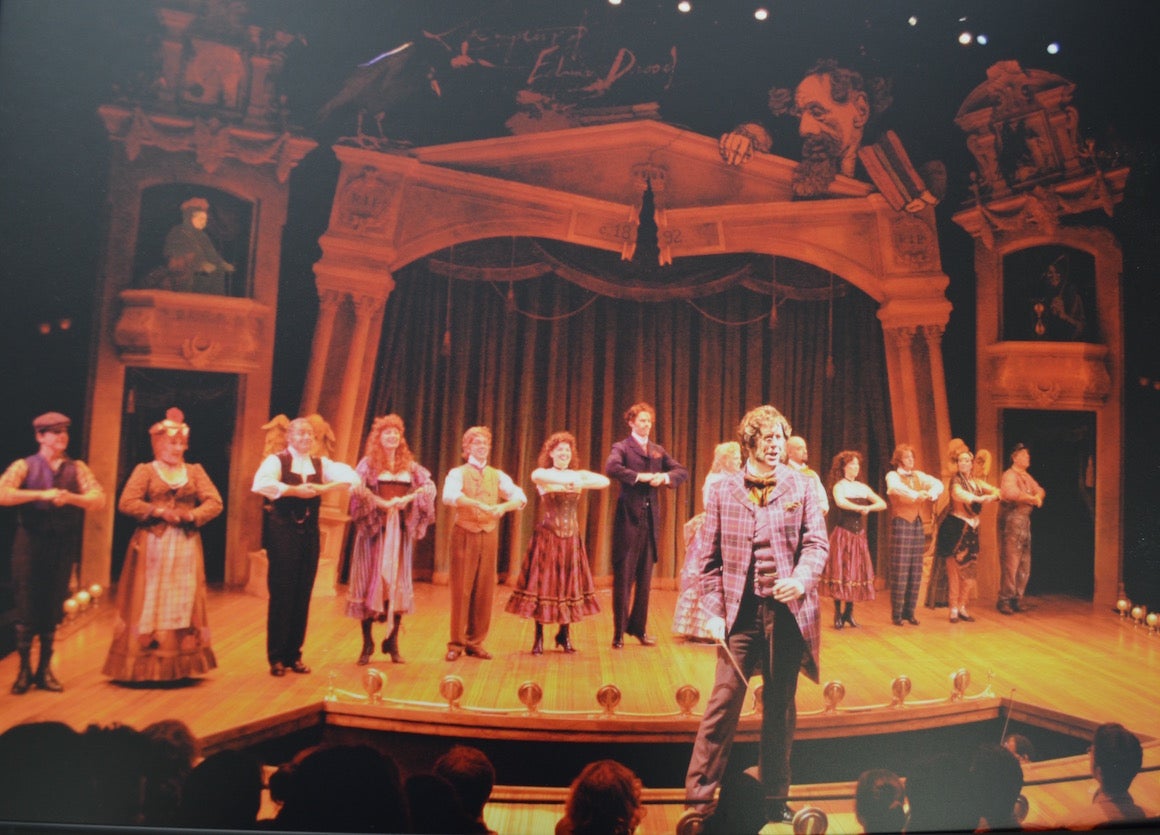 The Mystery of Edwin Drood
Book, Music and Lyrics by Rupert Holmes
Directed by Victoria Bussert
2004-2005 Mainstage Season
The Story
In a boisterous English music hall, a free-wheeling company of actors sets out to perform a musical mystery based on a Charles Dickens novel. The only problem? The author died before revealing who did in young Edwin Drood, so it's up to the audience to vote for a villain. Whodunit? The show can't go on until you decide!
Creative & Production Staff
Musical Director: Dale Rieling
Choreographer: Janet Watson
Scenic Designer: John Ezell
Costume Designer: Tom Reiter
Lighting Designer: Peter E. Sargent
Stage Manager: Glenn Dunn
Assistant Stage Manager: Shannon B. Sturgis
Casting: Rich Cole
Cast
John Sloman (Mr. William Cartwright, Your Chairman)
Ben Nordstrom (Mr. James Throttle, Stage Manager/Dancer/Citizen)
Michael Halling (John Jasper/Mr. Clive Paget)
Becca Ayers (Edwin Drood/Miss Alice Nutting)
Kelly Sullivan (Rosa Bud/Miss Deirdre Peregrine)
Melissa Lone (Wendy/Miss Isabel Yearsley/Dancer/Citizen)
Jenn Goodson (Beatrice/Miss Florence Gill/Dancer/Citizen)
Alicia Irving (Helena Landless/Miss Janet Conover)
Fabio Polanco (Neville Landless/Mr. Victor Grinstead)
Rob Donohoe (The Rev. Mr. Crisparkle/Mr. Cedric Moncrieffe)
Pamela Myers (Princess Puffer/Miss Angela Prysock)
James Hitchens (Mayor Thomas Sapsea)
Anthony Santelmo Jr. (Durdles/Mr. Nick Cricker)
Dominic Roberts (Deputy/Master Nick Cricker/Dancer/Citizen)
Ric Ryder (Bazzard/Mr. Phillip Bax)
??? (Dick Datchery)
Orchestra
Dale Rieling, Conductor
Adrian Walker (Violin)
Michael Buerk (Woodwind 1)
Michael Karpowicz (Woodwind 2)
Bob Ceccarini (Trumpet)
Steve Wills* (Trombone)
Steve Lange* (Trombone)
David Engelke (Bass)
John Brophy (Percussion)

* At alternate performances
Additional Credits
Assistant Choreographer: Carol Schuberg
Sponsorship & Support
Major Sponsor: Whitaker Foundation
The Repertory Theatre of St. Louis is grateful to UMB Bank for its sponsorship of Guest Director Victoria Bussert. Additional support was provided by Energizer and by Guest Producers Sharon and David Schwartz and Betty and Dan Viehmann.