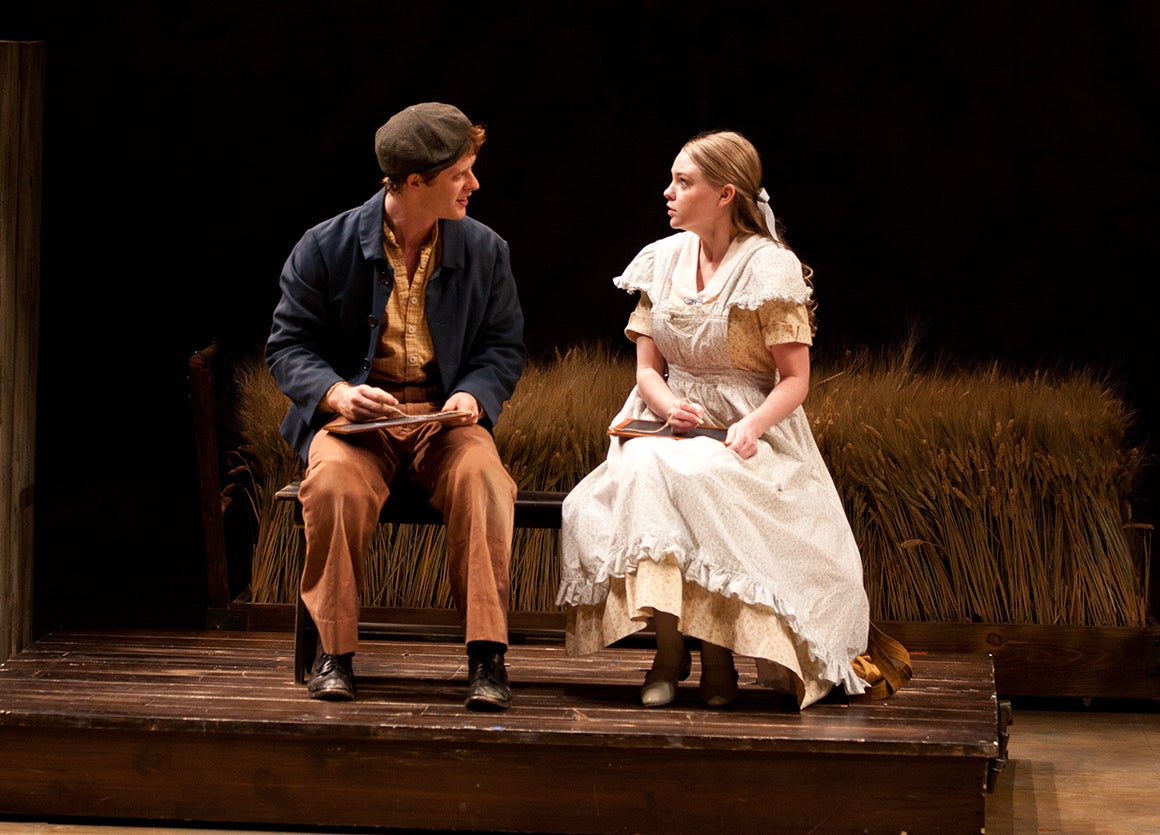 The Adventures of Tom Sawyer
By Laura Eason
Adapted from the novel by Mark Twain
Directed by Jeremy B. Cohen
November
30
-
December
23
, 2011
2011–2012 Mainstage Season
The Story
Reconnect with Mark Twain's incomparable classic in a magical new production, perfect for the whole family. In idyllic 1840s Missouri, Tom and his friends revel in all that is grand and glorious in childhood. This mischievous rascal can charm his Aunt Polly, save the town from Injun Joe and win the heart of fair Becky Thatcher, all in the course of one small-town day.
Creative & Production Staff
Fight Choreographer: Tommy Rapley
Scenic Designer: Daniel Ostling
Costume Designer: Lorraine Venberg
Lighting Designer: Robert M. Wierzel
Sound Designer: Daniel Baker and Aaron Meicht
Stage Manager: Glenn Dunn
Assistant Stage Manager: Shannon B. Sturgis
Cast
Joseph Adams (Muff Potter and Ensemble)
Justin Fuller (Joe Harper and Ensemble)
Tim McKiernan (Tom Sawyer)
Michael D. Nichols (Injun Joe and Ensemble)
Robbie Tann (Huckleberry Finn and Ensemble)
Hayley Treider (Becky Thatcher)
Nate Trinrud (Sid, Doc Robinson and Ensemble)
Nance Williamson (Aunt Polly and Ensemble)
Sponsorship & Support
Emerson
Production Notes
The Adventures of Tom Sawyer was a co-production with Actors Theatre of Louisville and the Kansas City Repertory Theatre.
Kevin Kline Awards
Nominations
Outstanding Lighting Design: Robert M. Wierzel, The Adventures of Tom Sawyer
Outstanding Sound Design: Daniel Baker and Aaron Meicht, The Adventures of Tom Sawyer
Outstanding Ensemble in a Play: The Adventures of Tom Sawyer
Outstanding Supporting Actress in a Play: Hayley Treider, The Adventures of Tom Sawyer
Outstanding Director of a Play: Jeremy B. Cohen, The Adventures of Tom Sawyer
Awards
Outstanding Lighting Design: Robert M. Wierzel, The Adventures of Tom Sawyer
Outstanding Sound Design: Daniel Baker and Aaron Meicht, The Adventures of Tom Sawyer