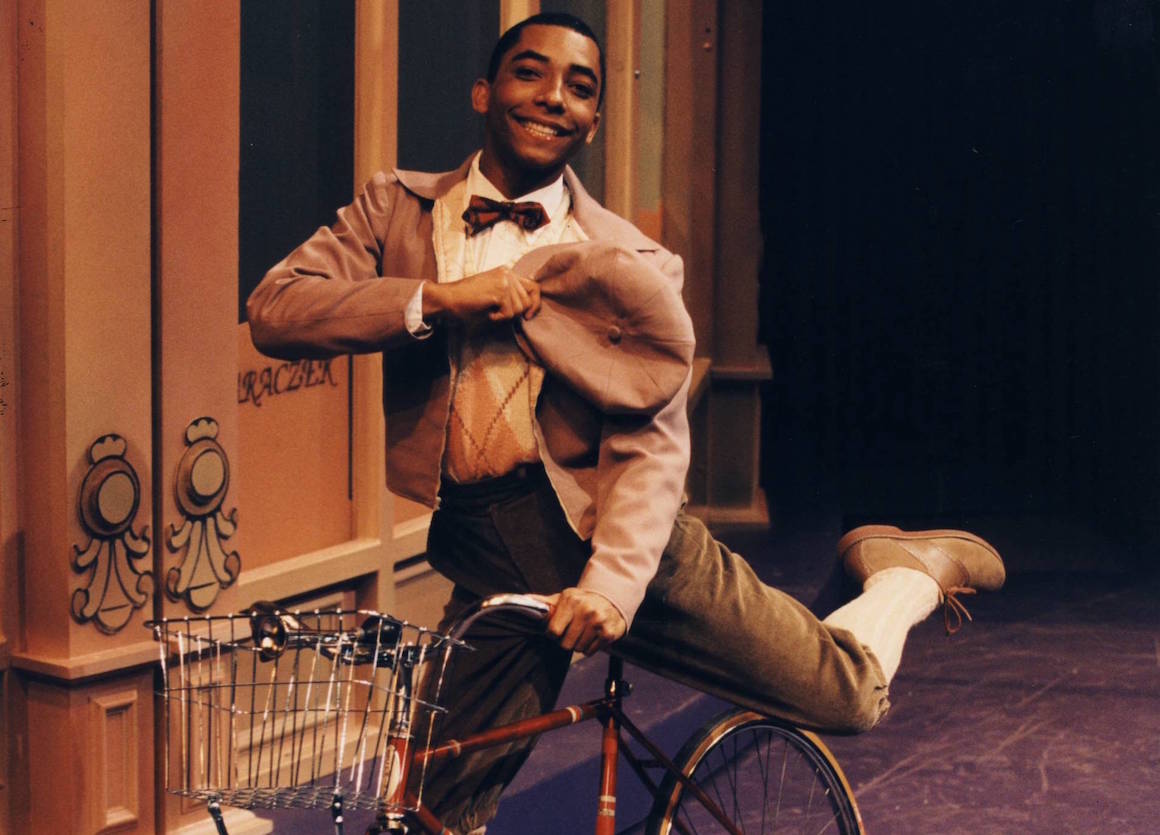 She Loves Me
Based on a play by Miklos Laszlo
Book by Joe Masteroff
Music by Jerry Bock
Lyrics by Sheldon Harnick
Directed by Victoria Bussert
November
29
-
December
29
, 1995
1995-1996 Mainstage Season
The Story
An unabashedly romantic, old-fashioned love story. Two shy clerks in a Budapest perfumerie carry on a passionate pen pal relationship, their true identities unknown to each other. While the two don't get along at work, the sentiment of their letters makes them yearn to meet their secret loves. Misidentity and romance make this musical a perfect holiday confection.
Creative & Production Staff
Musical Director: Larry Pressgrove
Choreographer: Daniel Stewart
Scenic Designer: John Ezell
Costume Designer: James Scott
Lighting Designer: Peter E. Sargent
Stage Manager: Glenn Dunn
Assistant Stage Manager: Scott De Broux
Cast
Gibby Brand (Ladislav Sipos)
Christopher Windom (Arpad Laslo)
Dorothy Stanley (Ilona Ritter)
Brian Sutherland (Steven Kodaly)
Robin Haynes (Georg Nowack)
Joneal Joplin (Mr. Maraczek)
Donna English (Amalia Balash)
Eric van Baars (Keller)
Laurent Giroux (Headwaiter)
Hunter Bell (Busboy)

Ensemble: Hunter Bell, Gavan Pamer, M. Kathryn Quinlan, Marci Reid, Eric van Baars, Sharon Kay White

Understudies: Hunter Bell for Georg Nowack, Gavan Pamer for Busboy, M. Kathryn Quinlan for Amalia Balash, Eric van Baars for Headwaiter and Steven Kodaly, Sharon Kay White for Ilona Ritter
Orchestra
Larry Pressgrove (Keyboards/Conductor)
Diane Ceccarini (Keyboards)
John Brophy (Percussion)
Michael Buerk (Reeds)
David Engelke (Bass)
Robert Ceccarini (Trumpet)
Ron Vince (Violin)
Sponsorship & Support
UMB Bank of St. Louis generously supported this production.
Production Notes
She Loves Me was a co-production with the Cincinnati Playhouse in the Park.