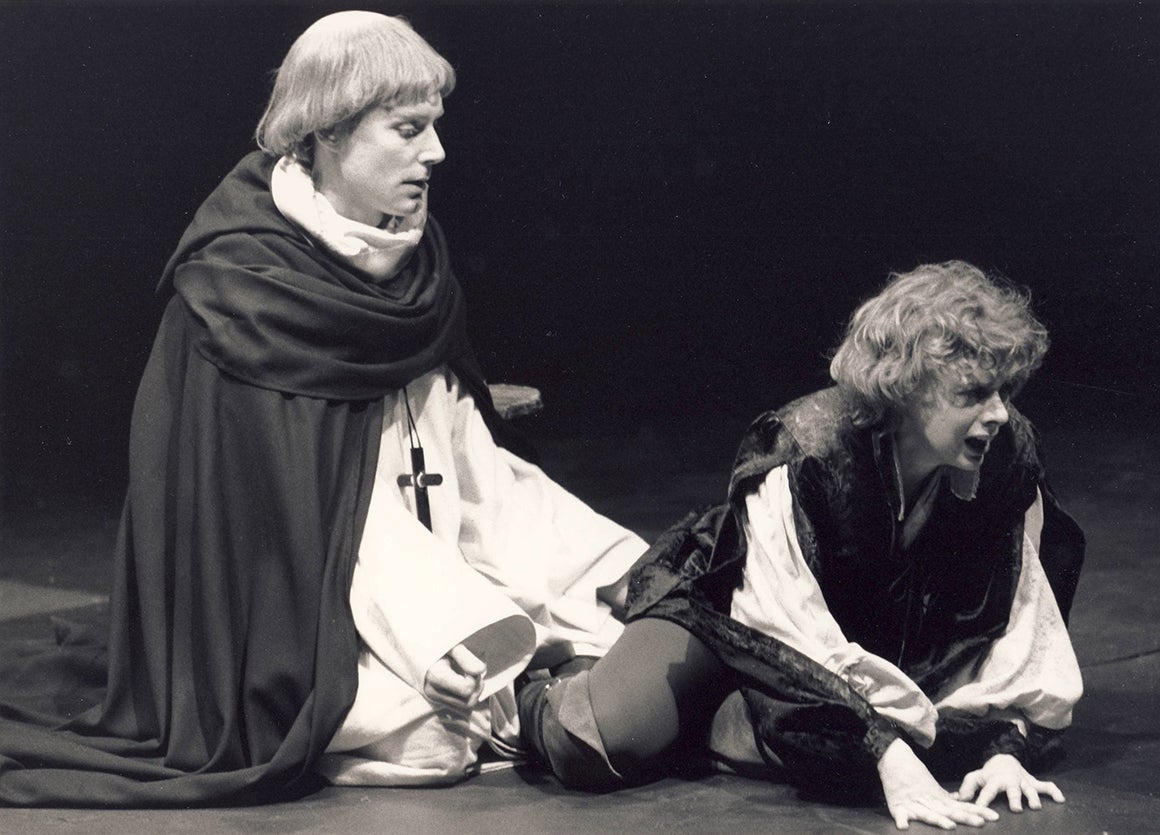 Saint Joan
By George Bernard Shaw
Directed by William Woodman
February
08
-
March
10
, 1989
1988-1989 Mainstage Season
The Story
Shaw's classic play about a remarkable 15th Century woman who hears divine voices and appears to produce miracles with ease. An amazing story of innocence clashing with the reality and evil of politics and ego. Joan is burned at the stake for heresy because she would not give up her belief in the inner voices that guide her. A classic of the world stage that happily brings Shaw back to The Rep.
Creative & Production Staff
Scenic Designer: John Ezell
Costume Designer: Dorothy Marshall Englis [credited as "Dorothy L. Marshall"]
Lighting Designer: Max De Volder
Stage Manager: T.R. Martin
Assistant Stage Manager: Steve Marquette, Jane E. Seiler
Cast
Katherine Leask (Joan)
Steven Rodriguez (Robert de Baudricourt/Canon John d'Estivet)
Christopher Randolph (Steward/Brother Martin Ladvenu)
Craig Wroe (Bertrand de Poulengey/Canon de Courcelles)
James Paul (Archbishop of Rheims)
Jeffrey Sams (Le Tremouille, Constable of France/Executioner)
Spencer Humm (Court Page)
Patrick B. Morgan (Gilles de Rais (Bluebeard)/Gentleman)
Anthony Weaver (Captain La Hire/English Soldier)
Steven Dennis (The Dauphin [later Charles VII])
Brannon Loomis (Duchesse de la Tremouille)
Elaine Ellis (Court Lady)
John Rensenhouse (Dunois, Bastard of Orleans)
William Walden (Dunois' Page)
Ben Halley, Jr. (Richard de Beauchamp, Earl of Warwick)
Joe Palmieri (Chaplain de Stogumber)
William Rhys (Peter Cauchon, Bishop of Beauvais)
Danny McCarthy (Warwick's Page)
Ronald Wendschuh (The Inquisitor)

Soldiers and Assessors: Christopher Ross Chell, Lantz Harshbarger, Camara Nicholes, Nathaniel Sanders, Greg Werstler
Sponsorship & Support
The set for this production was underwritten by a generous gift from an anonymous donor. The costumes for Saint Joan have been underwritten by a special gift from the Metropolitan Life Foundation.