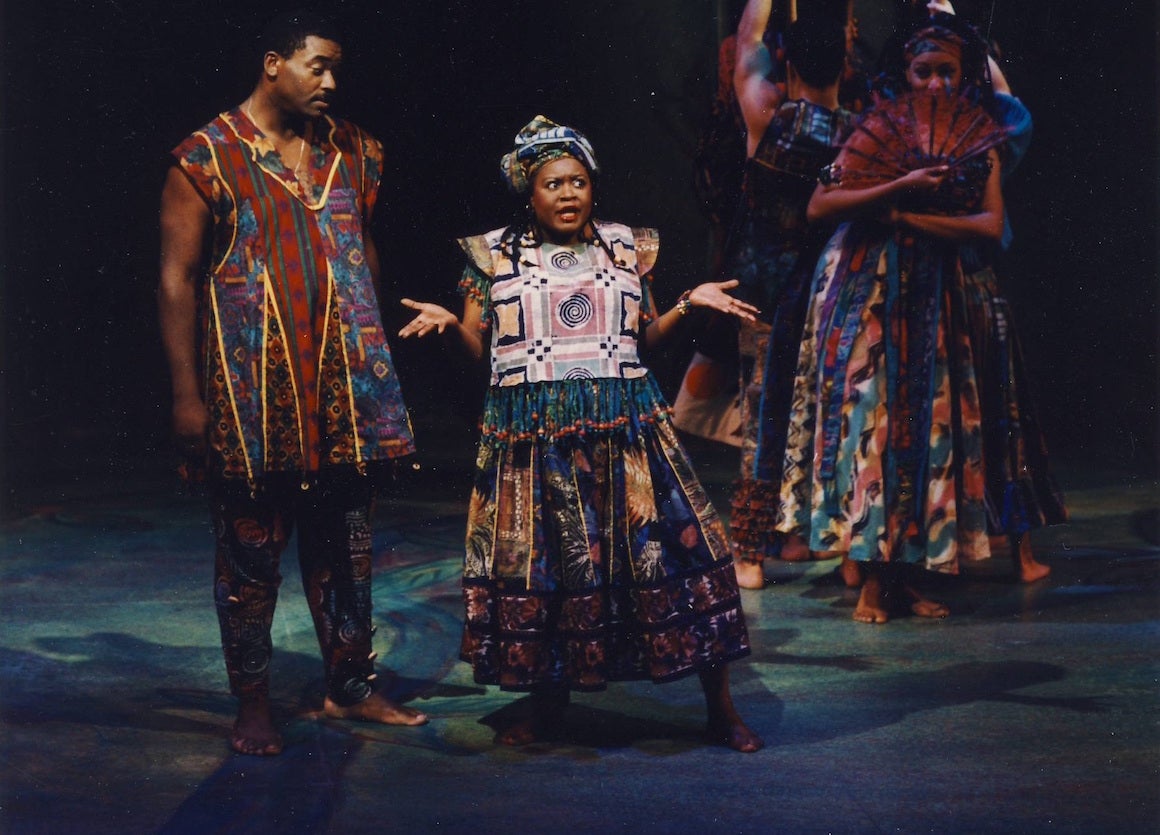 Once on This Island
Based on the novel My Love, My Love by Rosa Guy
Book & Lyrics by Lynn Ahrens
Music by Stephen Flaherty
Directed by Eric Riley
1993-1994 Mainstage Season
The Story
Ride an exuberant and joyous calypso tide to the Caribbean for romance and music as the villagers on this faraway island spin the tale of a young girl who falls in love with a prince while falling out of favor with the island gods who guide her destiny. The perfect magical, musical getaway for the holidays.
Creative & Production Staff
Musical Director: Larry Pressgrove
Choreographer: Eric Riley
Scenic Designer: Peter Harrison
Costume Designer: Clyde Ruffin
Lighting Designer: Peter E. Sargent
Stage Manager: Glenn Dunn
Assistant Stage Manager: Scott De Broux
Cast
Donnell Aarone (Daniel)
Steven Cates (Papa Ge)
Marcy De Nezza (Andrea)
Tonya L. Dixon (Ti Moune)
Lynette Du Pré (Mama Euralie)
Michael James Leslie (Tonton Julian)
Brittany Noél Packnett (Little Ti Moune)
John Eric Parker (Agwe)
Dominic Rambaran (Armand)
Fredi Walker (Erzulie)
Sharon Wilkins (Asaka)
Orchestra
Larry Pressgrove (Piano/Conductor)
John Brophy (Percussion)
Michael Buerk (Woodwinds)
David Engelke (Bass Guitar)
Steve Schenkel (Guitar)
Reggie Thomas (Synthesizer)
David Medley (Synthesizer Programmer)
Sponsorship & Support
Guest Director Eric Riley is sponsored by a gift from Eveready Battery Company.

The set is underwritten by an anonymous gift.