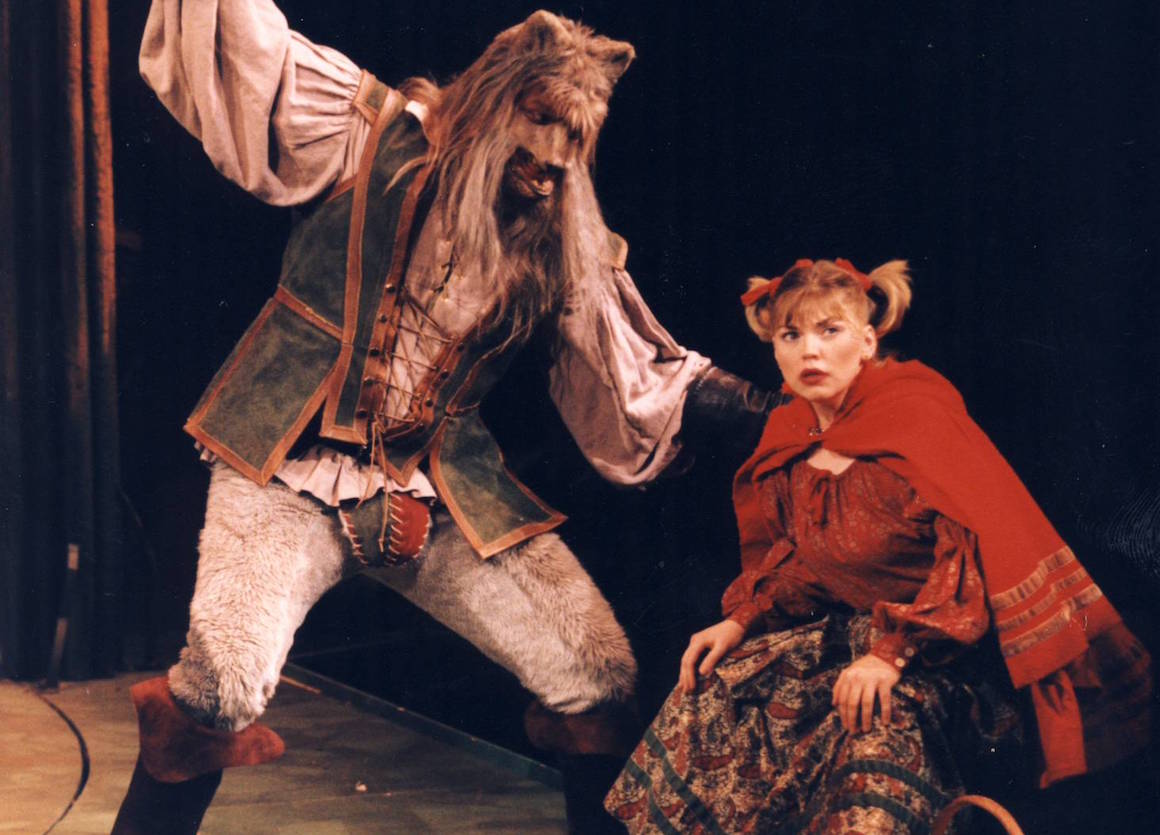 Into the Woods
Book by James Lapine
Music and Lyrics by Stephen Sondheim
Directed by Victoria Bussert
1999-2000 Mainstage Season
The Story
A joyous musical romp through the magical world of fairy tales and legends! What happens after happily ever after, when Jack and the Beanstalk, Cinderella, Little Red Riding Hood, witches, wolves and giants unexpectedly meet in the deep, dark woods? Sondheim's spellbinding score and witty look at these classic characters makes an enchanting musical for the holiday season.
Creative & Production Staff
Musical Director: Denes Van Parys
Choreographer: Eric van Baars
Scenic Designer: John Ezell
Costume Designer: James Scott
Lighting Designer: Mary Jo Dondlinger
Stage Manager: Glenn Dunn
Assistant Stage Manager: Scott De Broux
Casting: Rich Cole
Cast
Bill Bush (Narrator/Mysterious Man)
Kate Fry (Cinderella)
Mark Lanyon (Jack)
Janelle Anne Robinson (Jack's Mother)
Jason Ma (Baker)
Nancy Johnston (Baker's Wife)
Louisa Flaningam (Cinderella's Stepmother)
Kate Coffman (Florinda)
Jennifer Douglas Gray (Lucinda)
Jenn Thompson (Little Red Ridinghood)
Alison Bevan (Witch)
Lindsey McKee (Cinderella's Mother/Granny/Giant)
Craig Bennett (Wolf/Cinderella's Prince)
Somer Lee Graham (Rapunzel)
Tim Martin Gleason (Rapunzel's Prince)
Whit Reichert (Steward)
Alison Estrin (Snow White)
Meghan Brown (Sleeping Beauty)
Orchestra
Denes Van Parys (Conductor/Synthesizer)
Michael Buerk (Flute, Piccolo, Clarinet)
Paul Garritson (Clarinet, Bass Clarinet)
Robert Ceccarini (Trumpet, Piccolo Trumpet, Flugel Horn)
Fred DeVaney (Acoustic Bass)
John Brophy (Percussion)
Diane Ceccarini (Synthesizer)
Sponsorship & Support
The Repertory Theatre is grateful to Ernst & Young and to Joanne and Joel Iskiwitch for their support of Into the Woods.