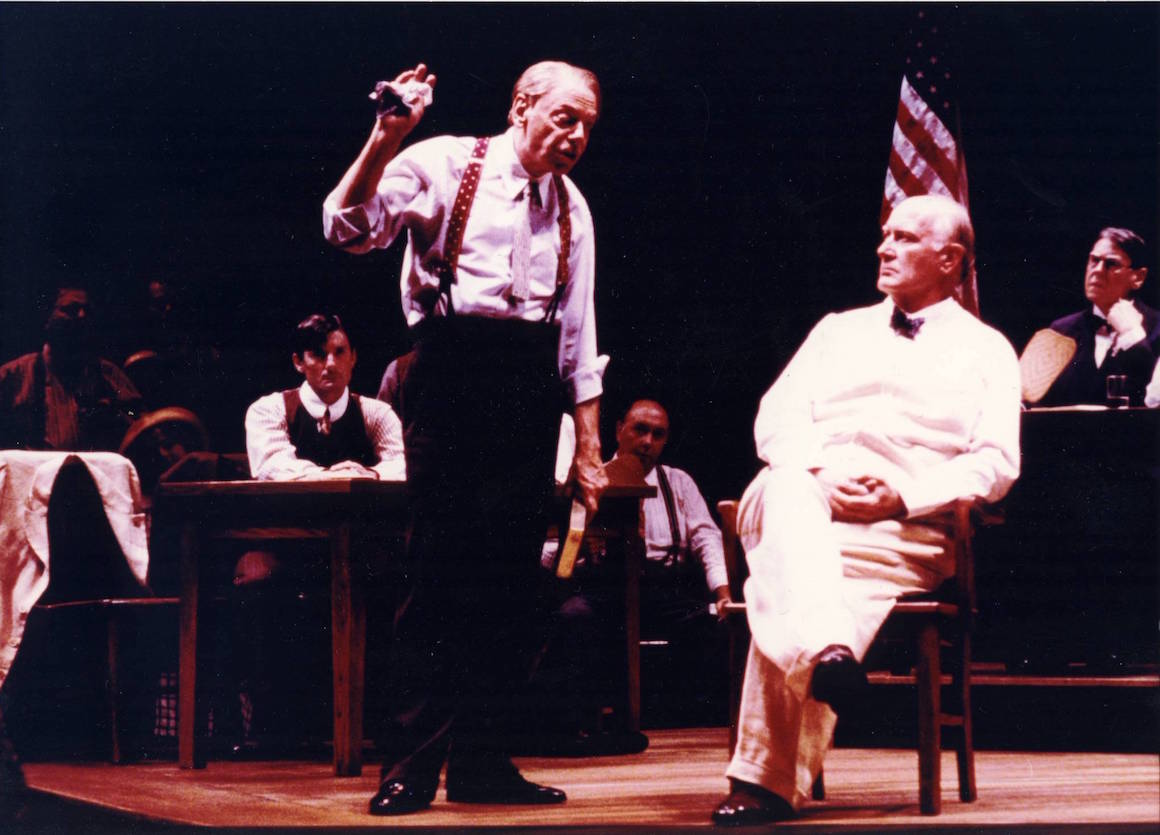 Inherit the Wind
By Jerome Lawrence and Robert E. Lee
Directed by Edward Stern
October
11
-
November
10
, 2000
2000-2001 Mainstage Season
The Story
It's Dayton, Tennessee, 1925, where a trial of beliefs becomes the trial of the century. When a teacher brings evolution into the classroom, he awakens a nation at war with itself. A pair of towering legal minds draw battle lines: freedom of thought vs. community beliefs, the press vs. the public, science vs. the Bible. Be a witness to the trial and the verdict that would change America forever.
Creative & Production Staff
Scenic Designer: Karen TenEyck
Costume Designer: Kristine A. Kearney
Lighting Designer: Peter E. Sargent
Stage Manager: T.R. Martin
Assistant Stage Manager: Tony Dearing
Casting: Rich Cole
Cast
Emma Longworth-Mills (Melinda)
Jake Kohut (Howard)
Allison Krizner (Rachel Brown)
Whit Reichert (Meeker)
Jason Bowcutt (Bertram Cates)
Mark Moloney (Mr. Goodfellow/Dr. Keller)
Debra Watassek (Mrs. Krebs)
Robert Elliott (Reverend Jeremiah Brown)
Wm Daniel File (Sillers)
J. Larry Sparkman (Krebs)
Gary Cox (Bollinger)
Aaron Benedict (Cooper/Photographer)
Jerry Vogel (Bannister)
Drew Fracher (Dunlap)
Ben Grimes (Hot Dog Man)
Sandy Harper (Mrs. McLain)
Susie Wall (Mrs. Blair)
Michael Blankenship (Elijah/Radio Man)
David Haugen (E.K. Hornbeck)
Joneal Joplin (Matthew Harrison Brady)
Jill Tanner (Mrs. Brady)
Paul Hebron (Mayor)
Mark Mocahbee (Tom Davenport)
Philip Pleasants (Henry Drummond)
Dane Knell (Judge)
Gabriel De Joy (Reuters Reporter)
Gabriel Levinson (Phil/Eskimo Pie Hawker)
Gwendolyn Kelso (Mrs. Loomis)
Rolf E. Rathmann (Organ Grinder)
Jim True (Doc Kimble/Dr. Page)
Stephen Peirick (Reporter)
William Clifton (Reporter)
Dan McGee (Reporter)
Rosemary Christian (Court Recorder/Townsperson)
Mike Crockett (Dr. Aaronson)
Stephanie Stroman (Townsperson)
Christopher Ham (Juror)
Tony Michalak (Juror)
Fabio Moreno (Juror)
Gary Warren (Juror)
Kenn Rudolph (Juror)
Sponsorship & Support
Major Sponsor: The Mary Ranken Jordan and Ettie A. Jordan Charitable Foundation
Production Notes
Inherit the Wind was a co-production with the Cincinnati Playhouse in the Park.