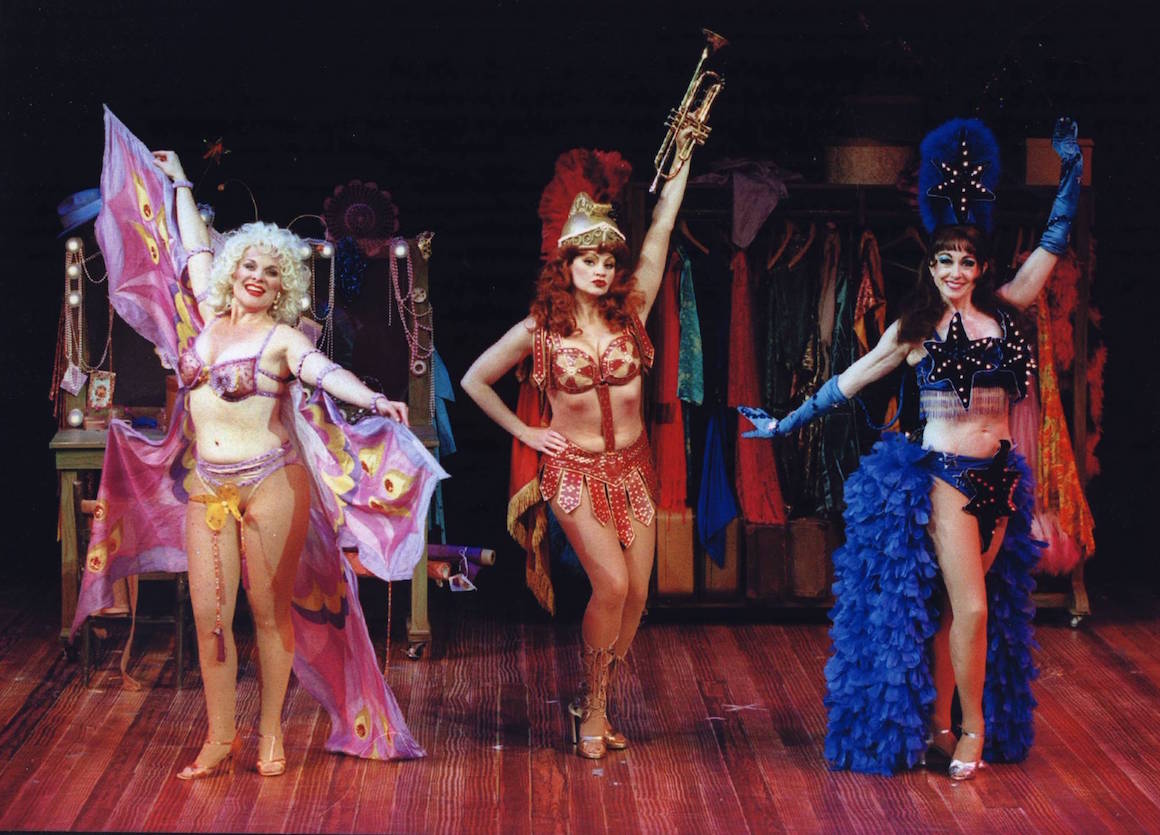 Gypsy
Suggested by the memoirs of Gypsy Rose Lee
Book by Arthur Laurents
Music by Jule Styne
Lyrics by Stephen Sondheim
Directed by Victoria Bussert
September
05
-
October
05
, 2001
2001-2002 Mainstage Season
The Story
Brassy and brash, with the best book and score of any American musical, this gem-hard look at Vaudeville in its heyday follows a ruthless, resourceful mother as she pushes her daughters along the rugged road toward stardom. The heartbreak and triumph of Gypsy Rose Lee's transformation from child performer to burlesque queen is forever immortalized in this dazzling show.
Creative & Production Staff
Musical Director: Steven Gross
Choreographer: Janet Watson
Scenic Designer: John Ezell
Costume Designer: Suzy Benzinger
Lighting Designer: Peter E. Sargent
Stage Manager: Glenn Dunn
Assistant Stage Manager: Malia Arguello
Casting: Rich Cole
Cast
Kathleen France (Mom/Mazeppa/Showgirl)
Carol Schuberg (Mom/Electra/Showgirl)
Rebecca Spencer (Mom/Miss Cratchitt/Tessie Tura/Showgirl)
Jerry Vogel (Uncle Jocko/Weber/Mr. Goldstone/Pastey)
Neil Shastri (Ralph)
Paige Moskop (Balloon Girl)
Jacqueline Probst (Baby June)
Jamie Anderson (Baby Louise)
Pamela Myers (Rose)
Hardy Rawls (Pop/Kringelein/Cigar/Phil)
John Woodson (Herbie)
Ben Hosler (Newsboy)
R.J. Magee (Newsboy)
Patrick Probst (Newsboy)
Emily Rabon Hall (June)
Joan Hess (Louise)
Hunter Bell (Tulsa)
Pierre-Jacques Brault (Angie/Cow/Showboy/Bougeron-Cochon)
Andrew Hansen (L.A.)
Jim Lash (Yonkers/Cow/Showboy/Georgie)
Jodi Dominick (Thelma/Signgirl/Showgirl/Cow/Renée)
Julie Hogan (Agnes/Showgirl)
Faith Sandberg (Delores/Showgirl)
Holly Kristen Thomas (Marjorie May/Showgirl/Cow)
Orchestra
Steven Gross (Conductor/Keyboard I)
Michael Buerk (Woodwind I)
Michael Karpowicz (Woodwind II)
Rob Hughes (Woodwind III)
Andrew Tichenor (Trumpet I)
Bob Ceccarini (Trumpet II)
Joel Behrmann (Trombone)
Diane Ceccarini (Keyboard II)
Robert Lowe (Bass)
John Brophy (Drums/Percussion)
Sponsorship & Support
Major Sponsor: Monsanto Fund
Production Notes
Gypsy was a co-production with the Cincinnati Playhouse in the Park.
No performance was given on September 11, 2001.