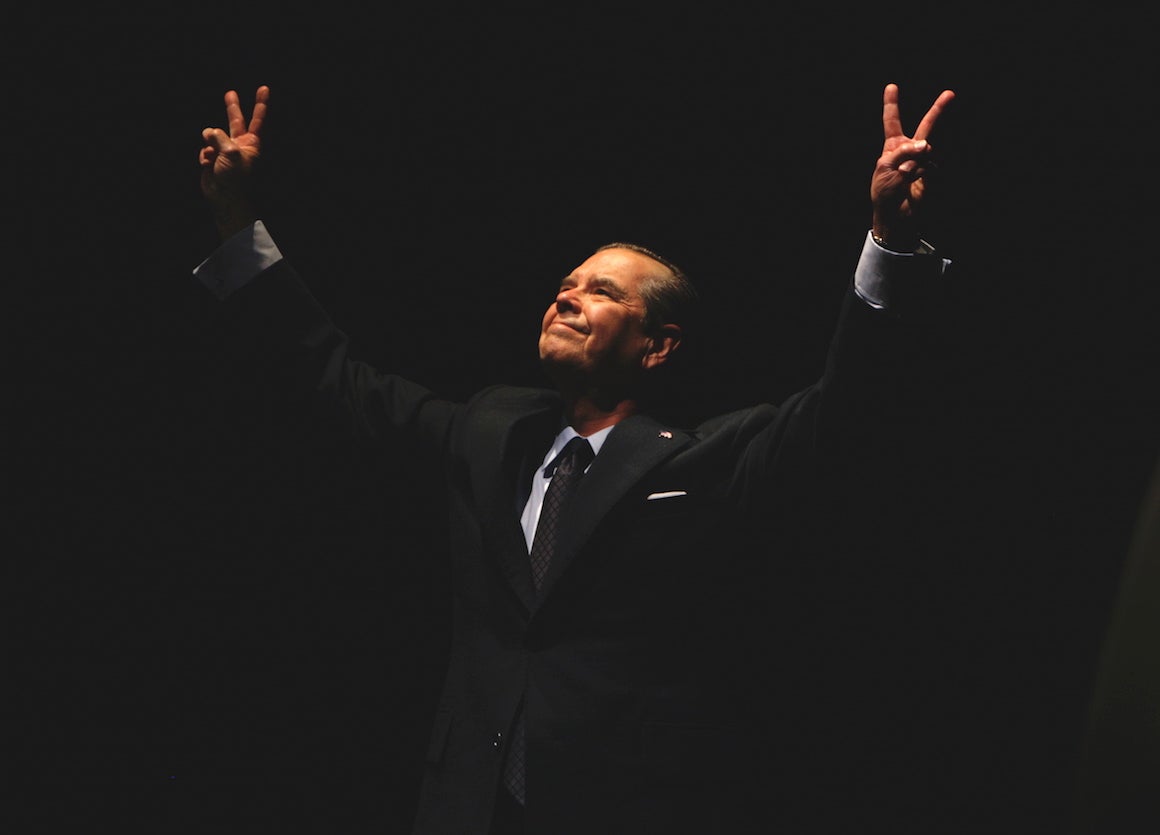 Frost/Nixon
By Peter Morgan
Directed by Steven Woolf
2008-2009 Mainstage Season
The Story
David Frost's 1977 interviews with Richard Nixon, following the Watergate scandal and the President's humiliating resignation, drew the largest audience ever for television news. Could this British talk show host, with a playboy reputation and no known political convictions, be the one to elicit the apology the world awaited from the man at the center of one of America's greatest political scandals? An Olivier, Tony Award and Drama Desk nominee for Best Play.
Creative & Production Staff
Scenic Designer: Michael Schweikardt
Costume Designer: Elizabeth Covey
Lighting Designer: Mary Jo Dondlinger
Sound Designer: Rusty Wandall
Stage Manager: Glenn Dunn
Assistant Stage Manager: Shannon B. Sturgis
Casting: Rich Cole
Cast
Keith Jochim (Richard Nixon)
Michael Brightman (Ollie and others)
Jim Wisniewski (Jim Reston)
Steve Callahan (Studio Manager and others)
Jeff Talbott (David Frost)
Jeremy Holm (Jack Brennan)
Kelley Ryan (Evonne Goolagong and others)
Keith Merrill (John Birt)
David Anzuelo (Manolo Sanchez)
Matt Landers (Swifty Lazar)
Jenny Mercein (Caroline Cushing)
David Christopher Wells (Bob Zelnick)
Cesar Garcia (Ensemble)
Allison Newman (Ensemble)
Ian Way (Ensemble)
Additional Credits
Video Designer: Eric Woolsey
Video Consultant: Bobby Miller
Production Assistant: Allison Whitehall
Assistant Lighting Designer: Nathan Scheuer
Assistant Master Electrician: Liz Robinette
Literary Intern: Sally LaRowe
Sponsorship & Support
The Mary Ranken Jordan & Ettie A. Jordan Charitable Foundation
Production Notes
This production was the American regional theatre premiere of Frost/Nixon, and was a co-production with Geva Theatre.
Kevin Kline Awards
Nominations
Outstanding Lead Actor in a Play: Keith Jochim, Frost/Nixon