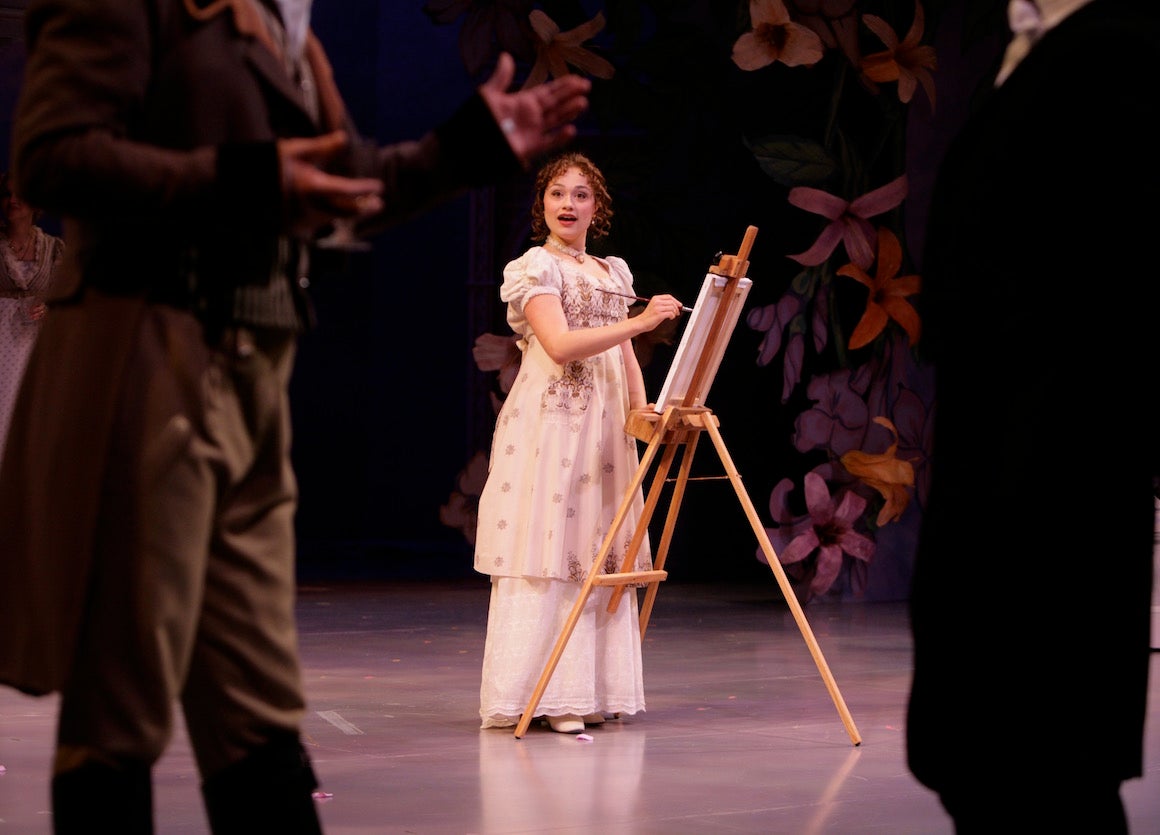 Emma
Adapted from the novel by Jane Austen
Book, Music and Lyrics by Paul Gordon
Directed by Robert Kelley
October
08
-
November
02
, 2008
2008-2009 Mainstage Season
The Story
Obsessed with romance but utterly clueless about her own feelings, Emma Woodhouse is one of literature's most delightful heroines. When her matchmaking mischief invariably misfires, Emma must navigate the choppy course of true love with a generous heart as her only guide. Funny and fulfilling, Austen's 19th century masterpiece comes to sparkling life in this charming new musical adaptation by the Tony Award-nominated composer of Broadway's Jane Eyre.
Creative & Production Staff
Musical Director: Laura Bergquist
Orchestrator/Arranger: Paul Gordon
Choreographer: Mary Beth Cavanaugh
Scenic Designer: John Ezell
Costume Designer: Fumiko Bielefeldt
Lighting Designer: Dennis Parichy
Sound Designer: Michael Miceli
Stage Manager: T.R. Martin
Assistant Stage Manager: Tony Dearing
Casting: Rich Cole
Cast
Lianne Marie Dobbs (Emma)
Christianne Tisdale (Mrs. Weston)
Kurt Zischke (Mr. Weston)
Richert Easley (Mr. Woodhouse)
Timothy Gulan (Mr. Knightley)
Brian Herndon (Mr. Elton)
Suzanne Grodner (Miss Bates)
Donna Weinsting (Mrs. Bates/Housekeeper)
Dani Marcus (Harriet Smith)
Travis Poelle (Frank Churchill)
Julie Hanson (Jane Fairfax)
Alex Organ (Mr. Robert Martin/Servant)
Erin Maguire (Mrs. Elton/Mrs. Churchill)
Michael Brightman (Butler/Minister)

Servants: Josie Adams, Courtney Leigh Halford, Sam Hay, Aaron Sitrick

Citizens of Highbury: The Company

Understudies: Julie Hanson (Emma), Travis Poelle (Mr. Knightley)
Orchestra
Musical Director & Piano: Laura Bergquist
Oboe & English Horn: Jan Parks
Cello: Natasha Rubinstein
Violin: Adrian Walker
Musical Contractor: Bob Ceccarini
Additional Credits
Dialect Coach: Julia Guichard
Assistant to the Director: Alan Patrick Kenny
Production Assistant: Katie Britton
Assistant Lighting Designer: Liz Robinette
Assistant Master Electrician: Maura Rinehart
Sponsorship & Support
Wachovia Securities
Production Notes
Emma was a co-production with the Cincinnati Playhouse in the Park.
Kevin Kline Awards
Nominations
Outstanding Production of a Musical: Emma
Outstanding Director of a Musical: Robert Kelly, Emma
Outstanding Musical Direction: Laura Bergquist, Emma
Outstanding Costume Design: Fumiko Bielefeldt, Emma
Outstanding Lead Actor in a Musical: Timothy Gulan, Emma
Outstanding Supporting Actress in a Musical: Dani Marcus, Emma