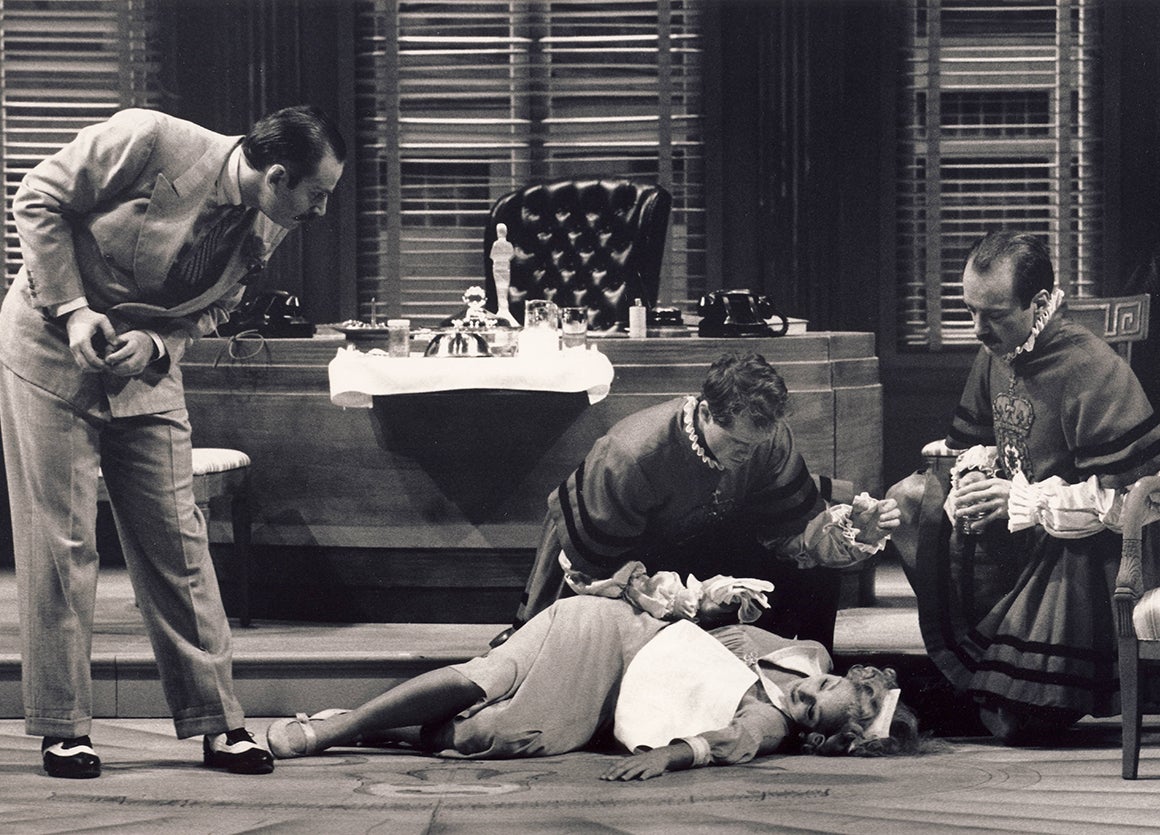 Boy Meets Girl
By Bella & Samuel Spewack
Directed by Brian Murray
October
12
-
November
11
, 1988
1988-1989 Mainstage Season
The Story
We welcome the renowned Acting Company, the touring arm of Washington, D.C.'s Kennedy Center, to The Rep, as they join us in bringing you this delighful 1930's Hollywood back-lot comedy. The scheming shenanigans of writers, directors, actors, a baby and western style movies all collide in hilarity. A joint production of The Rep and The Acting Company. See it here prior to its national tour.
Creative & Production Staff
Composer/Music by: Bruce Pomahac
Scenic Designer: Derek McLane
Costume Designer: Jennifer von Mayrhauser
Lighting Designer: Stephen Strawbridge
Stage Manager: Glenn Dunn, C.A. Clark
Assistant Stage Manager: Steve Marquette, Sue Greenberg
Cast
Larry Green (Robert Law)
Anthony Cummings (Larry Toms)
Douglas Krizner (J. Carlyle Benson)
John Greenleaf (Rosetti)
Martha Thompson (Miss Crews)
Brian Dykstra (C. Elliot Friday)
Gayla Finer (Peggy, Nanny, Second Nurse)
Spencer Beckwith (Rodney Bevan)
Alison Stair Neet (Green)
David Rainey (Slade)
Laura Perrotta (Susie)
Michael MacCauley (Doctor, Announcer, Major Thompson)
Ken Sawyer (Young Man, Studio Officer)
James R. Carroll (Cutter)
Theresa McCarthy (First Nurse)
Robin Williams (Voice of B.K.)
Kevin Kline (Voice of Hollywood)
Daniel Benjamin Show (Happy)
Additional Credits
Assistant to the Director: Jennifer McCray

Film sequence by Michael Wolkowitz, Robert Kanter, MJM Creative Services.
Sponsorship & Support
Honorary Co-Producers: Mr. and Mrs. Sander Coovert
Production Notes
Boy Meets Girl was a joint production with The Acting Company.